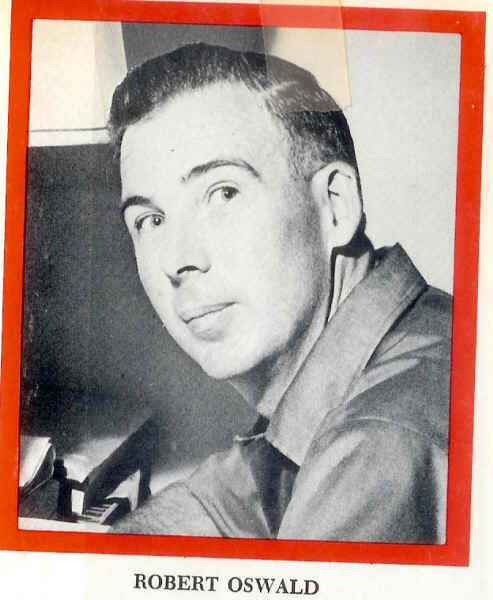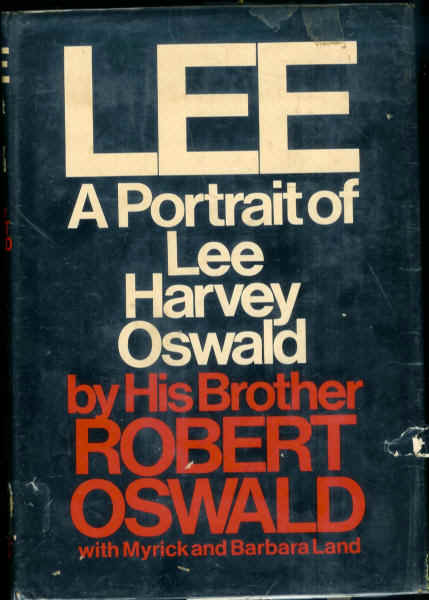 With a brother like Robert Oswald, Lee didn't need any Enemies.
SEE>> https://www.youtube.com/watch?v=Lc5QCP6qsXI
PLUS;
IN 50 YEARS ROBERT HAS NOT SPOKEN TO EITHER OF HIS NEICES JUNE/RACHAEL ! ! !
Robert Oswald wrote a book called "Lee: A Portrait of Lee Harvey Oswald".
In that book Robert tells us that Lee's Favorite T V Show was "I Led Three Lives".
A True story of Herbert Philbrick an Undercover operative for the FBI.
Robert also tell us that he along with the whole Oswald family were taken into Secret Service "Protective Custody" on 11/22/63.
After listening to the Secret Service Agents throughout Friday, Saturday and Sunday, by Sunday night the Biggest Suspect the Secret Service had in the Assassination was none other than the FBI. (page 156)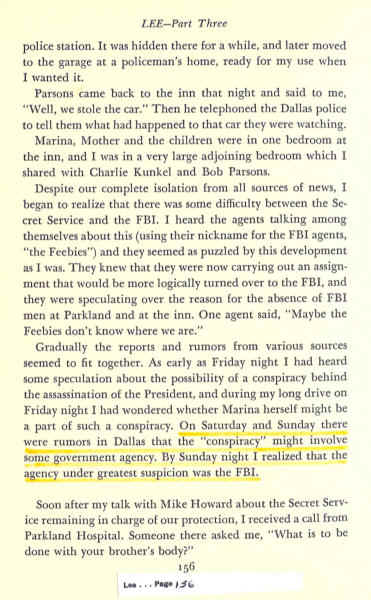 Of course we now know from the Warren Report that the true killer was Lee.
We also know that it was the FBI that performed ALL of the Investigation.
Unfortunately, it was the FBI who conducted ALL of the Investigations for the Warren Commission.
---
some additional inormation
In April 1967 columnist Jack Anderson went to New Orleans to interview
Jim Garrison in regards to his trial of Clay Shaw. By the time the
interview was over Anderson left very impressed with what Garrison had
told him regarding a conspiracy in the murder of JFK.

Anderson would then discuss what he learned from Garrison with LBJ's
press secretary, George Christian, and since Christian had believed in
a conspiracy too he advised Anderson to go to the FBI with what he has
just told him.

At 11:55 a.m. on April 4, 1967 Anderson met with Cartha DeLoach and
they discussed the information Anderson had gotten from Garrison.
DeLoach would write a memo to Tolson about this discussion
(62-1090060-5075).

DeLoach would also speak with Christian and confirm his suspicions
regarding a conspiracy.

In the memo DeLoach wrote the following:

Quote on

In this connection, Marvin Watson [a top LBJ assistant] called me late
last night and ***stated that the President had told him in an off
moment that he was now convinced that there was a plot in the
connection with the assassination. Watson stated the President felt
that the CIA had something to do with this plot.*** Watson requested
any further information we could furnish in this connection would be
most appreciated by him and the President.

Quote off

The memo would include what information the FBI had give the White
House to lead to LBJ's belief in a conspiracy. It is initialed by
both Tolson and DeLoach, NOT Hoover, however, Hoover's vertical lines
around the statement of LBJ's belief in a conspiracy can bee seen.

For those of us who have studied this case this is no surprise, but
for those who may be new to this it will come as one.

The President, LBJ, had a belief that a conspiracy took the life of
JFK. So did Sen. Russell of the WC. In fact, eventually four of the
seven members of the WC would raise doubts and questions regarding
their own findings.

FOLLOWING THE LINKS BELOW WILL BLOW YOUR SOCKS OFF"! ! !
Coupled with>>> http://whokilledjfk.net/original_suspects.htm
Contact Information tomnln@cox.net
Page Visited
Times