THE TARGET COULD NOT BE SEEN FROM THE 6TH FLOOR WINDOW OF THE TSBD PRIOR TO FRAME 210 OF THE ZAPRUDER FILM
because of a tree being in the way WCR PAGE 98-99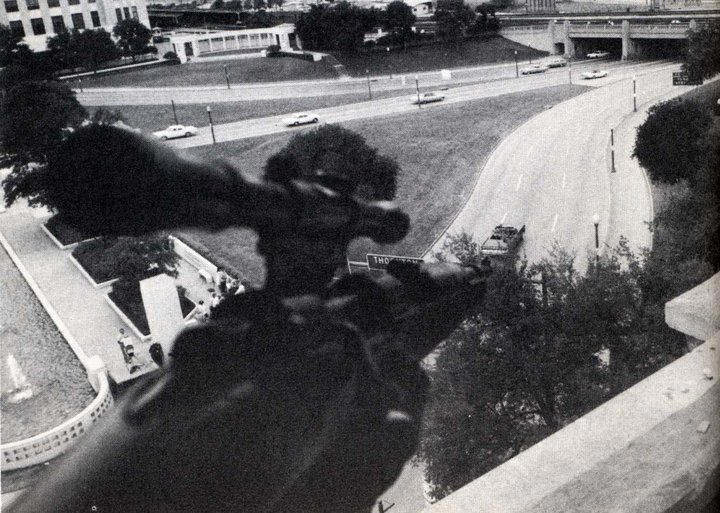 98-99THE LAST SHOT WAS AT FRAME 313. WCR PAGE 98/99
EXPOSING 103 FRAMES OF THE FILM THE SPEED OF THE FILM THROUGH THE CAMERSA WAS 18.3 FPS WCR PAG106
SIMPLE MATH BRINGS THE SHOOTING TIME TO 5.6 SECONDS WITH A BOLT ACTION WWII SURPLUS ITALIAN RIFLE
THIS PARTICULAR RIFLE HAD A TWO-STAGE TRIGGER ,WHICH MEANS THAT THE TRIGGER HAD TO BE PULLED TWICE FOR EACH
SHOT WCR volume III pages 441-451
AN NRA MASTER SHOOTER IS ONE WHO IS QUALIFIED FOR "OLYMPIC COMPETITION.
THREE NRA "MASTERS (STALEY, HENDRICKS AND, MILLER )WERE UNABLE TO DUPLICATE WHAT OSWALD ALLEDGEDLY
ACCOMPLISHED. VOLUME III PAGES 446 447.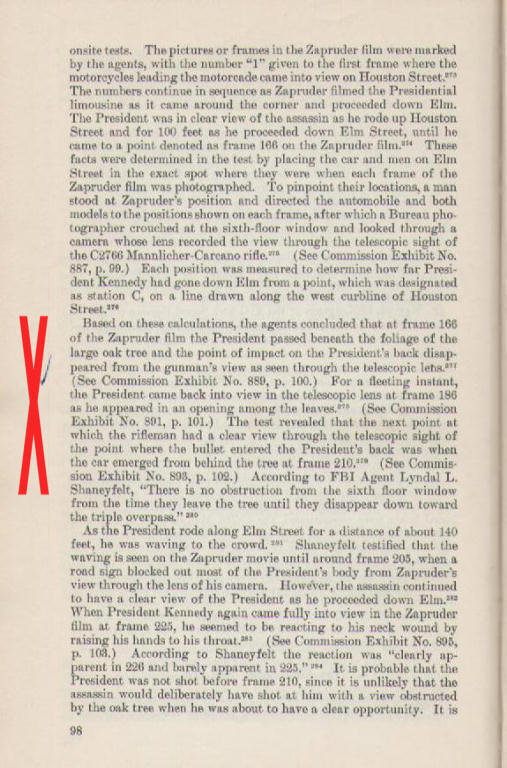 OSWALD WAS A "RATHER POOR SHOT". TESTIMONY OF OSWEALD'S SEARGENT NELSON DELGADO AND LT. DONOVAN
SEE>> http://www.whokilledjfk.net/delgado.htm AND>>> www.whokilledjfk.net/lt%20DONOVAN.htm
THE TIME TO RECYCLE THE BOLT ON THE RIFLE WAS 2.3 SECONDS WITHOUT AIMING WHILE THE RIFLE WAS BENCH-TESTED
(BOLTED DOWN ON A TABLE WCR volume III pages 441-451
=============================================================================
FURTHER TIMING PROBLEMS IS THE TIPPIT MURDER
THE WARREN REPORT STATES THAT OSWALD KILLED TIPPIT AT 1:15 P.M.
BECAUSE THEY KNEW THAT OSWALD COULD NOT POSSIBLY GET TO TENTH AND PATTON IN TIME FOR THE MURDER.
MAIN WITNESS HELEN MARKHAM LEFT FOR WORK EVERY DAY AT THE SAME TIME.
SHE HAD TO WALK DOWN TO JEFFERSON BLVD TO CATCH HER 1:15 BUS TO WORK EVERY DAY.
HER TESTIMONY STAETS THAT SHE SAW THE MURDER AT 1:06 OR 1:07 SHE SAID SHE WAS WILLING TO BET ON IT.
See>> http://www.whokilledjfk.net/markham.htm
OSWALD LEFT HIS ROOMING HOUSE AT ABOUT 2/3 MINUTES AFTER 1:00 P.M. ACCORDING TO HOUSEKEEPER'S TESTIMONY.
SEE>> http://www.whokilledjfk.net/tippit.htm
THE DISTANCE BETWEEN BOTH SITES IS .85 OF A MILE.
ROGER BANNISTER SET THE WORLD'S RECORD FOR "RUNNING AT "THE 4 MINUTE MILE.
APPARENTLY THOUGHT OSWALD TO BE THE FASTEST MAN IN THE WORLD.
SO, TO MAKE IT POSSIBLE FOR OSWALD TO HAVE KILED TIPPIT, THE COMMISSION SAID TIPPIT WAS KILLED AT 1:15 WHICH WAS
THE TIME THE DOCTORS DECLARED TIPPIT DEAD AT THE HOSPITAL.
Further testimony came from Domingo Benevides who said at the end of his testimony when asked "is there any thing else we didn't cover since the stenographer came into the room"? ? ?
Benevides replied "maybe just the time"
Benevides also described the killer as "long hair in the back and cut straight accross" (unlike Osewald)
Contact Information tomnln@cox.net
Page Visited