Posted on Sun, Oct. 31, 2010
Operation: Trick or Treat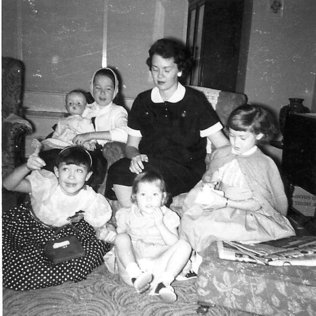 COURTESY OF HUGHES FAMILY
Christmas 1959, Karen and mother and sister, mother is due with fifth child, a boy.
Fifty years ago this Halloween, we Hughes kids were readying our costumes for an evening of happily collecting candy door to door. At the same time, my father was busy down a dirt road in South Florida loading improvised explosives onto a small plane. By the time he lifted off into the night sky and headed toward Cuba , I was sound asleep, unaware that we would never see or hear from him again.
The mission, dubbed Operation Trick or Treat, was a secret plan to drop bombs on Havana 's main power plant and presidential palace. My father, a former U.S. Air Force pilot and expert flyer, was confident he could fly the mission and be back in Fort Pierce by daybreak.
When my father, Paul Hughes, did not return, rumors and speculation began to circulate about his fate. The Fort Pierce News Tribune did a story on a Beechcraft Bonanza missing from the St. Lucie County Airport since Halloween night. After that, an article linking my father and the missing plane appeared on the front page of The Miami News (the evening paper).
The reporter who broke the story, Hal Hendrix, was known in certain circles for disseminating approved U.S. intelligence on Latin America . He wrote, "Whether their plane went down at sea, fell into Castro hands, crashed or landed in a remote area of Cuba or some other island is a question still to be answered."
That was in 1960. Fifty years later, there is still no answer. My family first learned about my father's disappearance from an issue of LIFE magazine. The article, complete with photos of my father as a "Castro Supporter" and a "Castro Hater," made my father out to be a lone nut, someone consumed by anger and a personal vendetta against Fidel Castro. That was not the man who took me flying and sang songs through my co-pilot's headset.
Unknown dangers
In the months before the Halloween disappearance, my family knew nothing of what was going on down in Florida . We had last seen my father that summer and were still in the early stages of recovering from our time in revolutionary Cuba . We were uncomfortably aware that my father was taking great risks for inexplicable reasons.
When he had dropped out of aeronautics courses at Georgia Tech in 1958 to join the revolution down in Cuba , my mother tolerated his choice. The following year, when we were evicted from subsidized housing in Atlanta after a series of articles on my father as a "soldier of fortune" ran in The Atlanta Constitution and Journal, my mother agreed to move to Havana with my three sisters and me. Back then, our dad was optimistic about our future and certain there was a place for him in the new Cuban order.
In April 1959, we moved into a large home in the posh Biltmore neighborhood of Havana after my father was awarded the position of captain in Cuba 's Rebel Air Force for his service to the revolution, supplying guns and aircraft to the cause.
It was the spring of 1959, just four months since Batista had fled. I remember being taken to a stadium to see the bearded Fidel Castro speak before thousands of cheering Cubans and being awed by the experience. He was the same age as my father, and the two seemed like dashing heroes.
Only one year later, by the time of the Halloween mission, my father would have fallen very far from this height. By the summer of 1959, our situation in Cuba had gone rapidly downhill. My father was arrested after a raid on our house revealed a stash of weapons in our basement, the area that had been strictly off-limits to my sisters and me. We took oranges to where he and other American and Cuban men stood accused of plotting a revolution in Nicaragua .
An American pulled my mother aside that day and told her, "You have to get out of Cuba . Paul is in too deep."
Escape and disillusion
My mother tells me that from that moment on she knew she was on her own. She determined that she had to protect her children and find a way out of the country. We girls survived on cornflakes and hope for days, then suddenly were told we were leaving. There was no packing, just a hurried choice of a toy to bring along. Guards keeping us under house arrest were yelling in Spanish, but my mother walked out the door with us and into a waiting car. She did not look back until a gunshot rang out. I remember turning to see a young man holding a rifle, pointed at the back window of our car as we sped off.
My mother says the scene at the airport was chaos, with men dressed in all kinds of uniforms. "I just kept moving forward with you four girls, praying we would get on that flight," she says.
We did not stop running until we reached my mother's hometown in South Jersey, where Cuba and guns and my father seemed very far away.
My father visited us several times in New Jersey after he was released from prison in Cuba . We did not know that his U.S. citizenship had been revoked or that Raúl Castro, soon to be appointed minister of defense, had accused him of being an American spy. We kids wanted to believe our dad when he took us to tour model homes and said he would make good on his promises for a normal life someday. But something kept drawing Paul Hughes back to danger.
Was it an addiction to adventure? Was he so disillusioned with his part in aiding the communist consequences of the revolution that he would stop at nothing to redeem himself? Was he furious that the United States was going to allow the situation to continue so close to our shores? And why was he so willing to risk losing his family for a country and cause that was not his own?
My brother was born in January 1960. Paul returned to New Jersey a few times to see his newborn son. He begged my mother to move us all to his parents' home in Atlanta , but she no longer trusted his judgment. In October of that year, in a final note sent to my mother days before his disappearance, my father ends with the cryptic message, "I intend to take no chances."
Pieces of a puzzle
The story of the Halloween mission appeared on front pages across the country in the early days of November. Hendrix described the mission as one intended to be a "dramatic stroke of revenge for the summary execution of three Americans and 15 Cubans by the Castro government" – referring to an armed invasion near Guantánamo by a small group of Cubans and Americans.
Three American men were shot by firing squad for their part in the invasion: Tony Zarba, Dale Thompson and Bobby Fuller. (A Miami-Dade court recently awarded Fuller's heirs $100 million from Cuba 's frozen assets for his "wrongful death.") It was their names that were carefully stenciled on the military surplus bomb casings by a young Miamian, now in his seventies, who recently confided to me that "Paul had to have had connections. He just knew too much."
Although the Trick or Treat bombing plot came just weeks after the executions and was widely reported to have been the impetus for the mission, questions remain. Was the Halloween bombing plot actually planned long before the executions, as a member of the Bobby Fuller family – whose garage was used as the workshop for preparing the explosives for Operation Trick or Treat – claims? Did the executions provide a convenient excuse for the timing of the mission?
Was Hendrix's assessment that the mission, had it been successful, "could have shaken the hemisphere far beyond the explosive power of their homemade bombs" hyperbole? Keep in mind that the last debate between Richard Nixon and John F. Kennedy in the final days of the presidential contest centered on what to do about Cuba, and Kennedy – knowing Nixon could not reveal information he was privy to as vice president – took a hard stand against communism in Cuba, making Nixon appear ineffective.
Could the mission have been planned to serve as some sort of preelection October surprise to help Nixon and the architects of the full-scale invasion of Cuba already planned for April 1961 remain in power?
In all my years of investigating my father's disappearance, I have come up with as many questions as answers to his motivation. The simple story is about a hot-headed pilot bent on revenge. The truth may go deeper – only full disclosure from both the United States and Cuba can reveal the whole story. For now, the Hughes family remains caught in the ongoing Cold War between America and Cuba , both denying knowledge of Paul Hughes, both accusing the other of withholding information. I know now that Paul Hughes was definitely serving a role as an intelligence informant for the U.S. military, but at the same time could he have been an "adventurer" peddling his flying skills and insider knowledge to the highest bidder?
A righteous pursuit
Although I have not been able to solve the Halloween mystery in its entirety, I have succeeded in being one small stone in the big shoes of both the U.S. and Cuban governments. Asking tough questions, never giving up on the liberating power of plain truth exemplifies the best of American freedom. I traveled to Cuba a few years ago, the first time since my stay as a child in 1959. As an American woman, alone, defying authority and asking only for honesty, I served as an unofficial representative of the best of our country for people in place where disinformation still rules the day.
The morning I was shown the story of my father's disappearance, I headed off to my second-grade class, unaware of how my life would be altered from that day on. Kennedy had just been elected president, and the Bay of Pigs was six months away. Perhaps my father was a man guilty of what we today would call terrorism. Time and truth may tell.
As his daughter, I honor him by continuing to search for the meaning of his actions and his short life.
I do not ask for pity or notoriety. What I wish on this 50th anniversary is for light to finally be shown on the dark places in the story; that from Miami to Washington , those in the know will come forward and reveal the truth. Every Halloween, the simulated graveyards and gory reenactments of death remind me that my father's remains have never been recovered. As a Catholic, he would have wanted a consecrated burial – maybe someday there will be enough generosity and reconciliation between us to afford this one small thing.