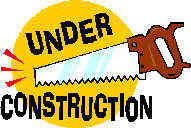 siunce when does the number one suspect get to investigate itself.
no wonder there is a great loss of respect/belief in the American legal systEm.AND, LAW ENFORCEMENT COMMUNITY.
The Warren commission had NO Investigative staff of their own.
They had to rely on the FBI as the Primary Investigative body.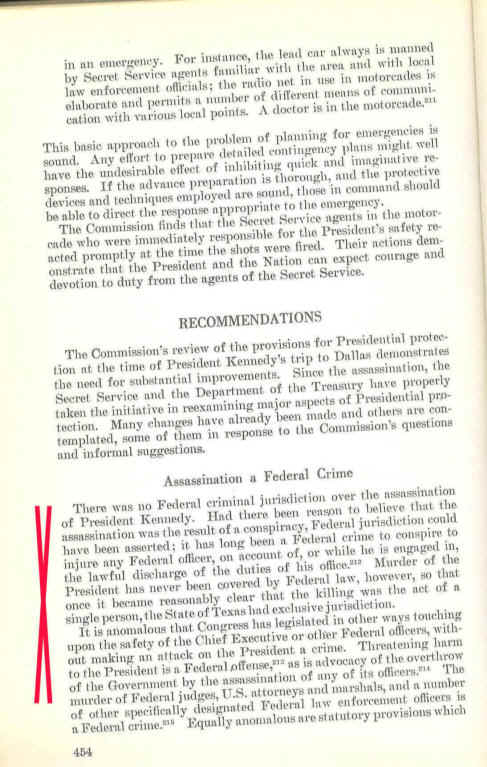 Unfortunately the FBI was the PRIME Suspect of the Secret Service according to Robert Oswald. (who heard it from the secret service)
SEE>>> http://whokilledjfk.net/Robert%20Oswald.htm
SEE>>> http://whokilledjfk.net/Robert%20Oswald.htm
FBI "Reenactment"
THIS trajectory Misses the throat wound !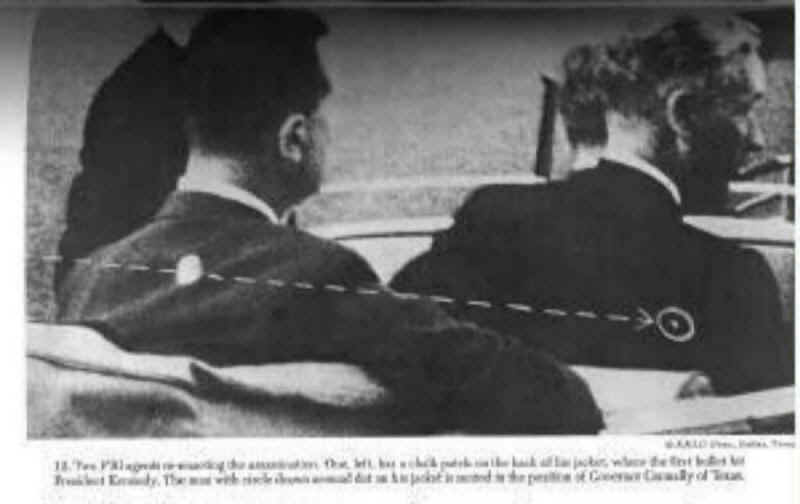 Amazing to see that Dallas FBI Agent James Hosty was involved in the investigation of the Walker shooting.
That just might explain how the Steel Jacketed bullet recovered from the Walker shooting turned into a copper jacketed bullet for the Warren Commission. Click on the FBI HOSTY Button
Here is the FBI Report to the Warren Commission.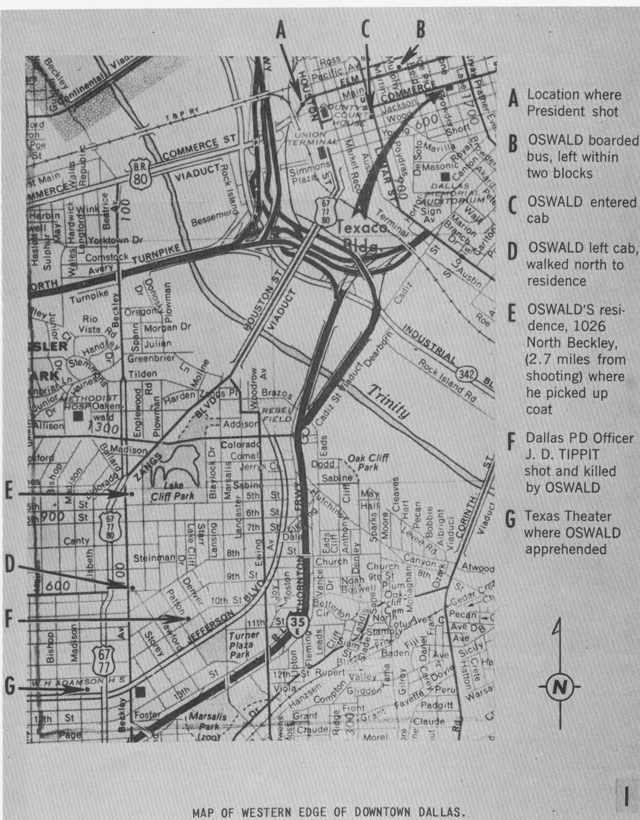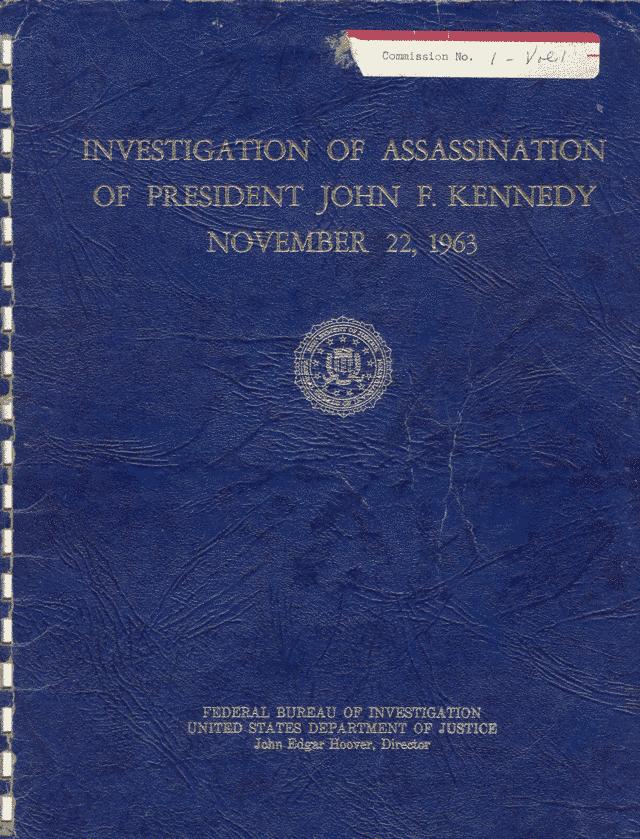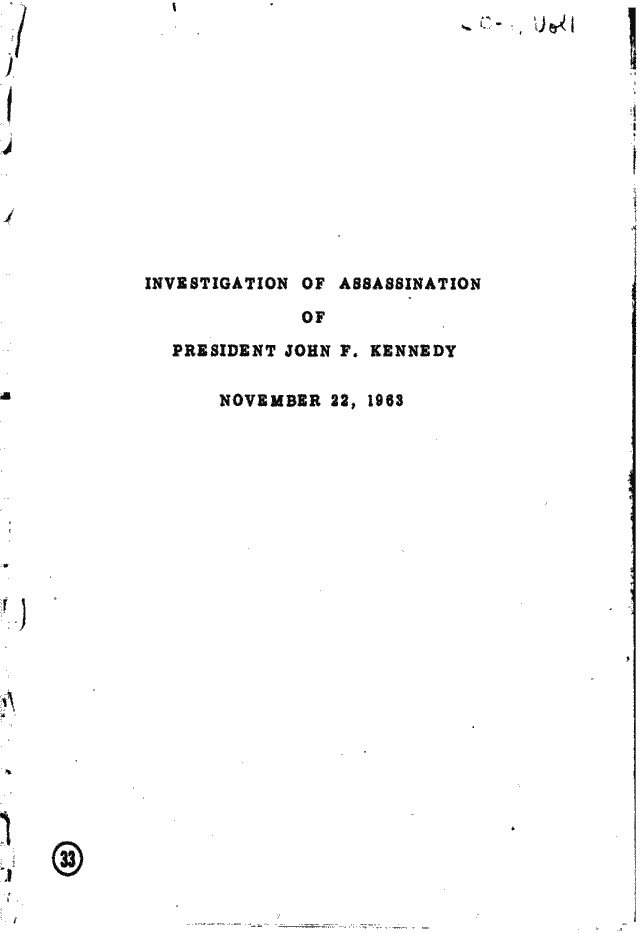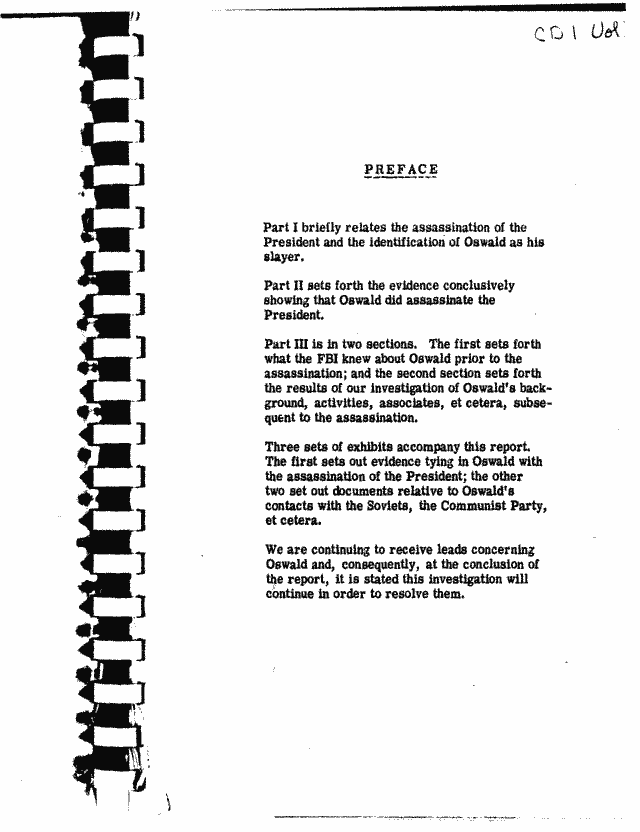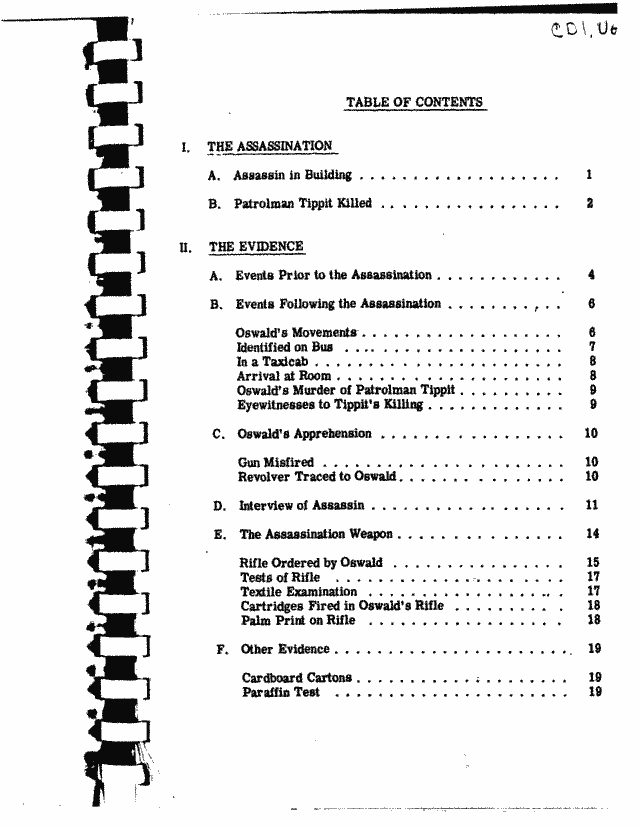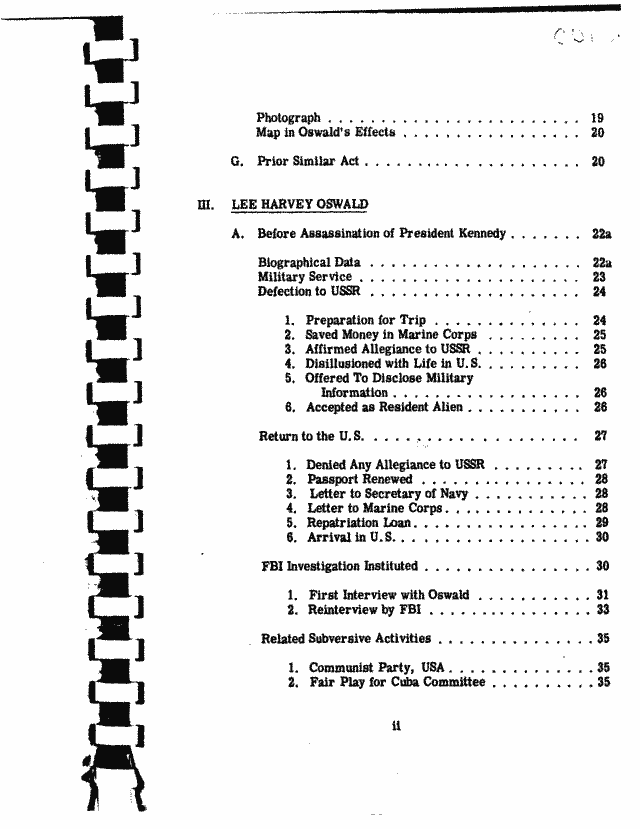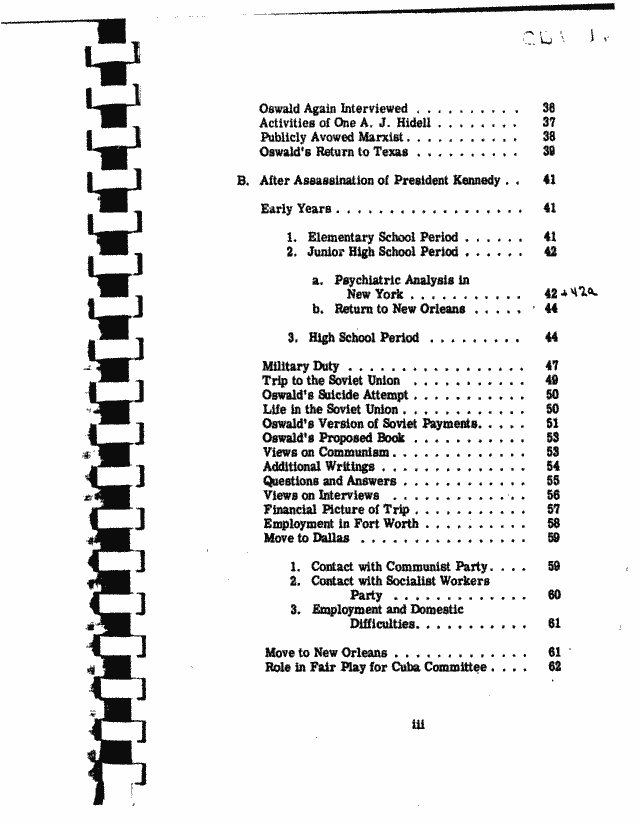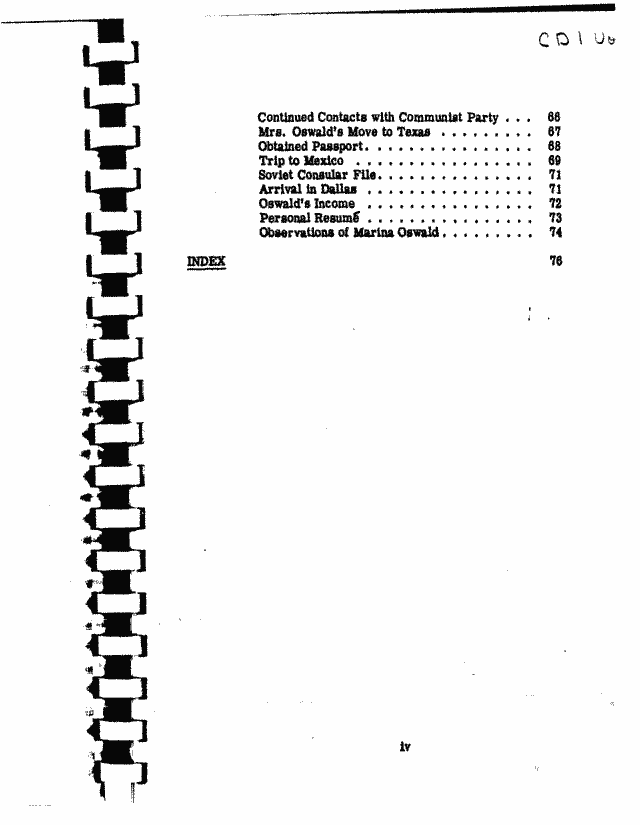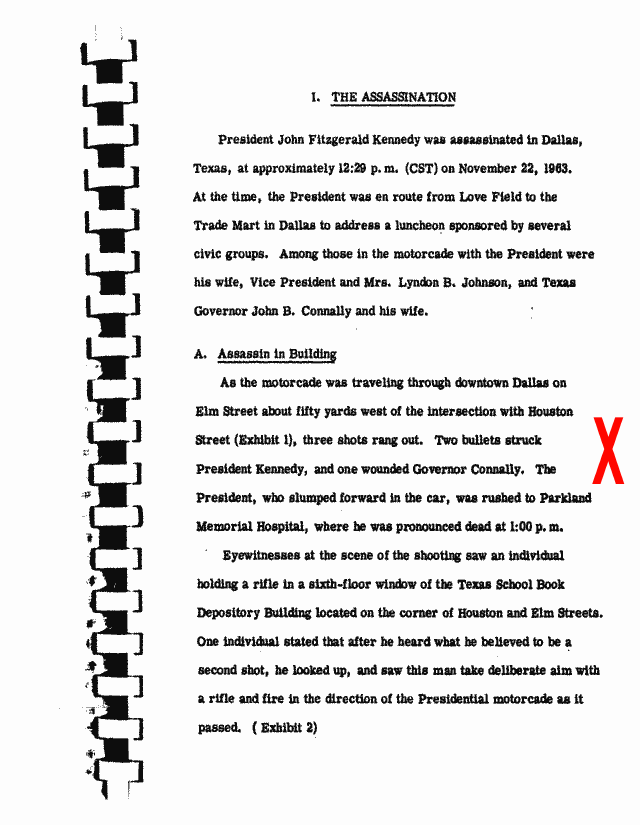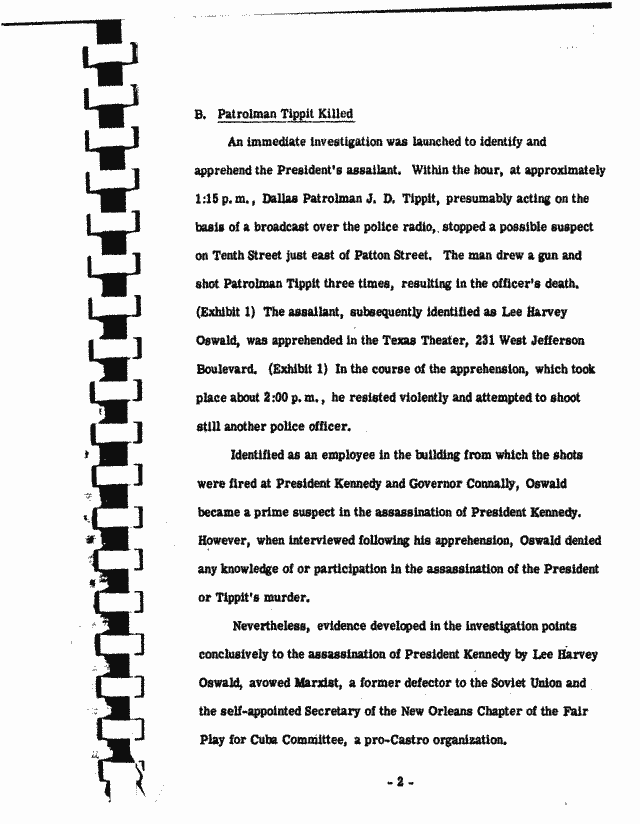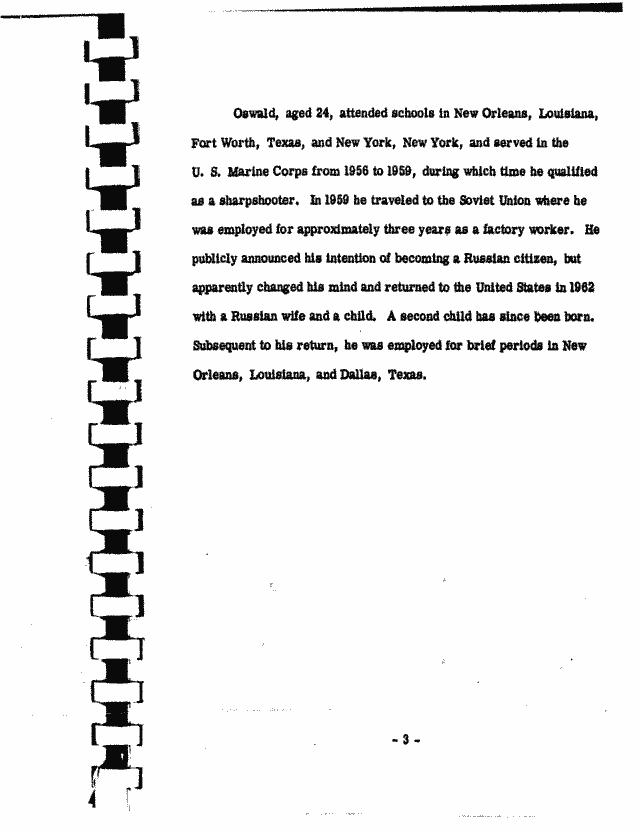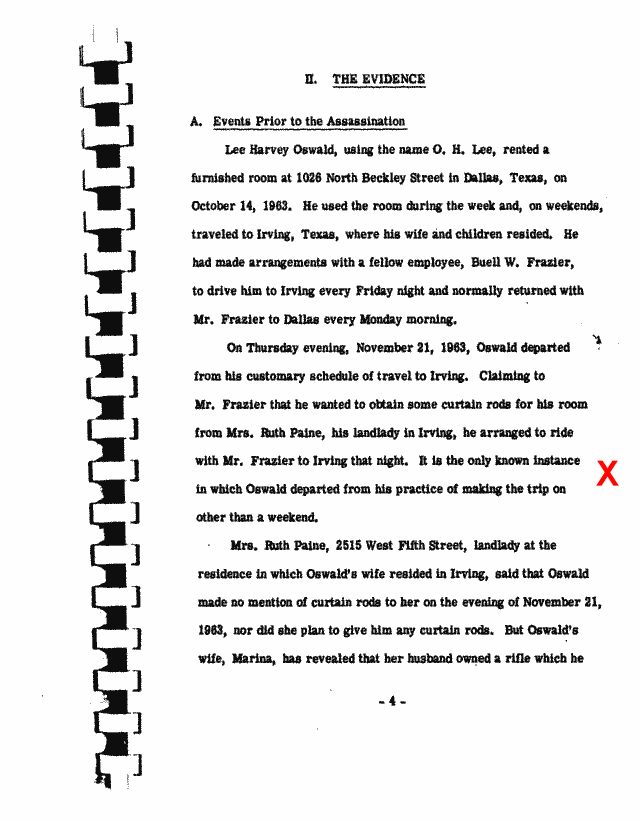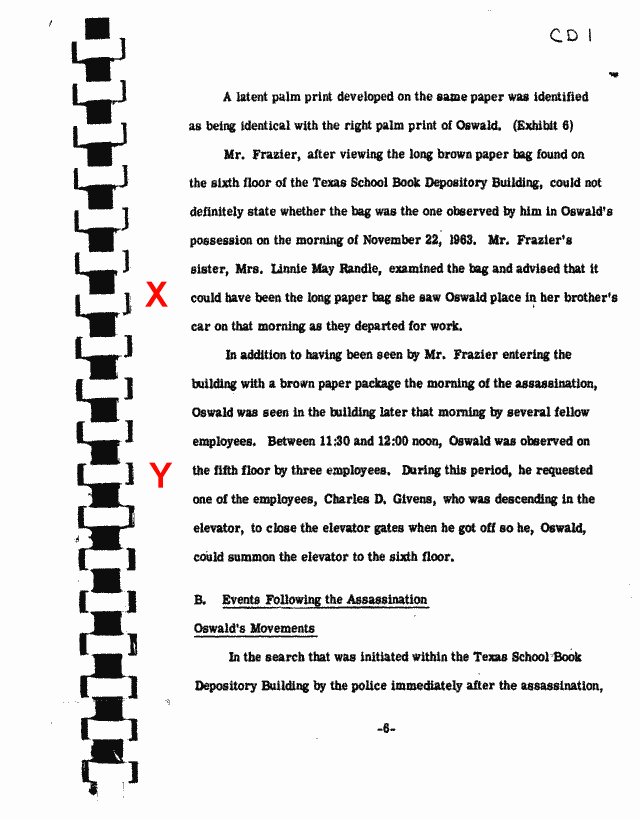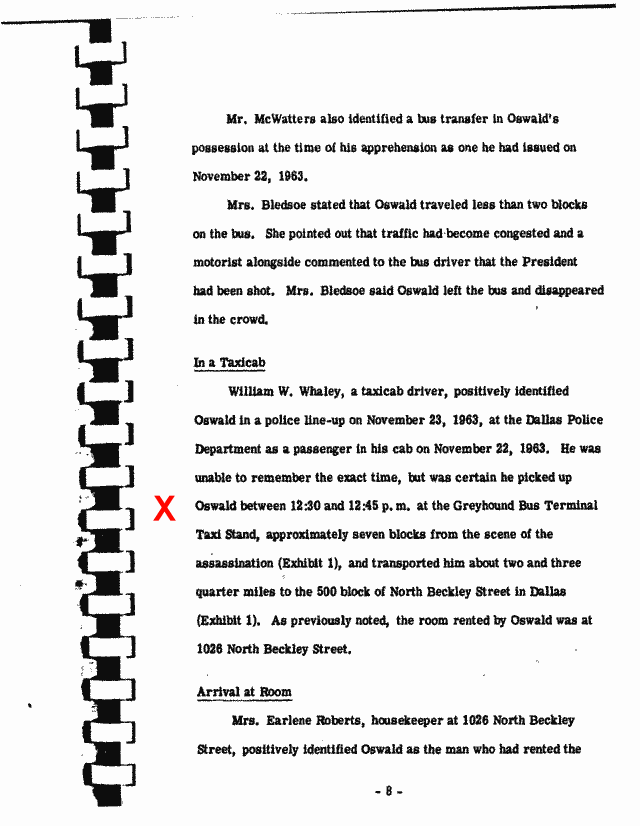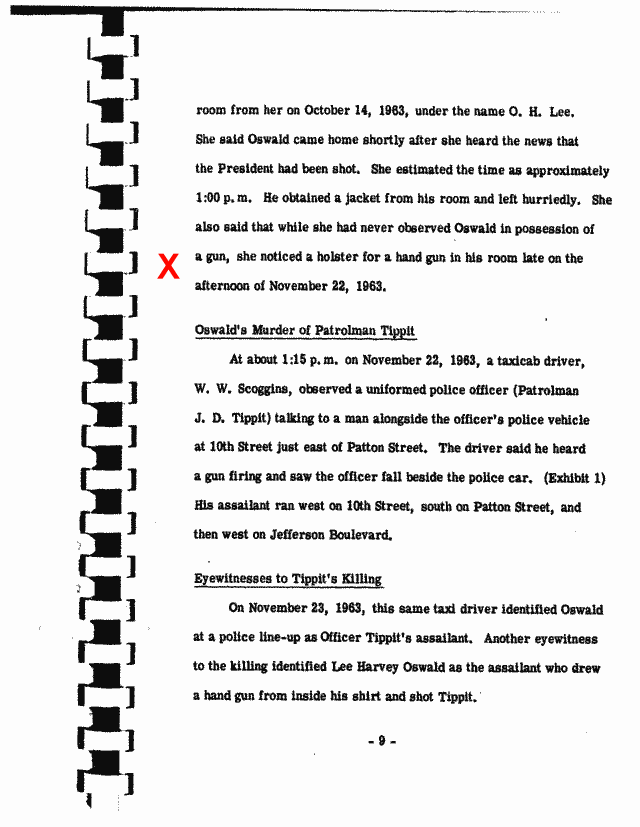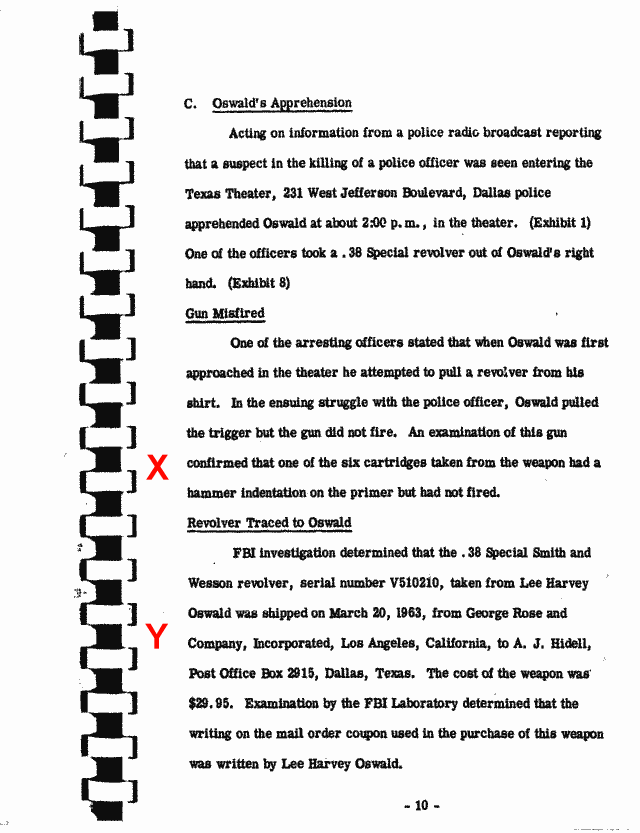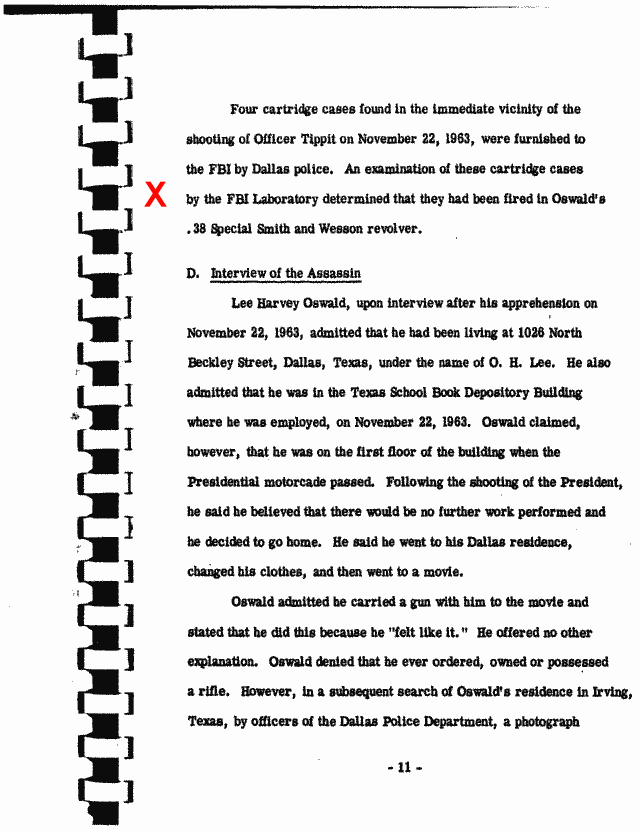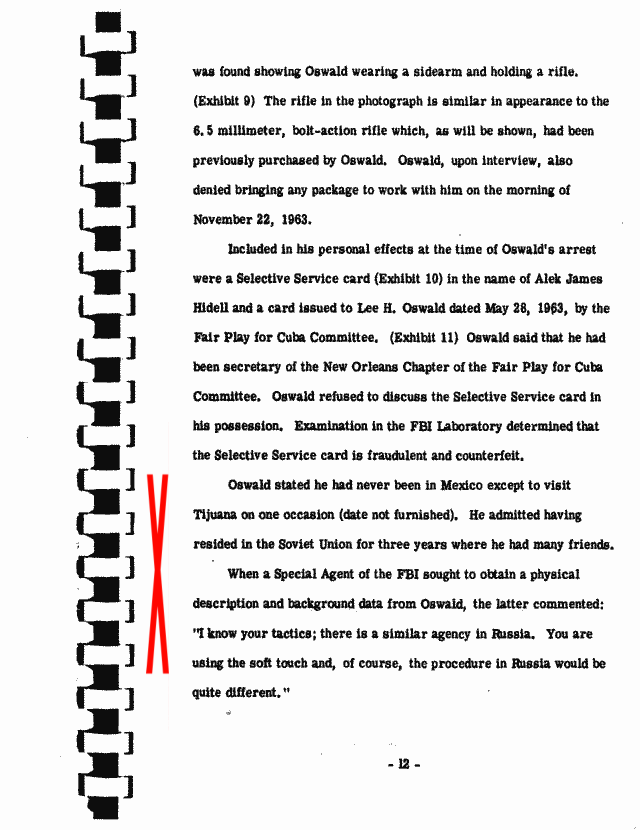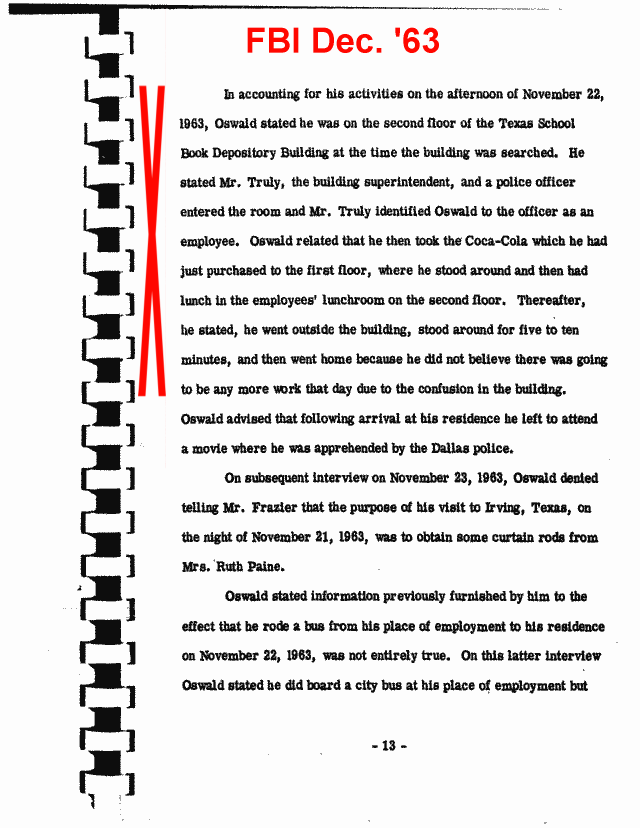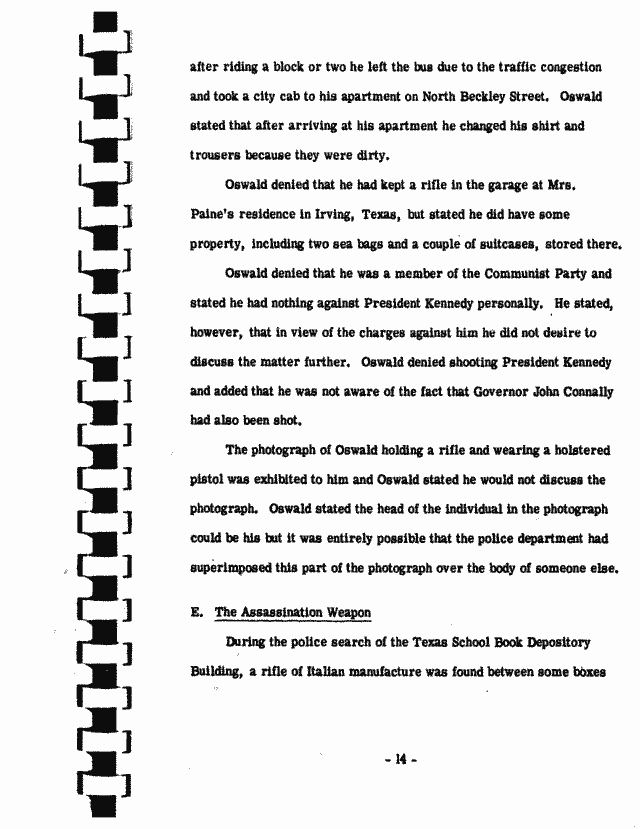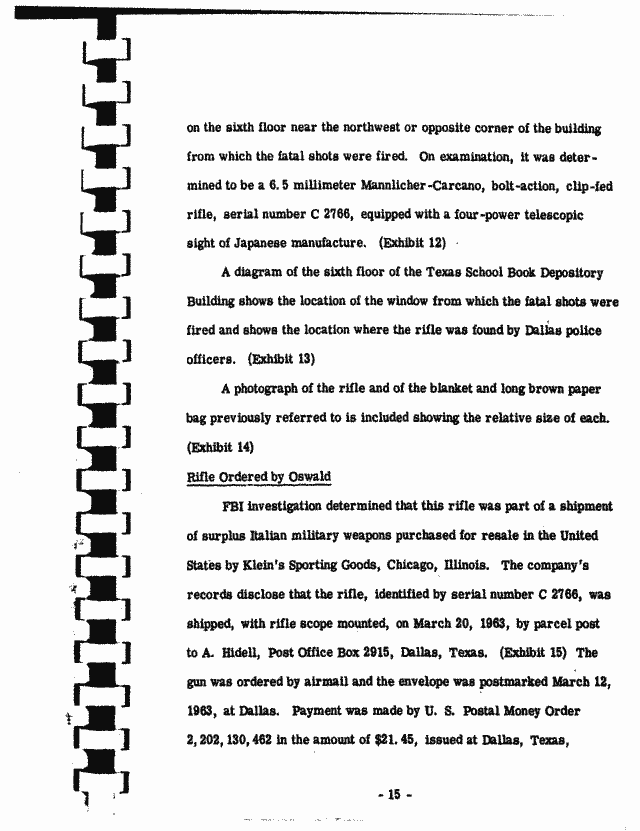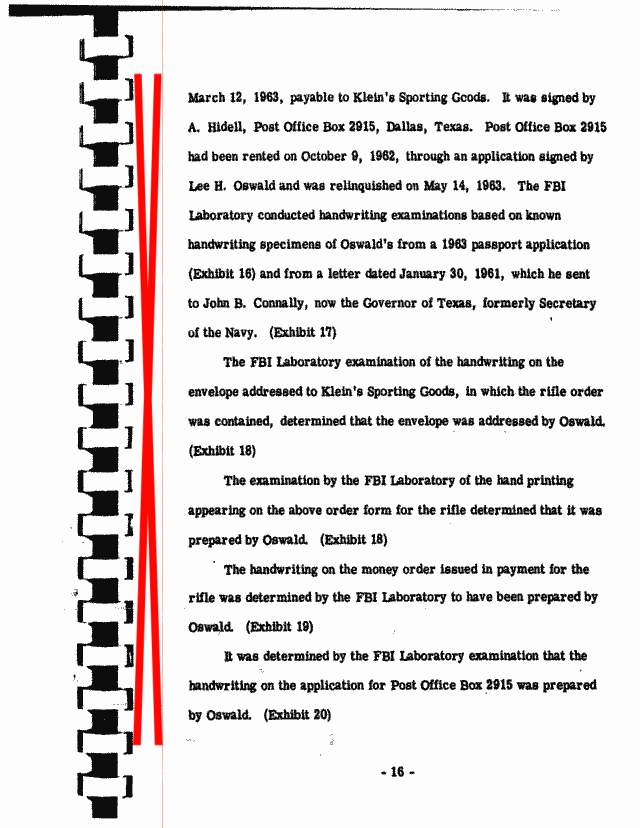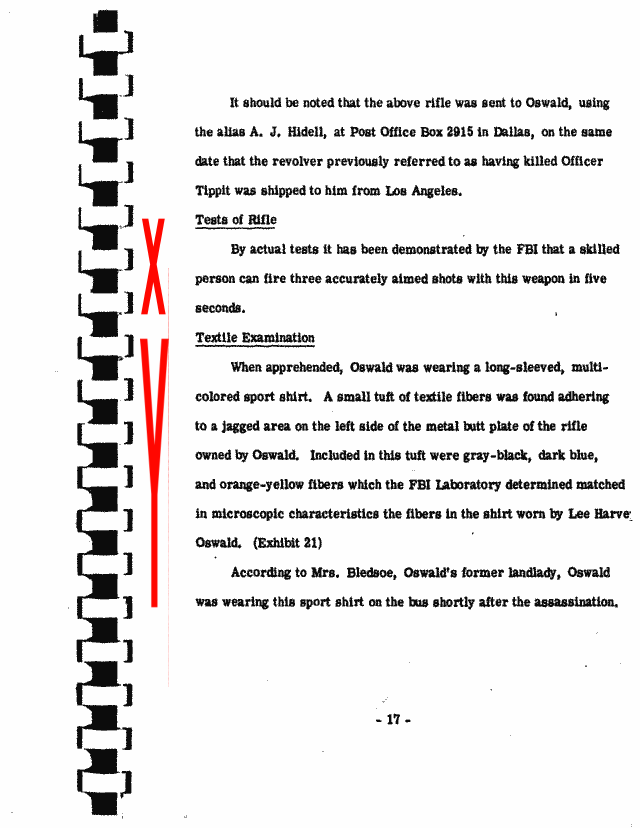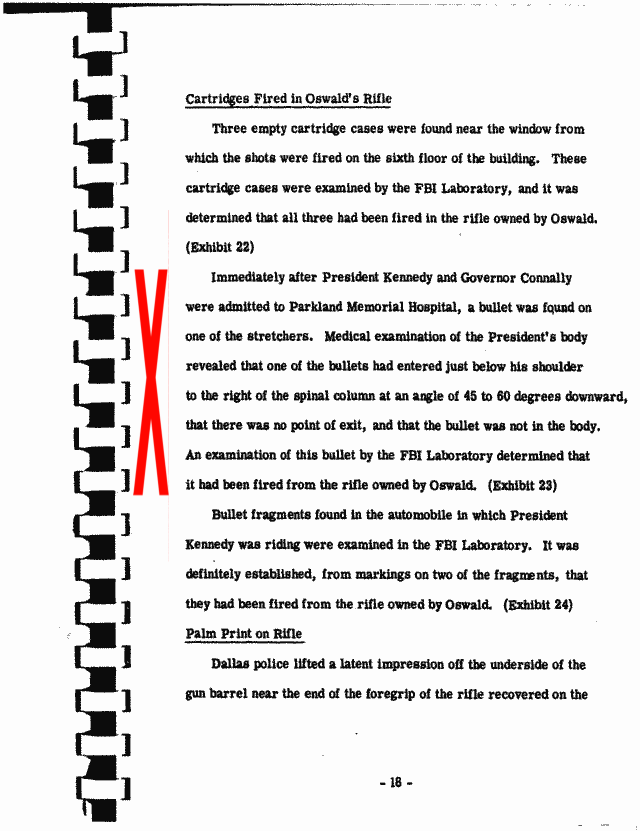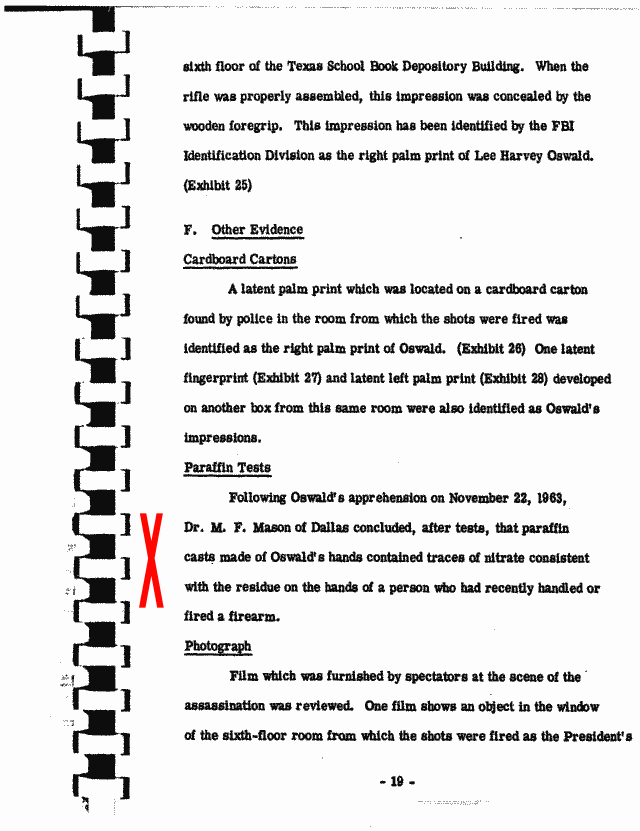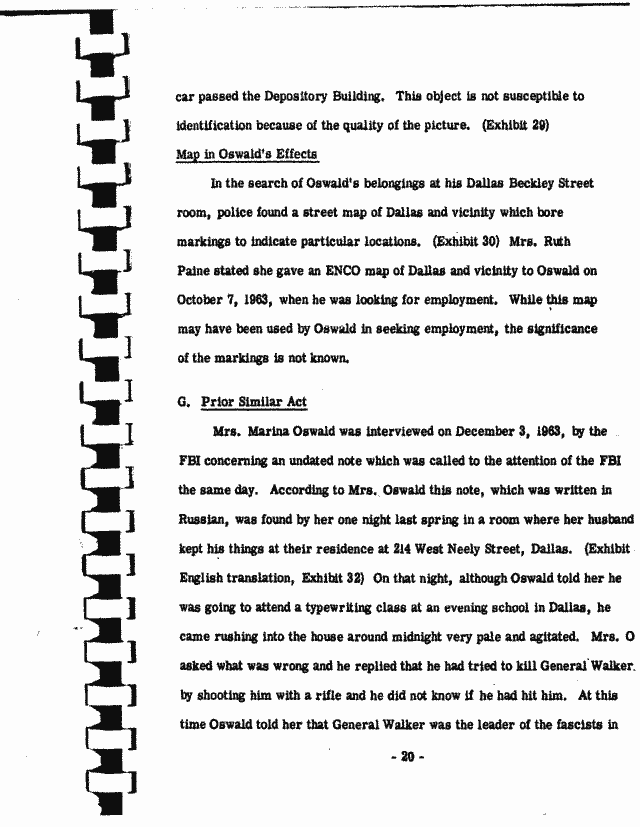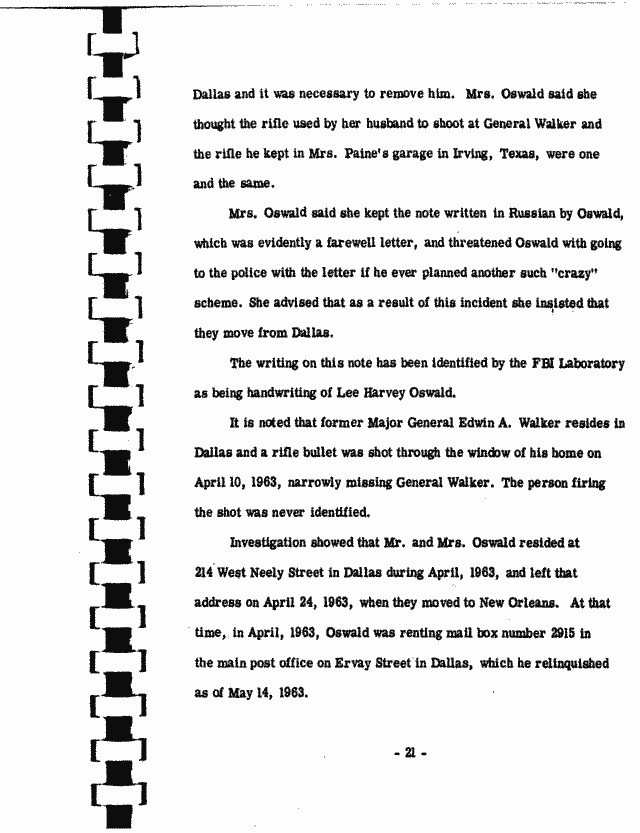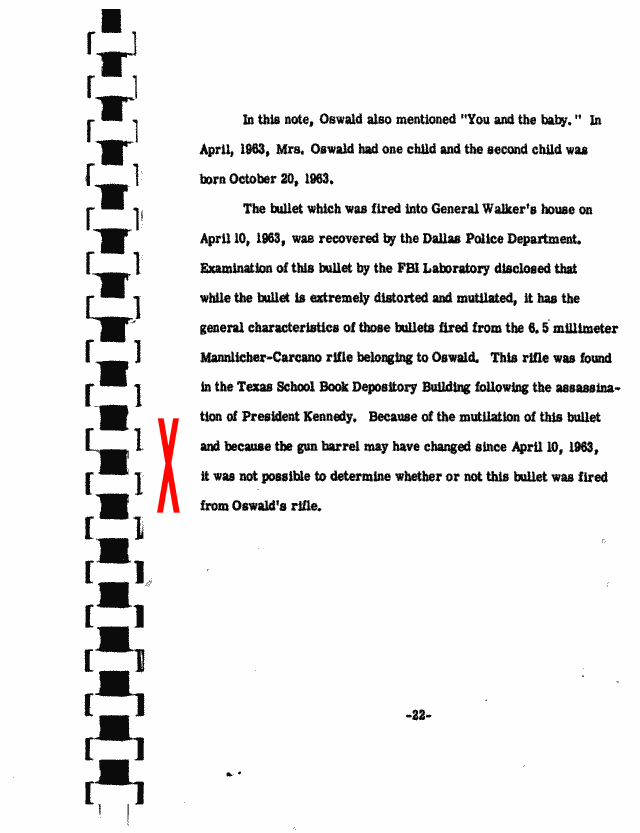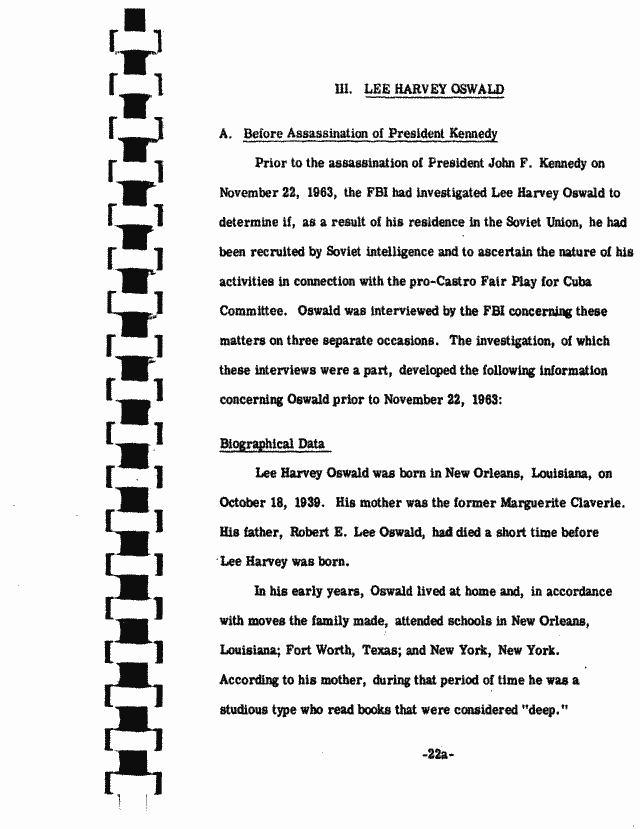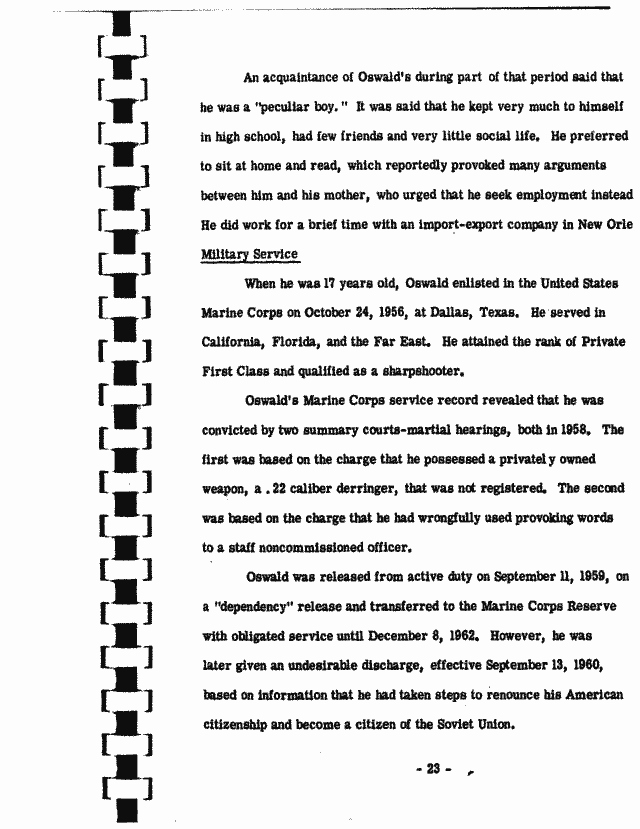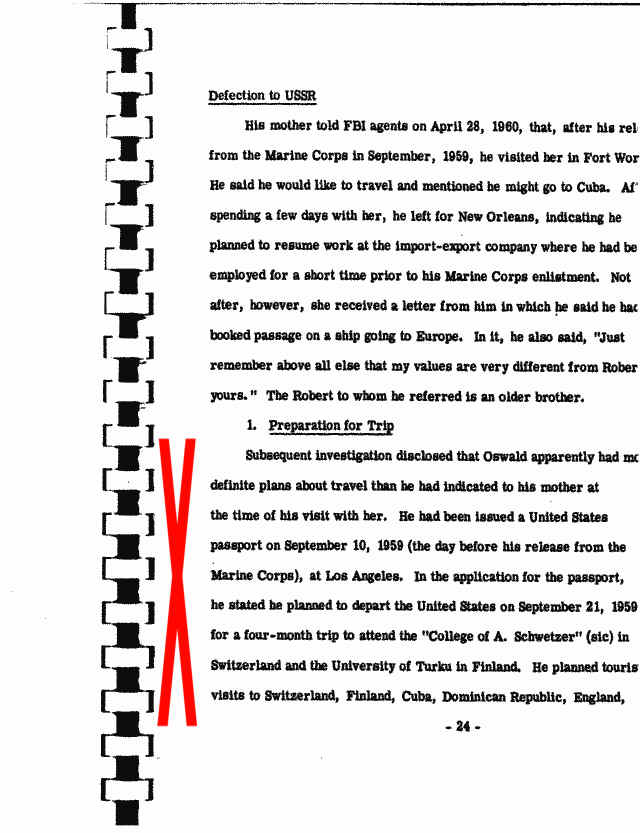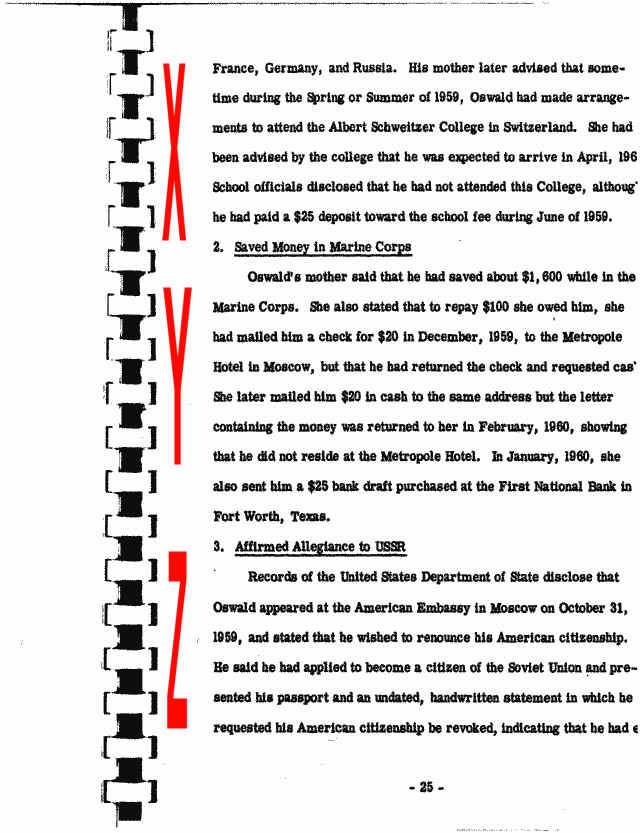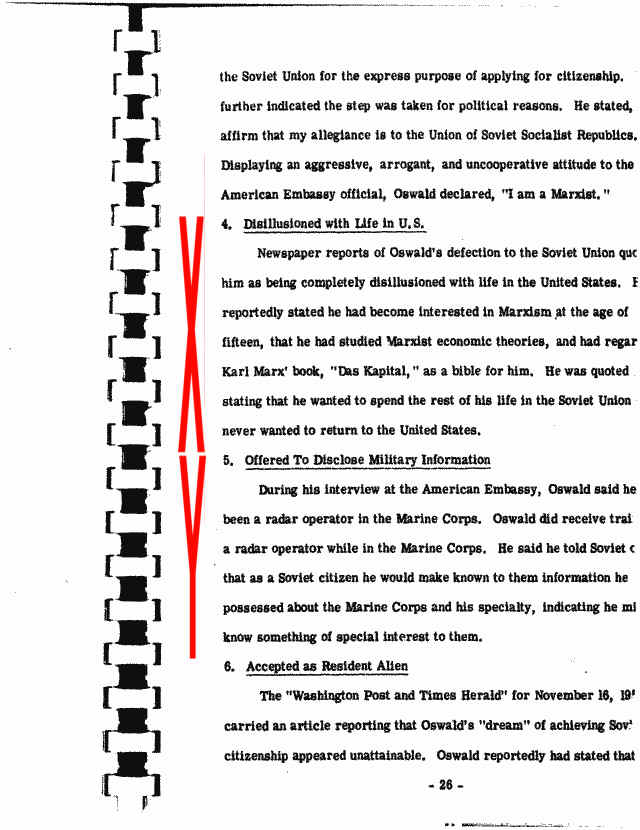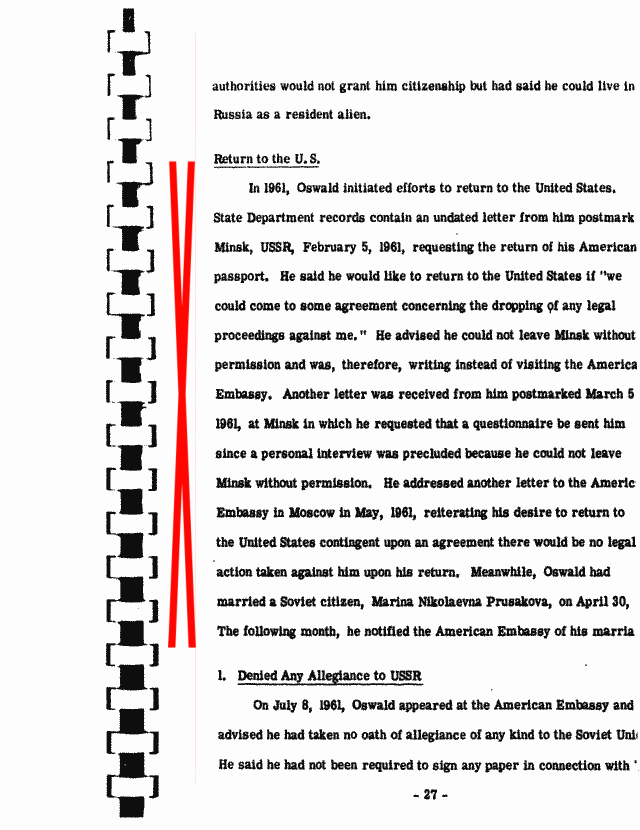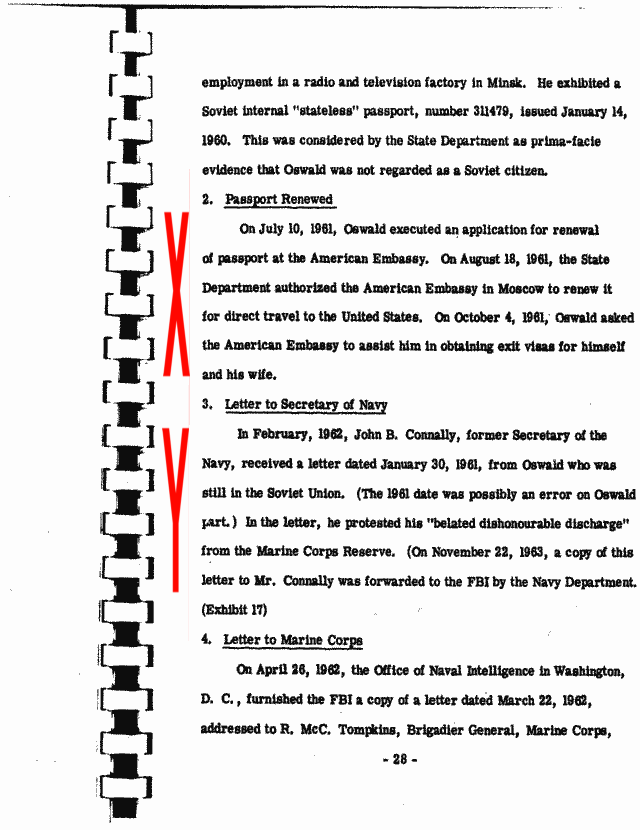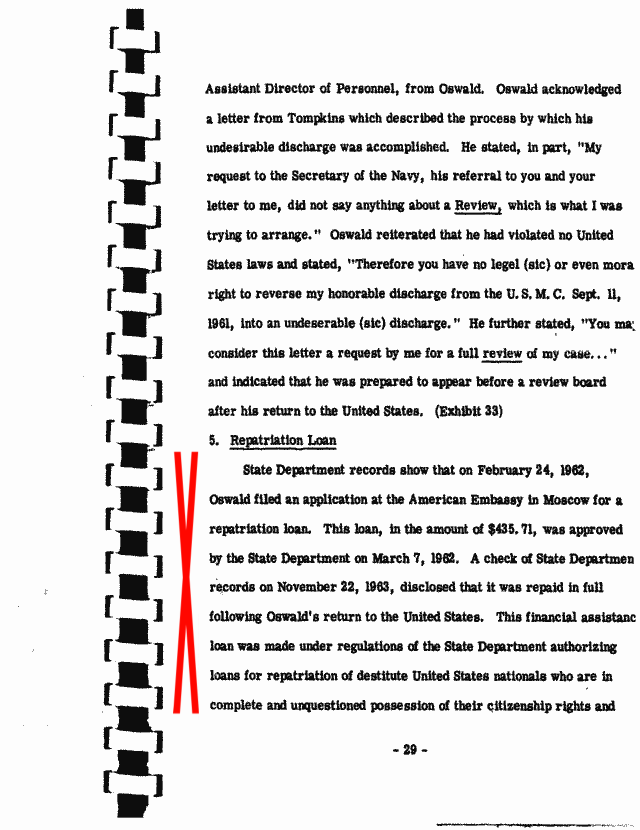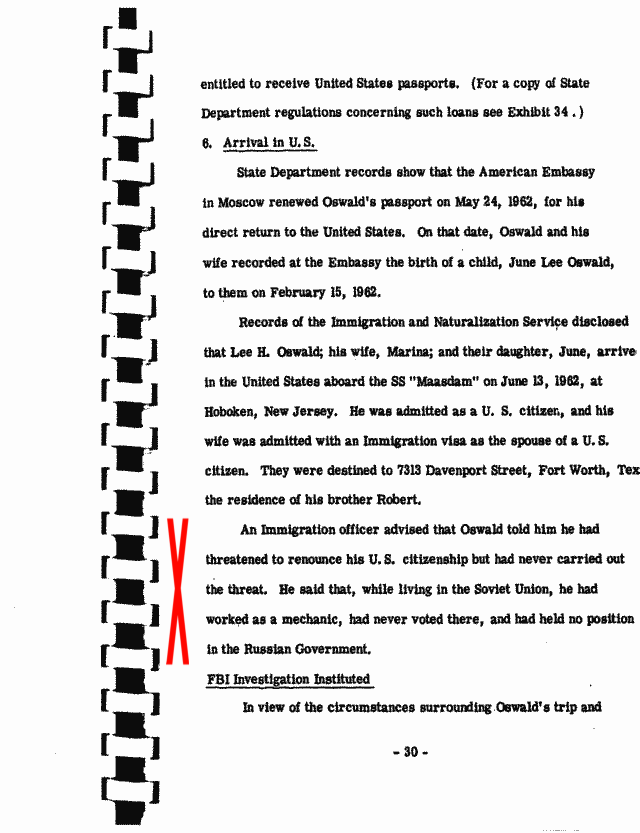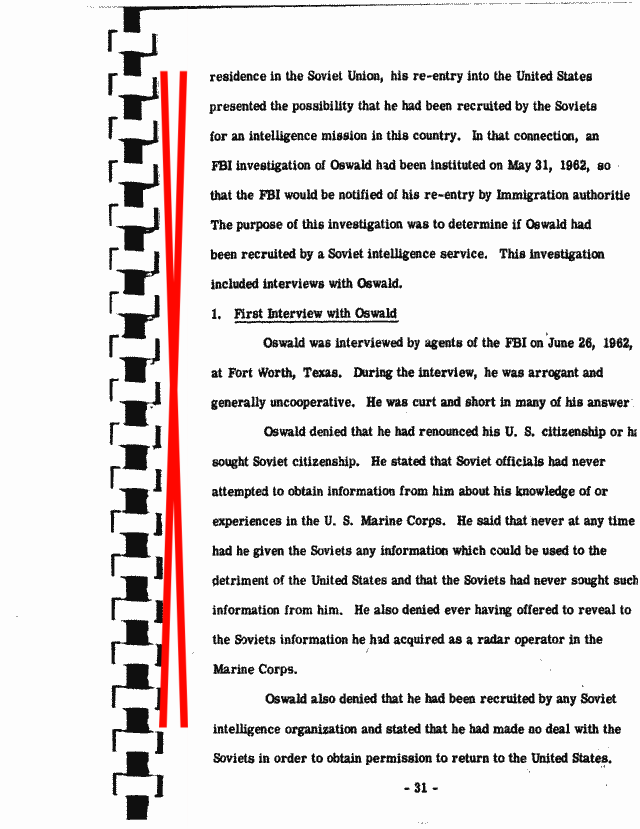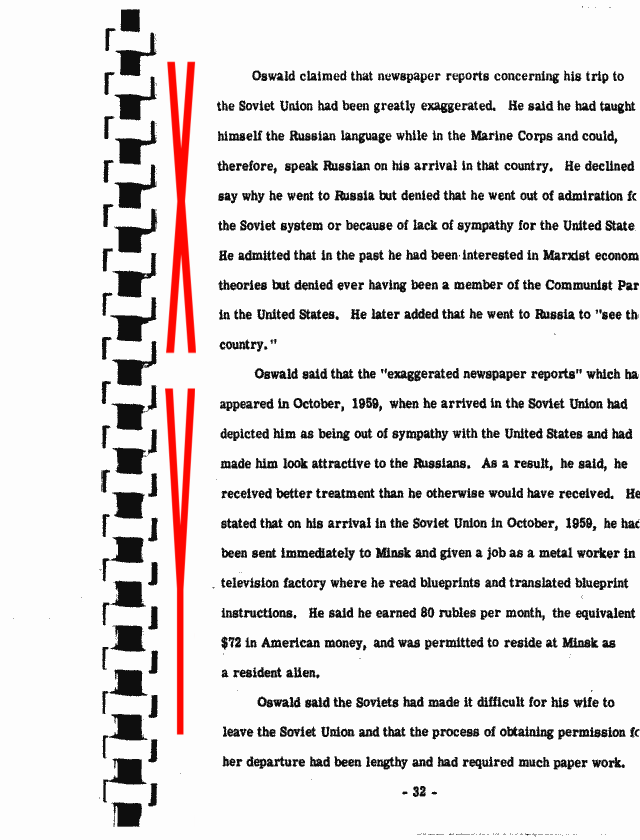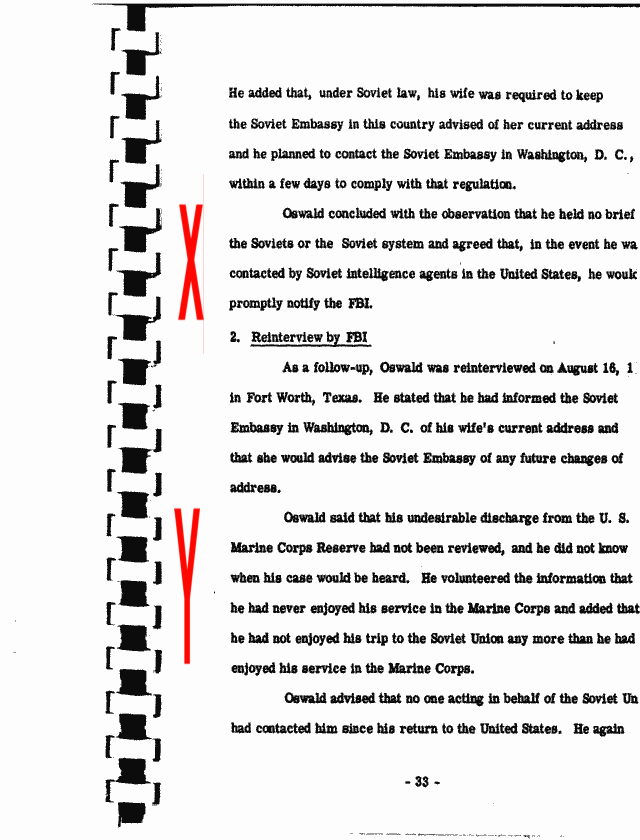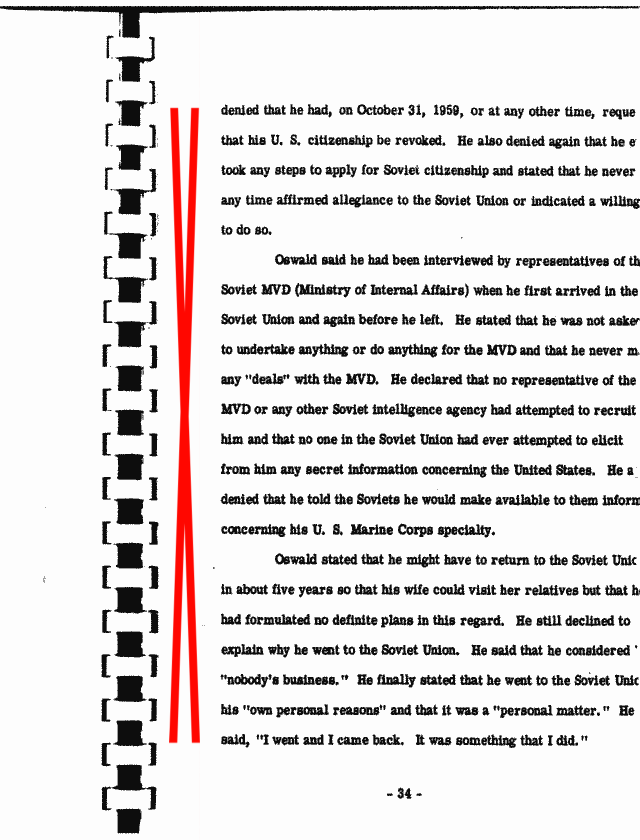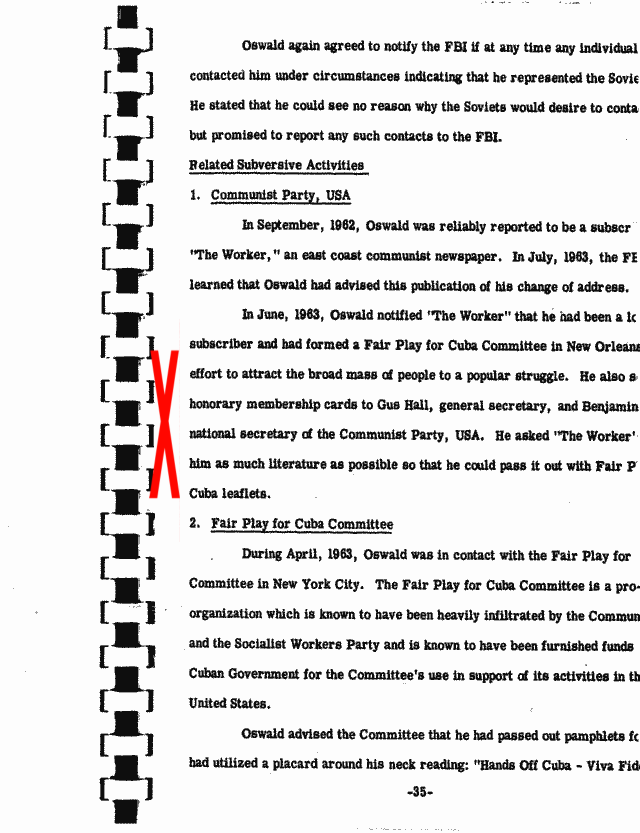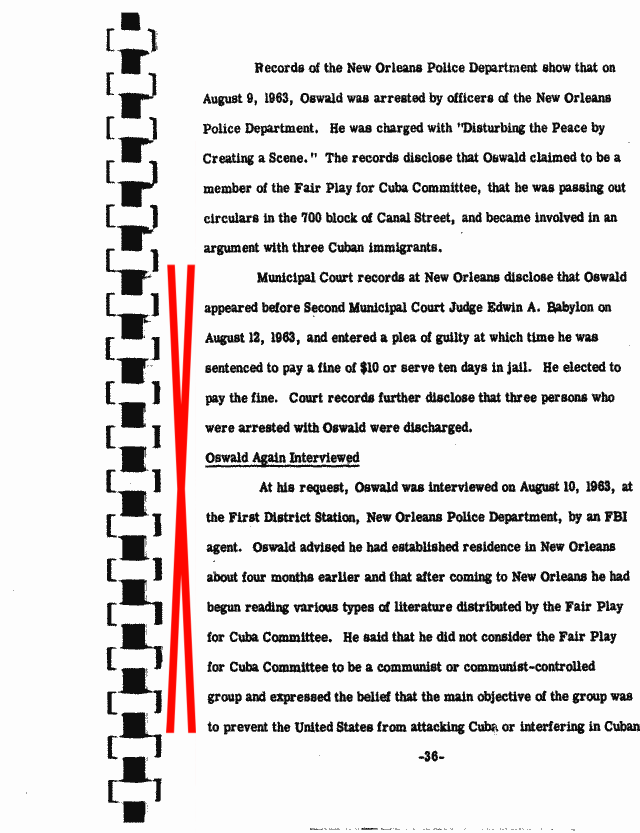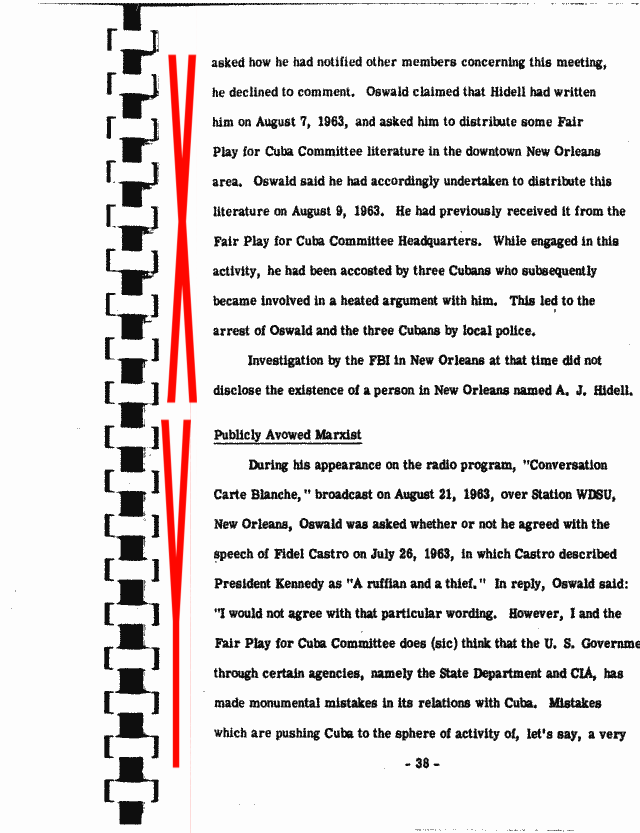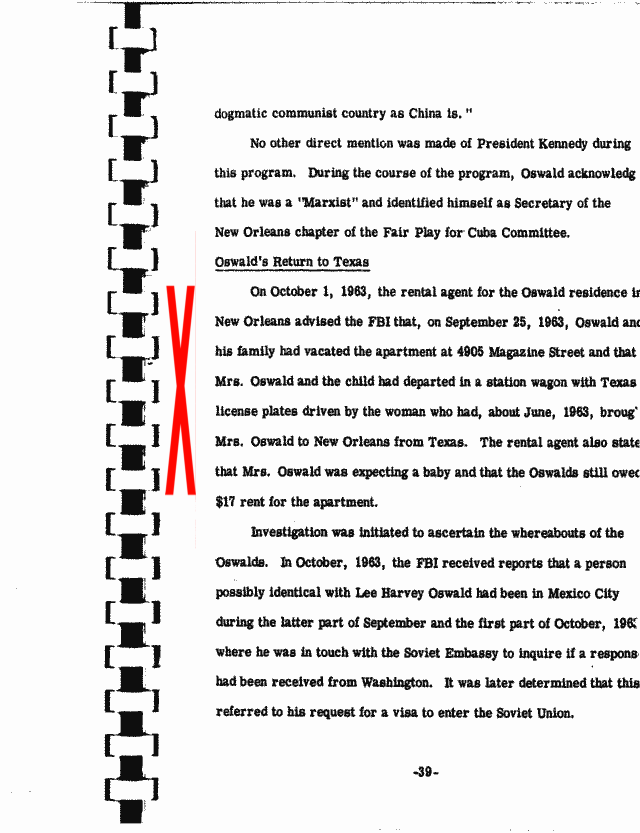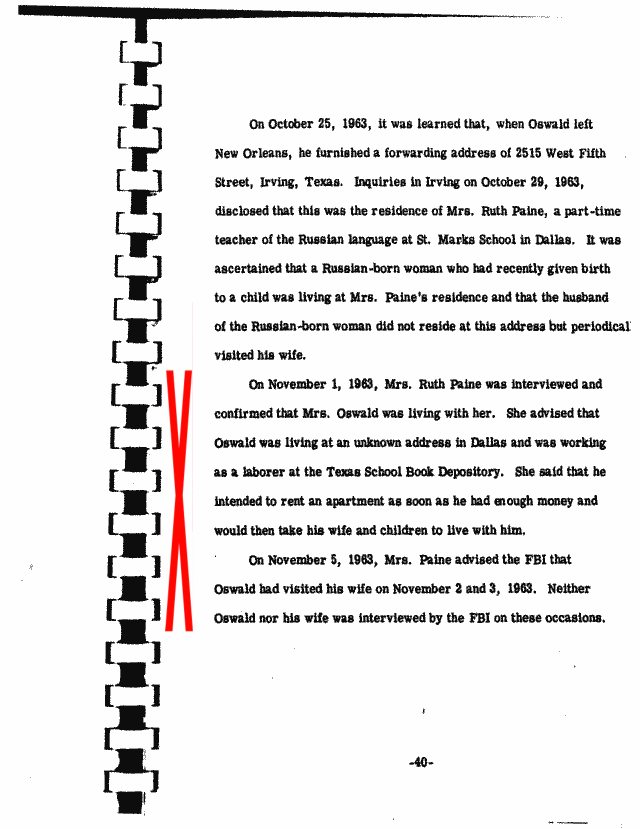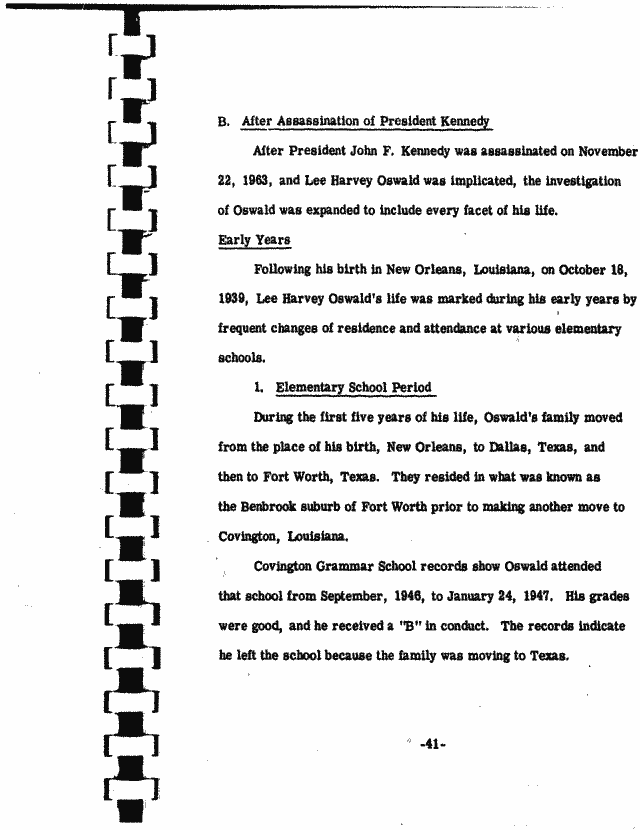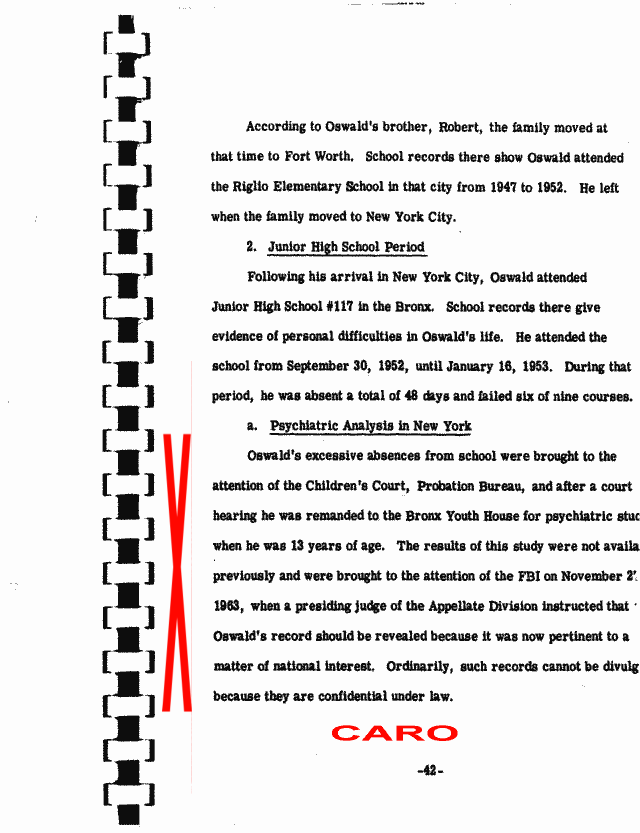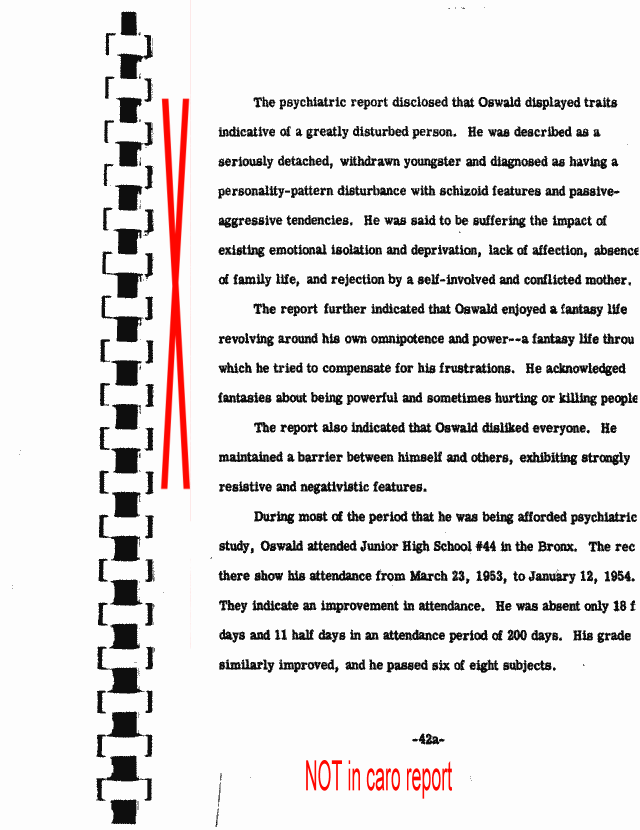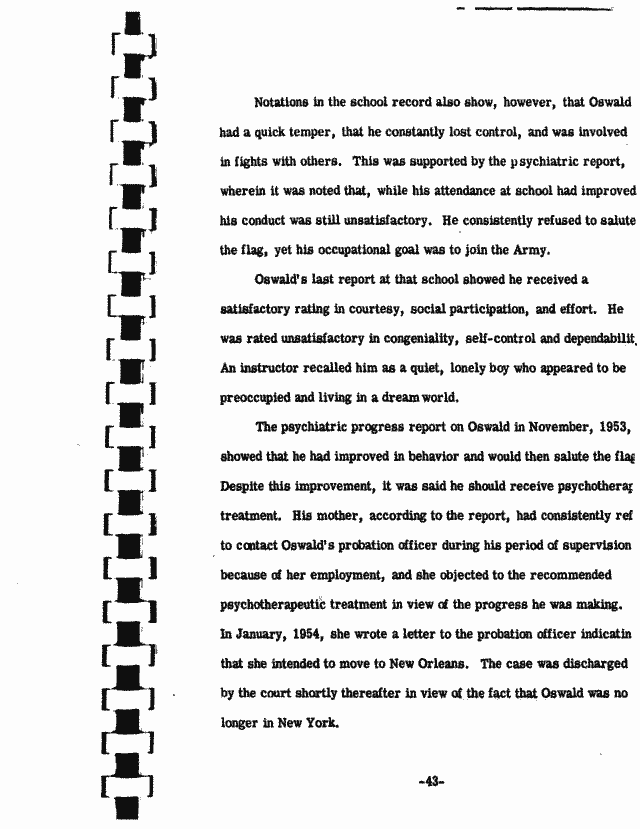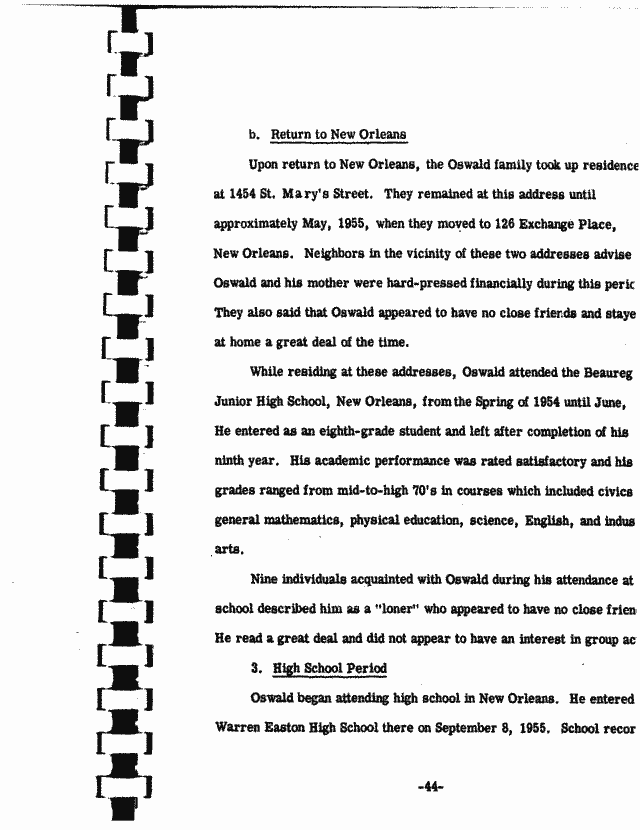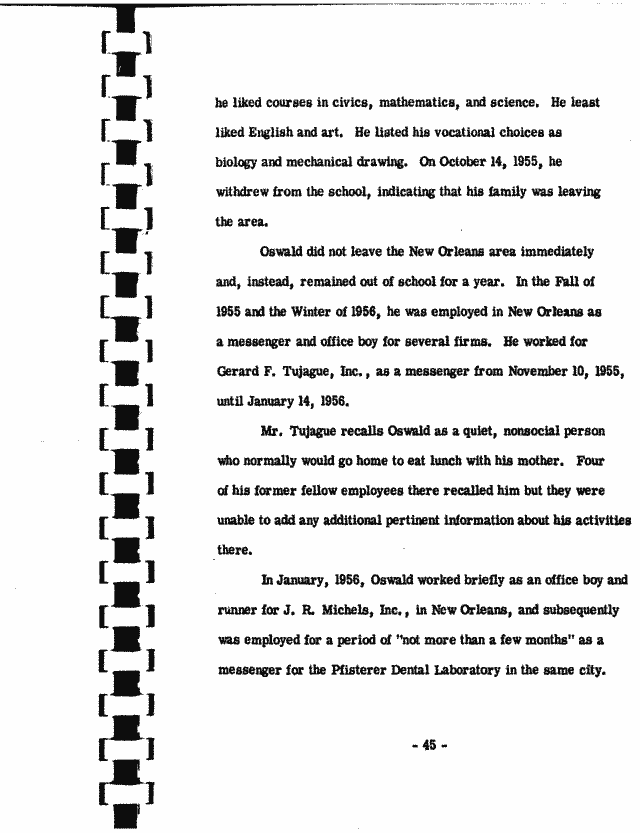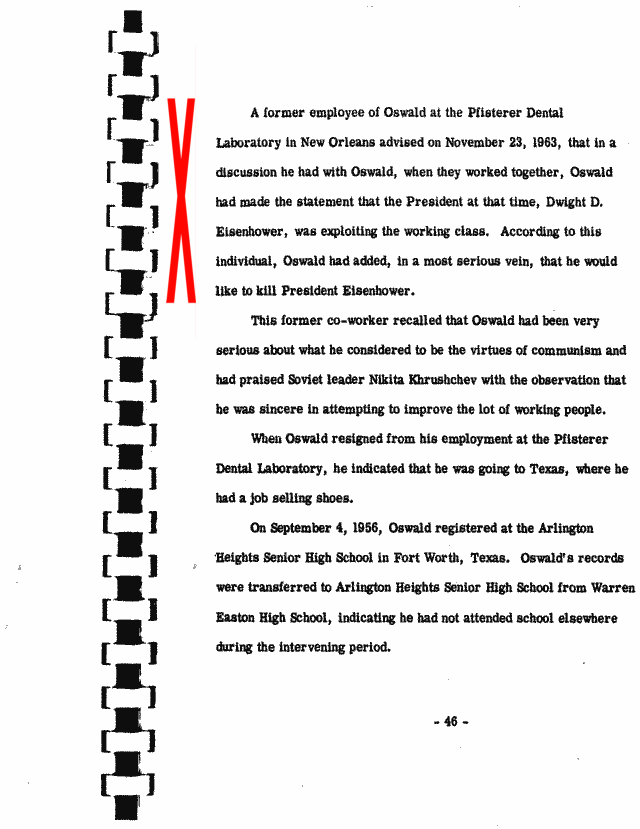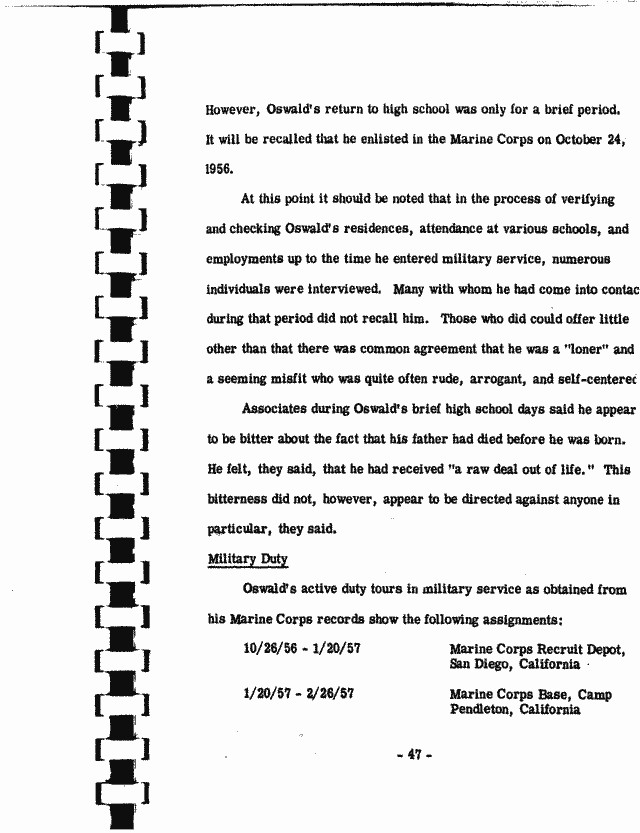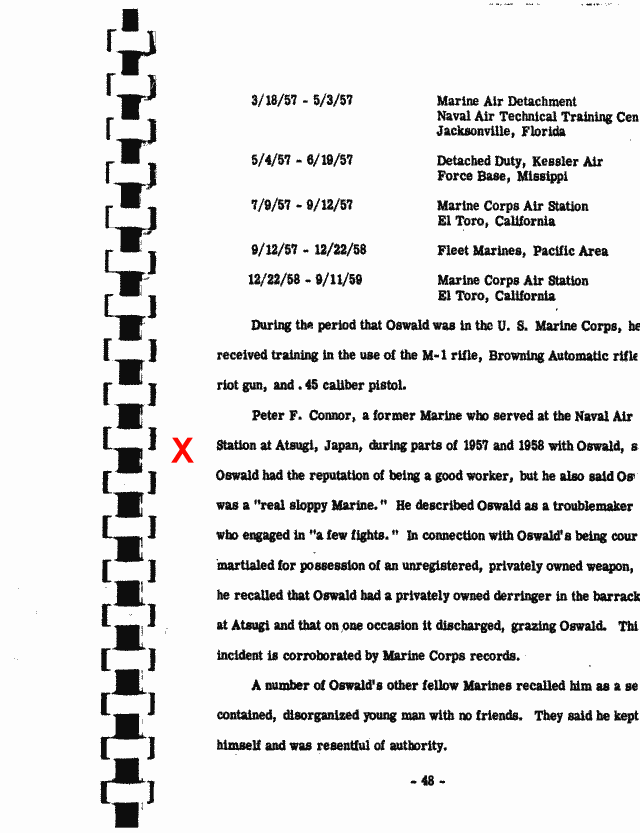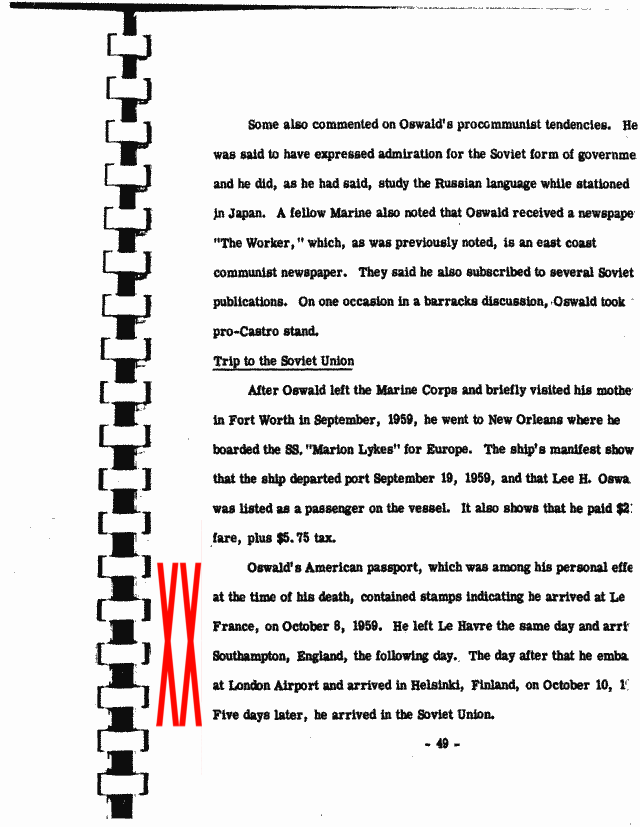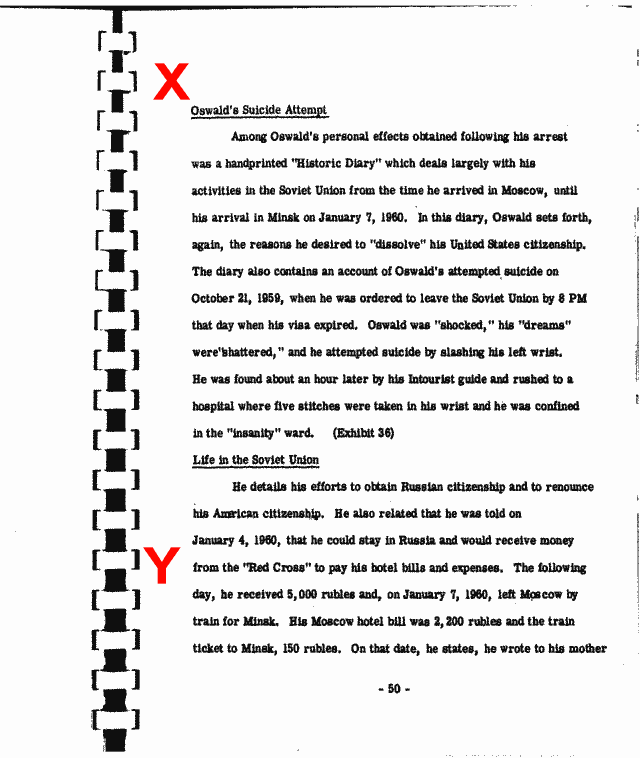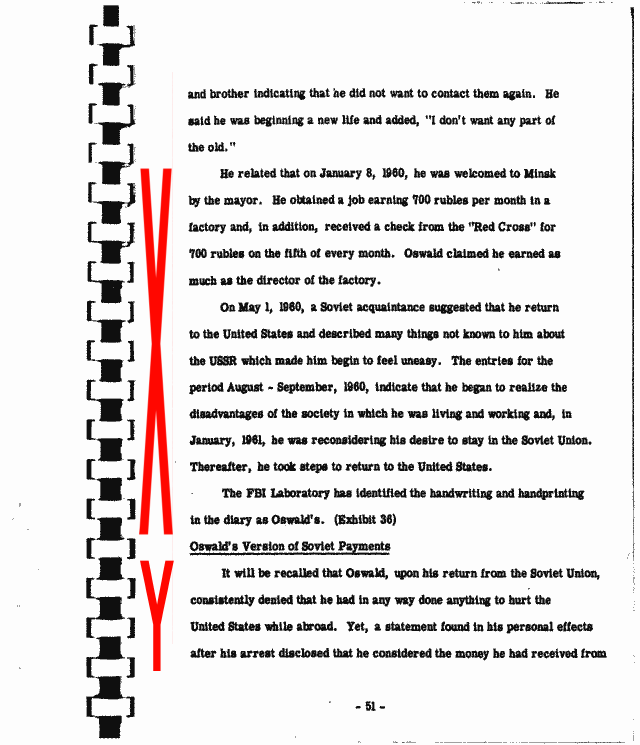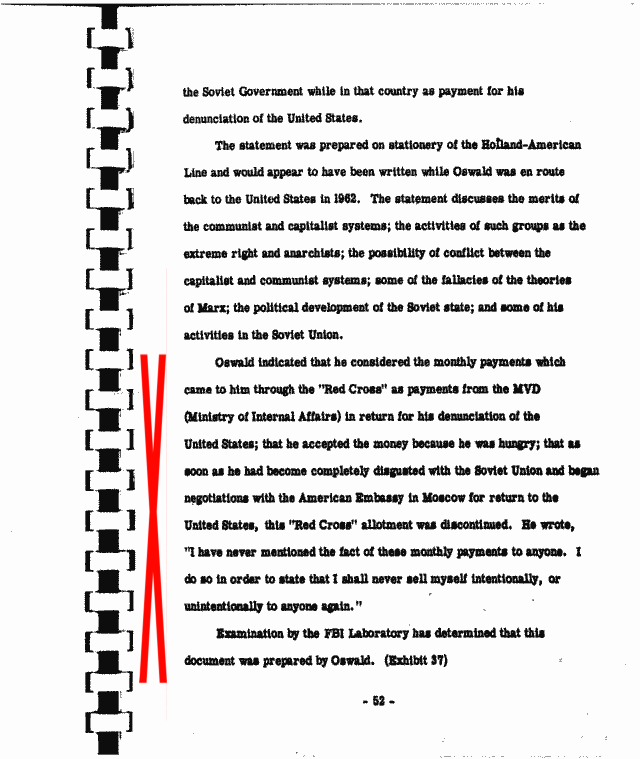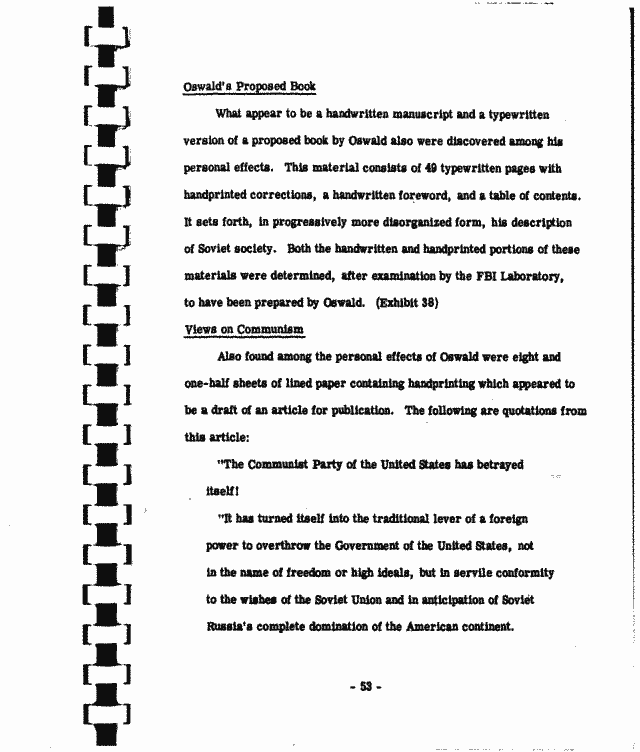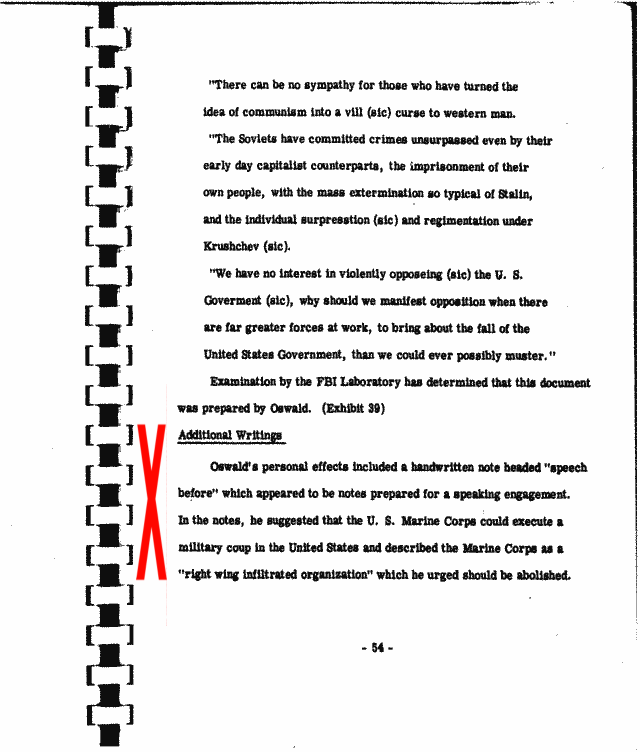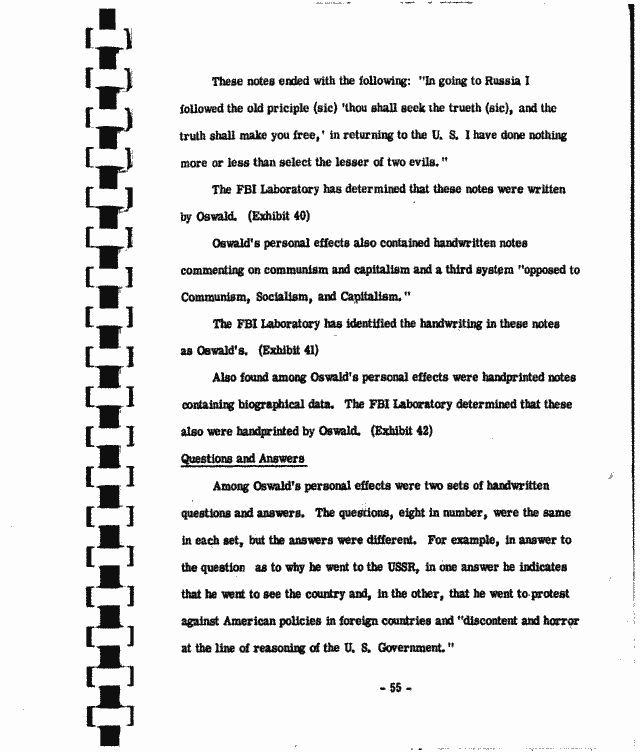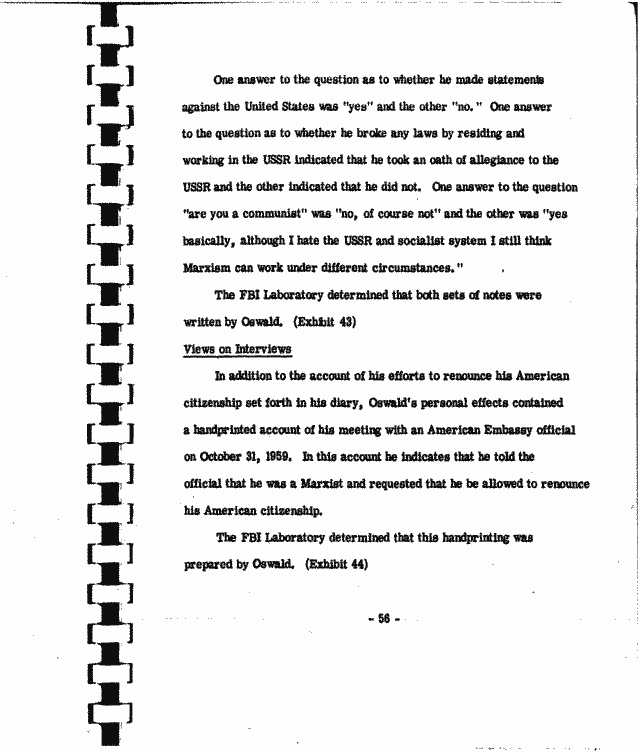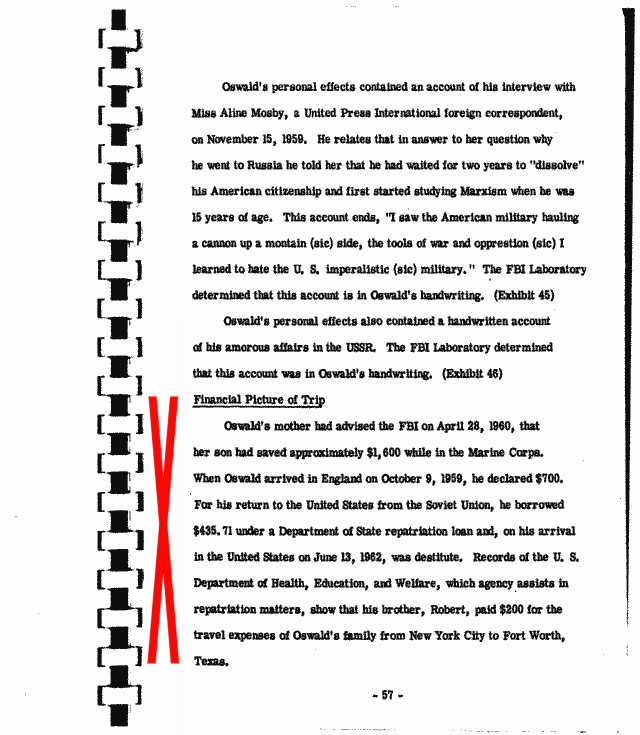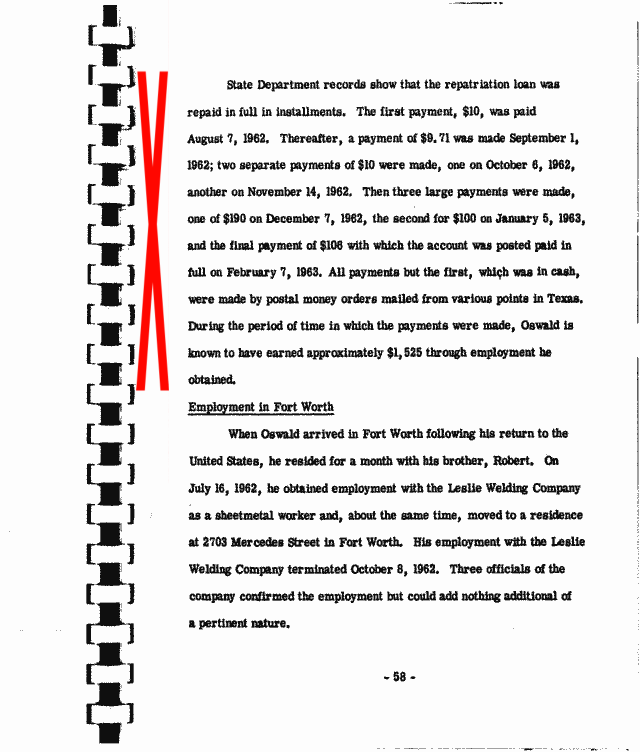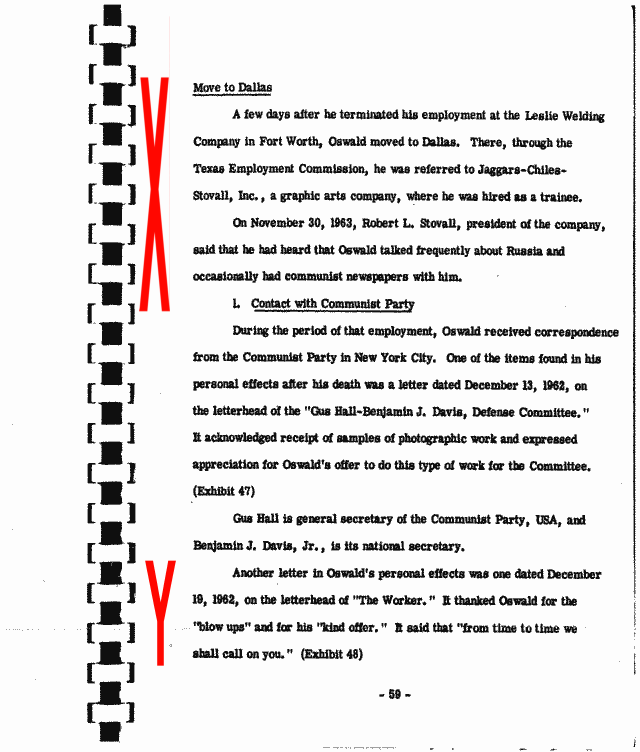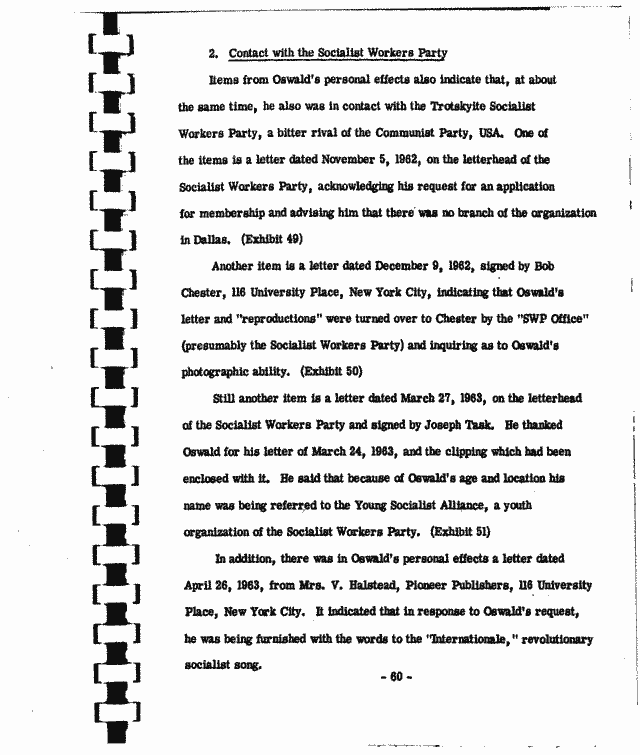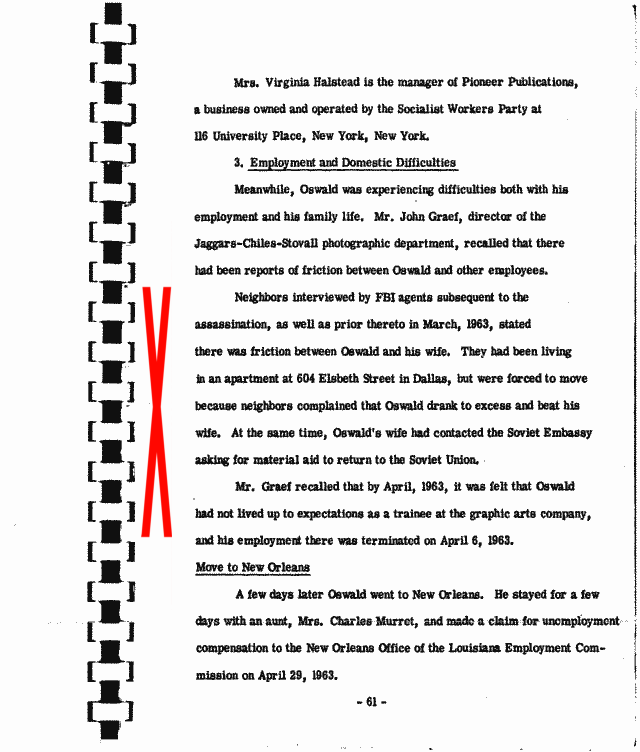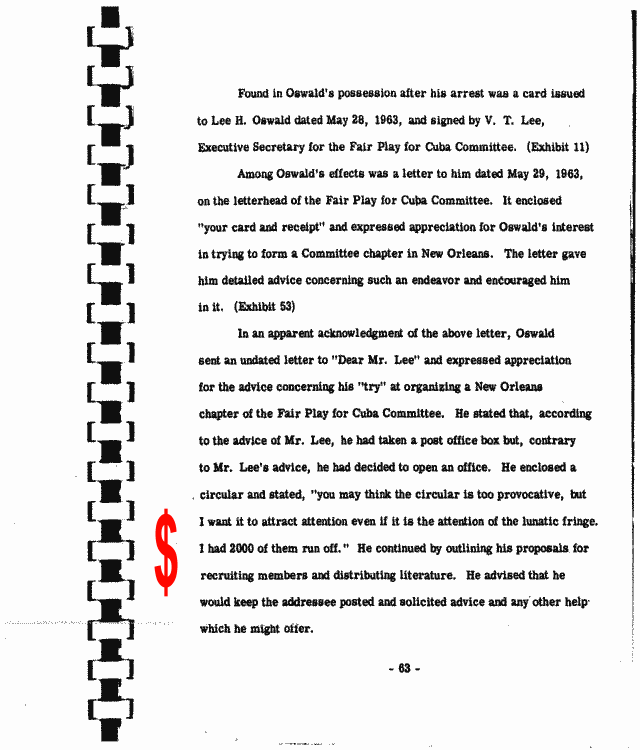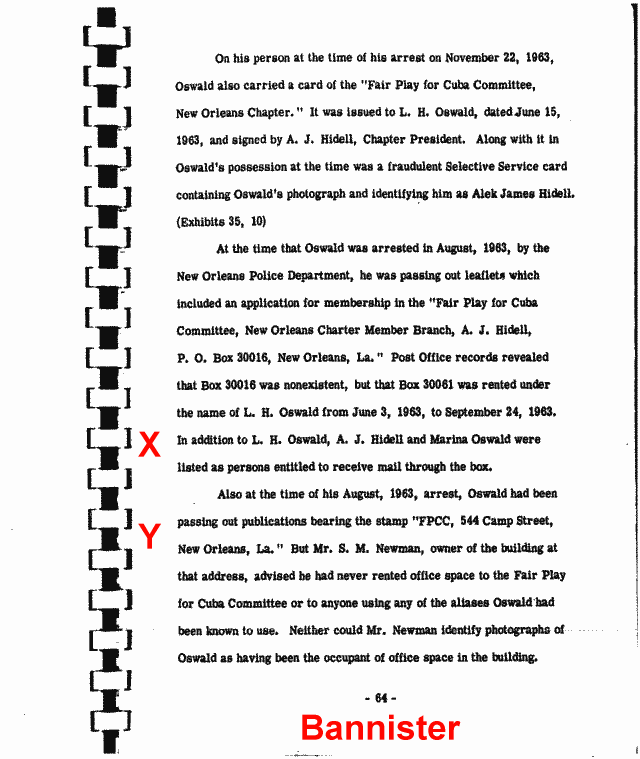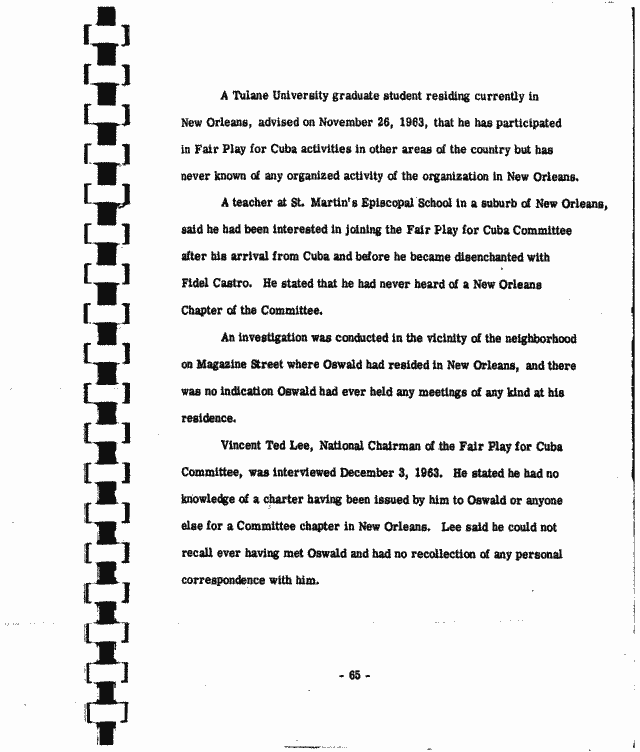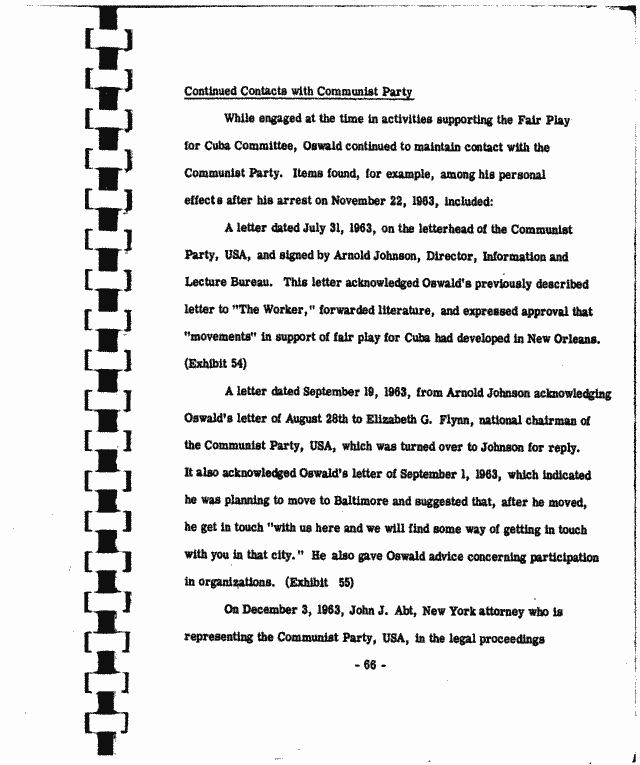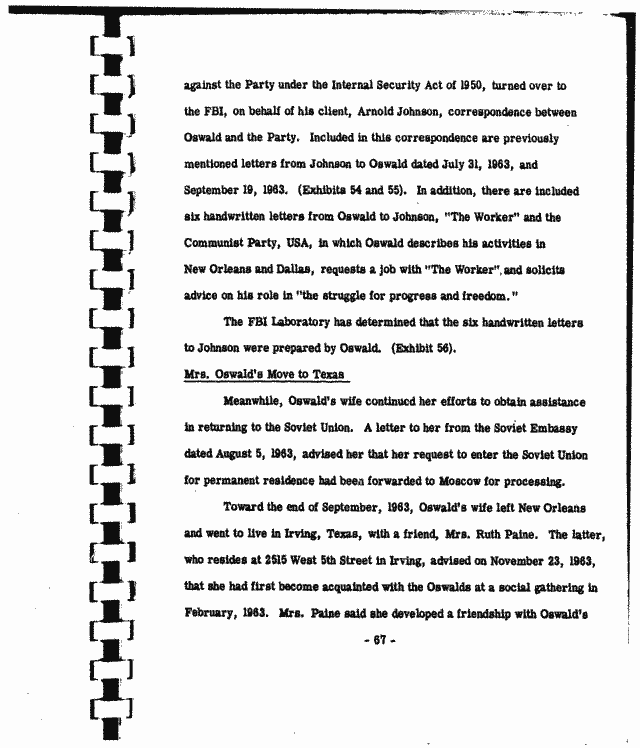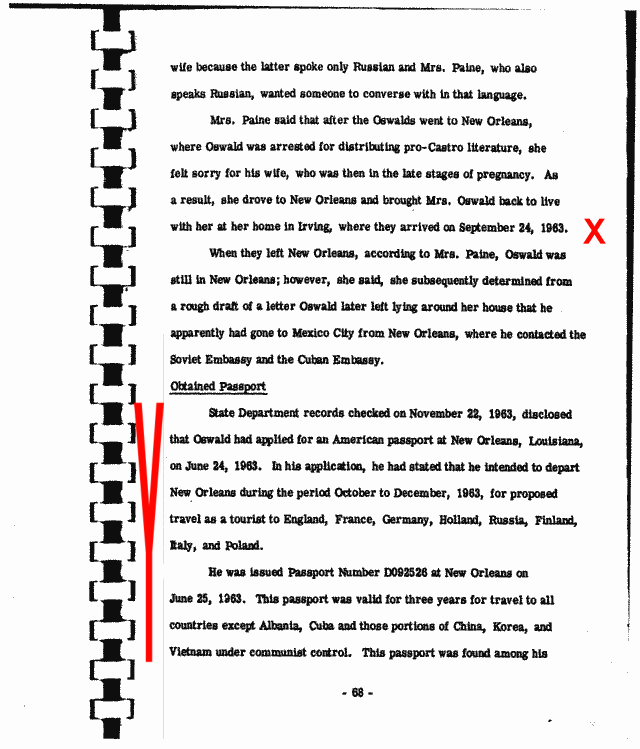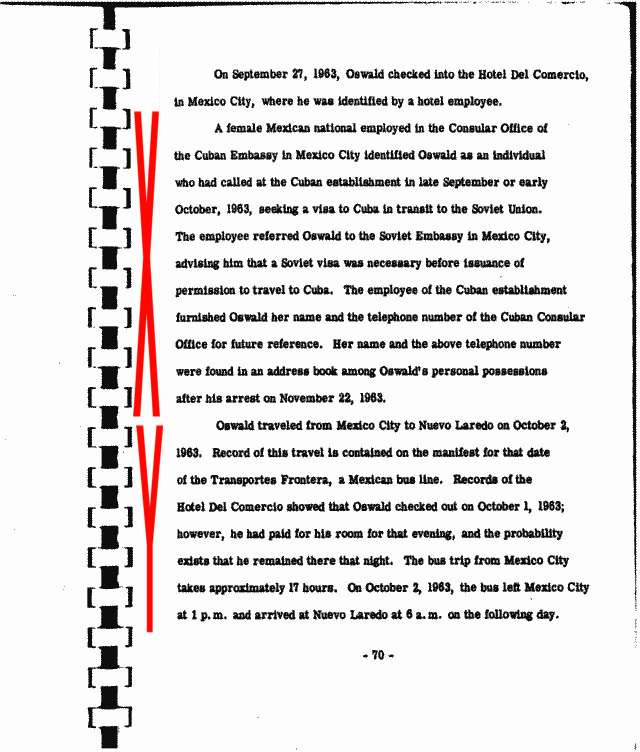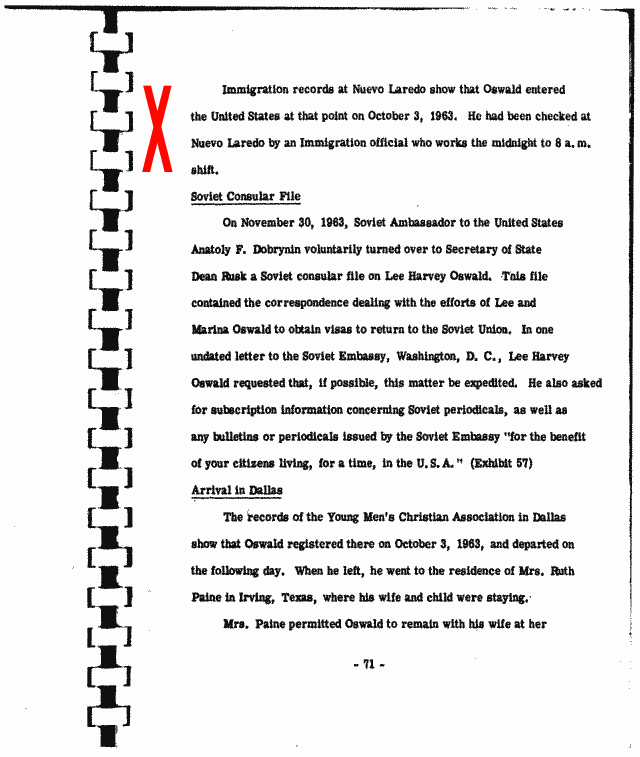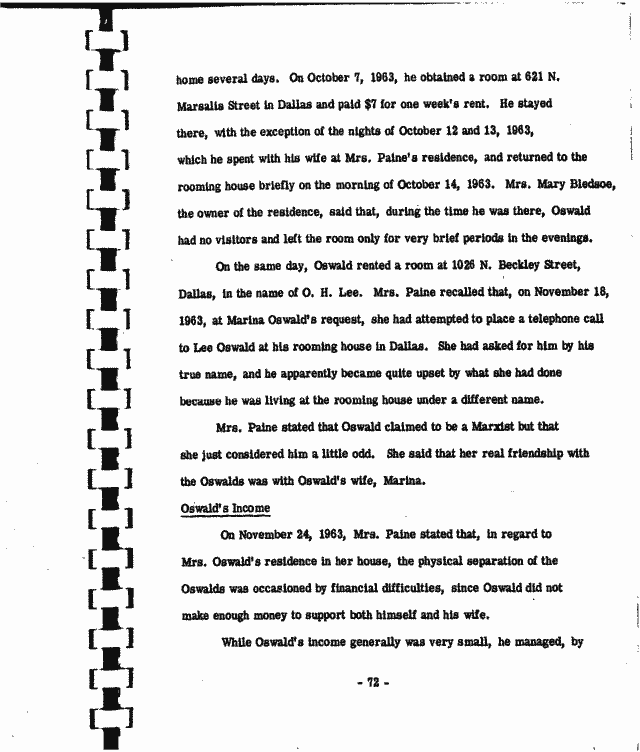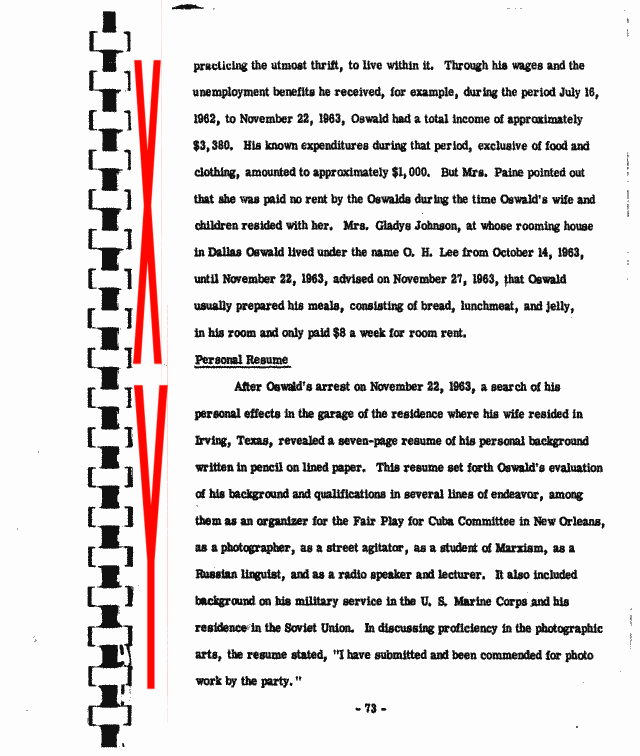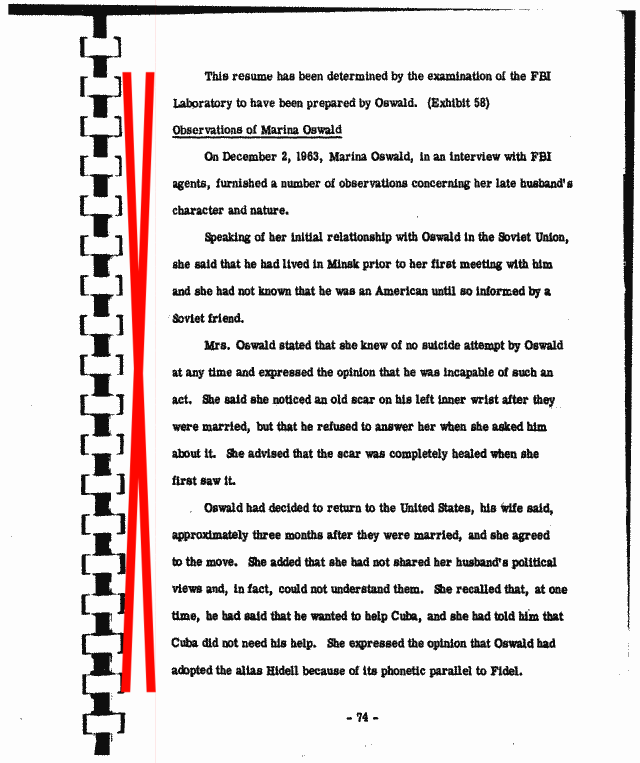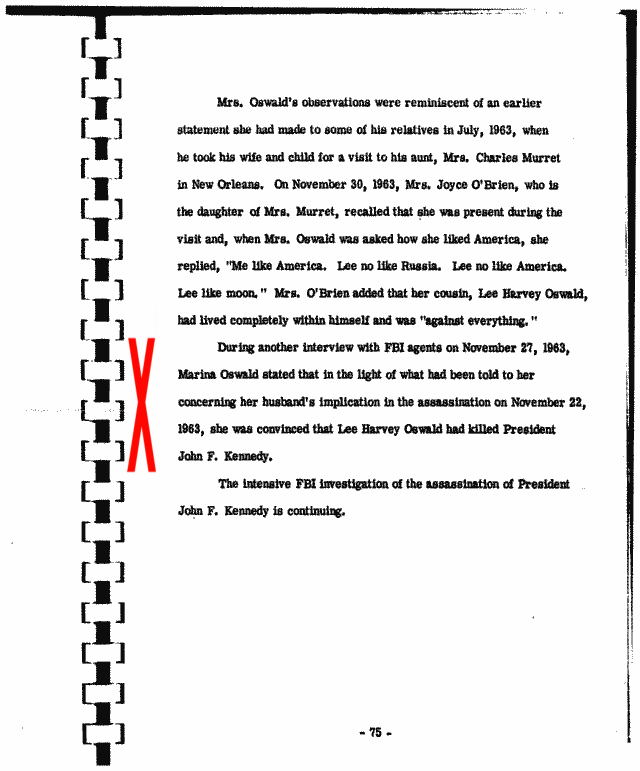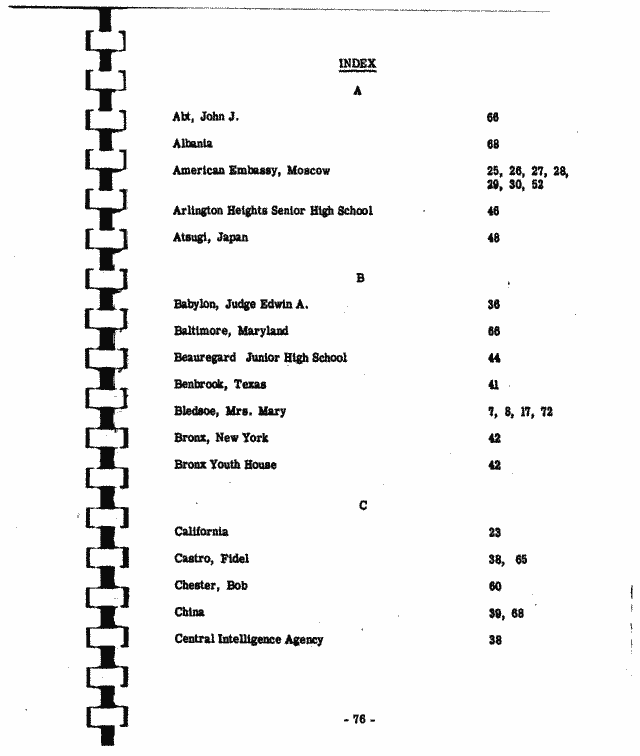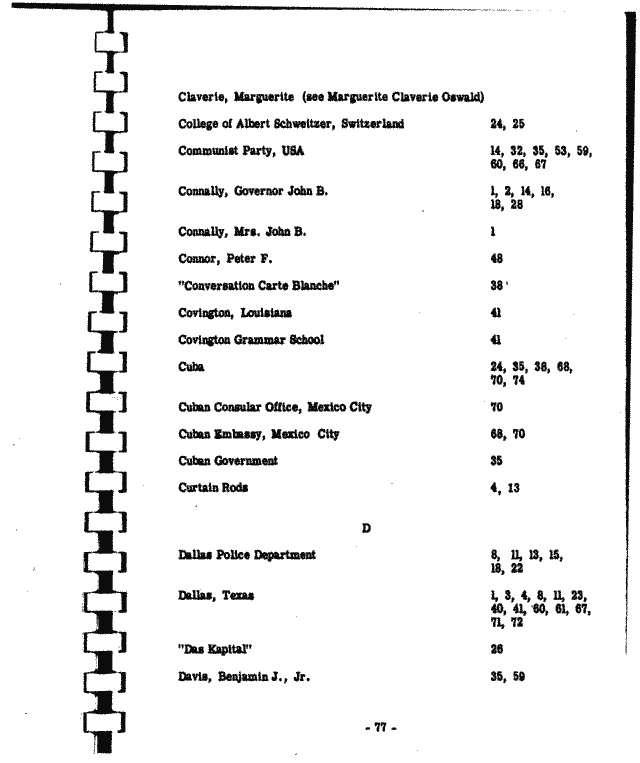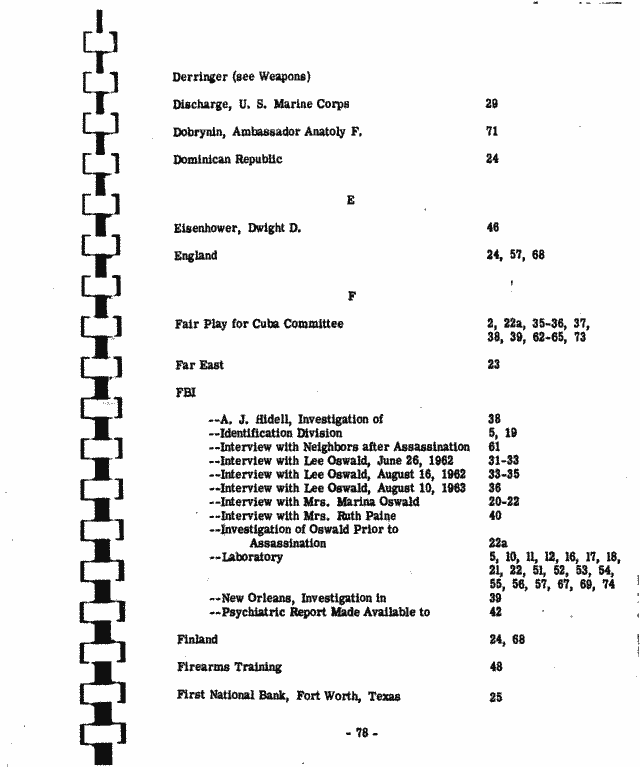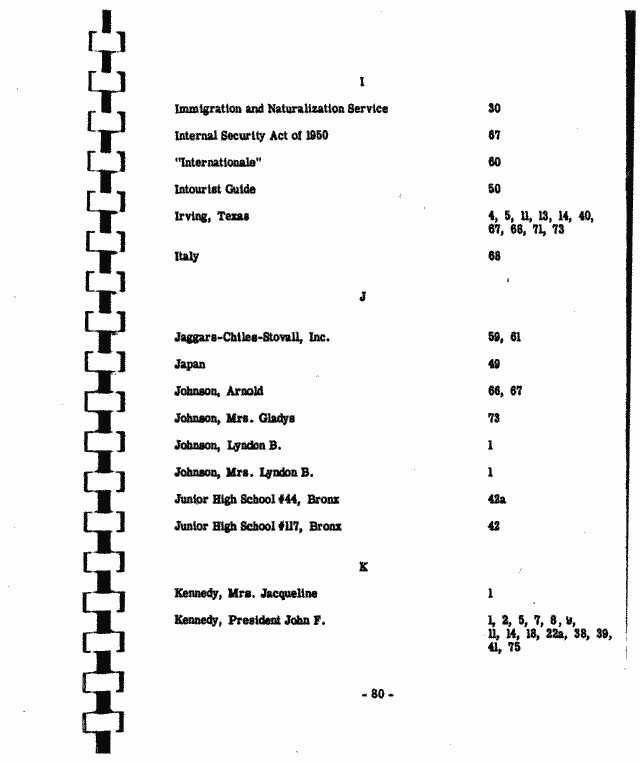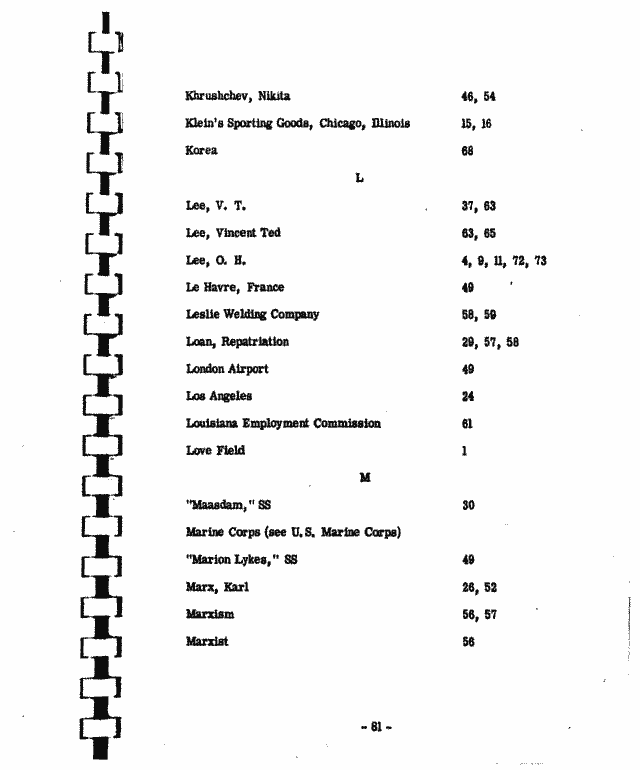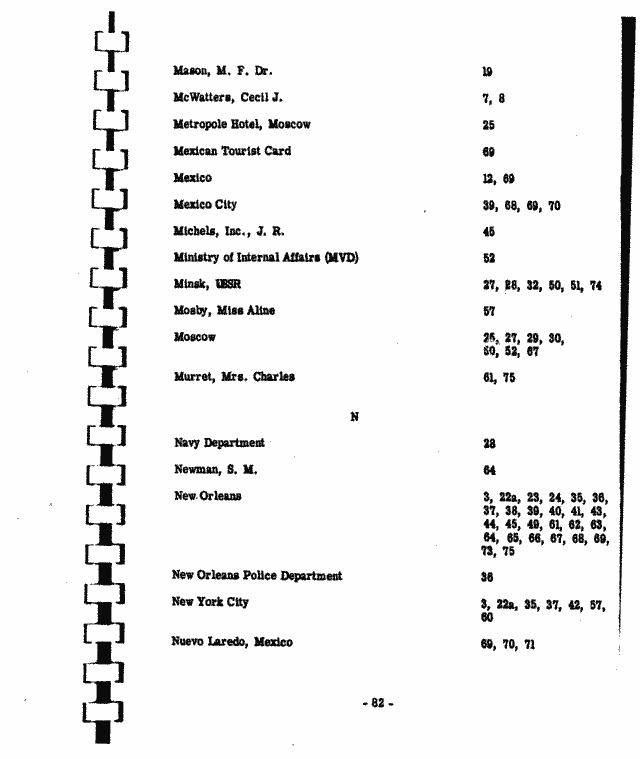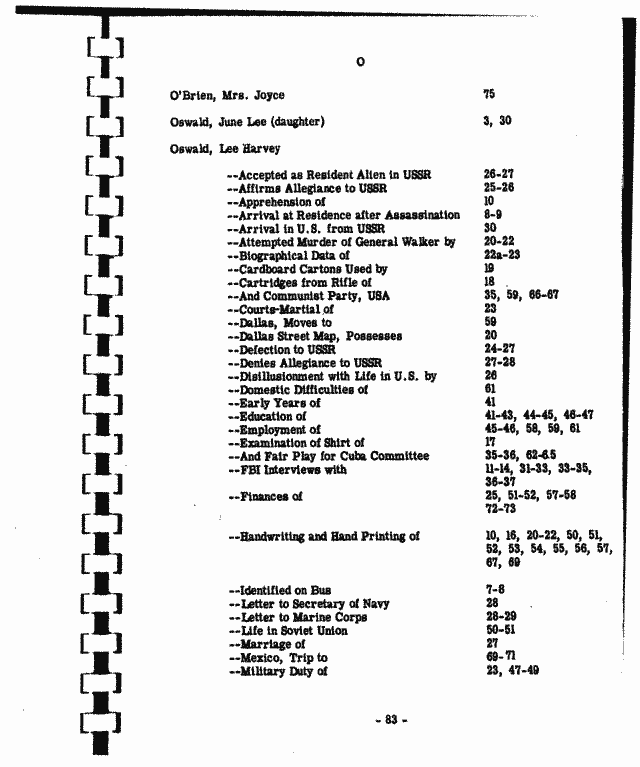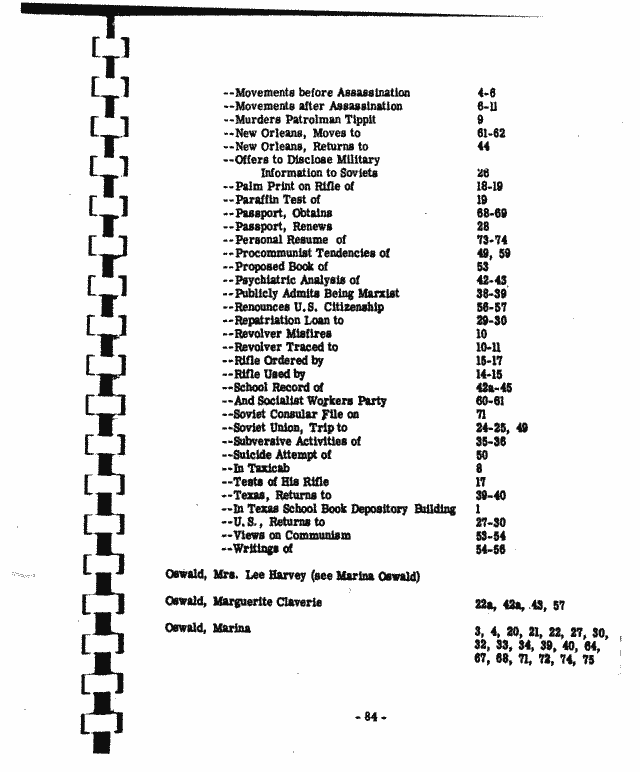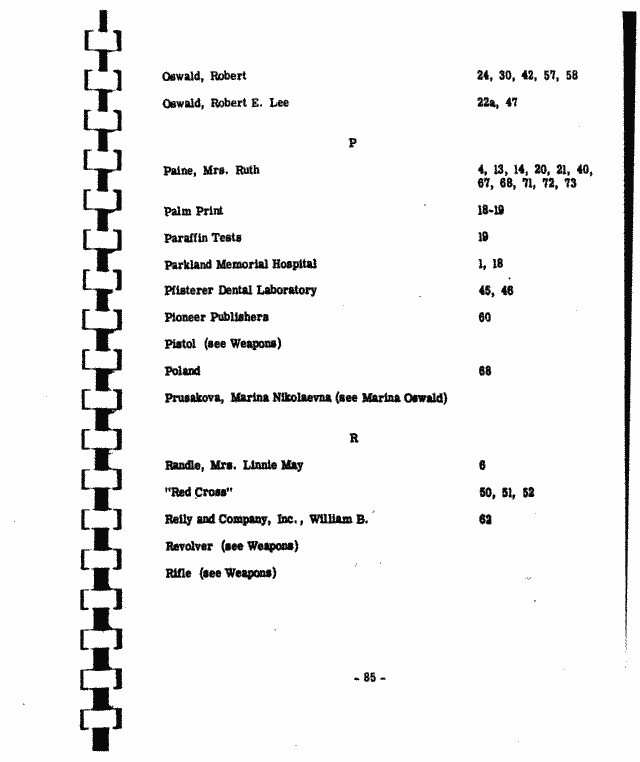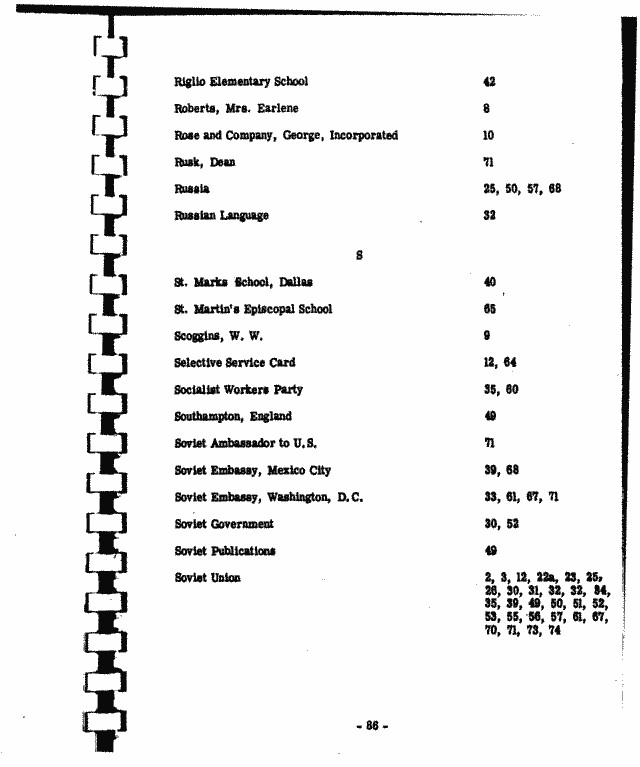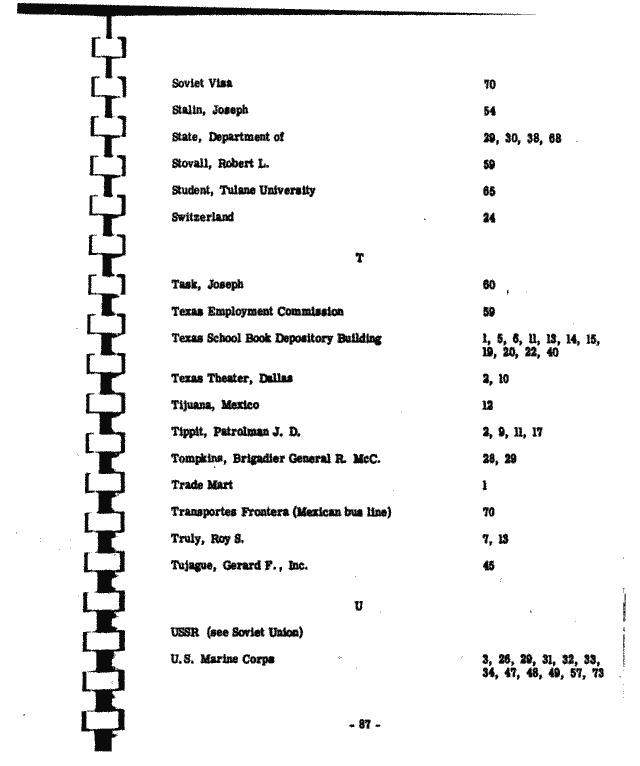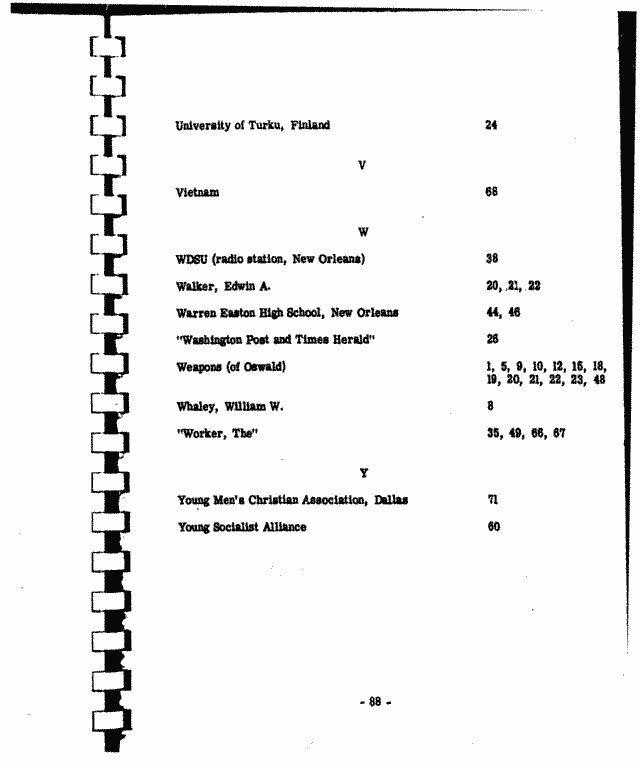 ---
FBI UNDER SUSPICION
The FBI is being badly shaken by the revelation that its former leaders withheld evidence from the Warren Commission during the investigation of the assassination of President Kennedy. At issue is a threatening note that Assassin Lee Harvey Oswald delivered to the FBI's Dallas office about ten days before Kennedy was killed on Nov. 22, 1963. Even though the note did not mention the President, FBI officials wanted to conceal the embarrassing fact that they had ignored the threat, so they both destroyed the note and tried to make certain that the commission never found out that it had existed (TIME, Sept. 15). The cover-up was a clear case of bureaucratic self-protection. Nonetheless, it has fanned speculation—mostly wild—that all the facts of the Kennedy assassination have not yet been told.
Castro Leaflets. Last week a House subcommittee led by California Democrat Don Edwards, a former FBI agent, held its first public hearing on the FBI's mishandling of the Oswald note but cleared up none of its members' suspicions. They wanted to know why the FBI had not only failed to put Oswald under surveillance but destroyed the note about two hours after Nightclub Owner Jack Ruby shot and killed Oswald.
Oswald had been known to the FBI as a former defector to Russia who still backed Communist causes. The previous August, he had been arrested in New Orleans for disturbing the peace in connection with a scuffle that broke out while he was distributing leaflets at a demonstration in support of Cuban Dictator Fidel Castro. Indeed, the FBI harbored unsubstantiated suspicions that Oswald might be a Soviet agent and had assigned Agent James P. Hosty Jr. to keep watch on Oswald's Russian-born wife Marina. Oswald's note warned Hosty to stay away from Marina, whom he had interviewed a few days earlier.
At last week's hearing and in later interviews with reporters, FBI Deputy Associate Director James Adams reported that there were conflicting versions of what was in the note. The receptionist who took it from Oswald said that he had written: "Let this be a warning. I will blow up the FBI and the Dallas police department if you don't stop bothering my wife." But Hosty recalled that the warning was much milder: "If you have anything you want to learn about me, come talk to me directly. If you don't cease bothering my wife, I will take appropriate action and report this to proper authorities."
The bureau still has not determined who was responsible for destroying the note and ordering the coverup. Adams said that the bureau's three-month internal investigation has bogged down in a tangle of conflicting accounts from about 80 witnesses, who were questioned under oath by FBI inspectors. He added that they were told by Hosty that he had been ordered to destroy the note by Dallas FBI Chief J. Gordon Shanklin, who recently retired from the bureau. According to Adams, Shanklin denies knowing anything about the note.
Some of the conflicts seem to be an intentional smokescreen. The controversy focuses on three people:
> J. Edgar Hoover, the FBI's director from 1924 until his death in 1972.
> John P. Mohr, who as the FBI's administrative chief was one of Hoover's most powerful lieutenants until he retired in 1972.
(2 of 3)
> William C. Sullivan, who headed the FBI's domestic-intelligence division at the time of the assassination, became the bureau's No. 3 official in 1970, but was forced to retire a year later because of a falling-out with Hoover.
In an interview with TIME last week, Sullivan said that at least ten top officials at FBI headquarters in Washington knew about the note. Both current and former FBI agents have reported that it was shredded or burned in Dallas on orders from Mohr. It is not known, and may never be, whether Hoover directed that the note be destroyed. But Sullivan said that on Hoover's orders, information that might have revealed the note had even existed was withheld from the Warren Commission because it would embarrass the bureau.
Sullivan also gave TIME a written statement that he made for FBI investigators last Sept. 16 about Oswald's note. The statement recounted that after the assassination, Sullivan was in charge of finding out whether Oswald had been working for a foreign government. During his investigation, Sullivan said, Shanklin mentioned that an FBI agent had received a threatening message from Oswald before Kennedy was killed. Said Sullivan: "I raised a question as to the details, but Shanklin seemed disinclined to discuss it other than to say that he was handling it as a personnel problem with John P. Mohr."
On another occasion, Shanklin told Sullivan that "Hoover was furious" at Agent Hosty and wanted to give him a disciplinary transfer to Kansas City with a cut in pay because of his handling of the Oswald probe. Said Sullivan: "Shanklin did not mention that any message had been destroyed. He did say that Hoover did not want Hosty given his disciplinary transfer until after Hosty had testified before the Warren Commission...for fear that members of the Warren Commission might find out about it and make inquiries."
Poker Parties. In his statement, Sullivan indicated that more than the Oswald note might have been lost. "I did hear that some documents had been destroyed relating to Oswald and that some others were missing, the nature of which, if I was told, I do not recall."
Mohr has denied in a sworn statement to FBI investigators that he knew about the note or that he told anyone to get rid of it. Even so, by naming Mohr, Sullivan's statement touched on an extremely sensitive point: the fact that many high FBI officials who conducted the investigation of the note are all former aides and still friends of Mohr's.
Sullivan told TIME that the current FBI director, Clarence Kelley, is surrounded by these Mohr men. Among them, Sullivan said, are James Adams, Assistant Director Harold Bassett, Associate Director Nicholas Callahan, Inspector John Dunphy, Deputy Associate Director Thomas Jenkins and Assistant Director Eugene W. Walsh. Voicing complaints made privately by many agents, Sullivan declared that the six officials are "still [Mohr's] men and in decisive matters are still under Mohr's rigid discipline and not Kelley's." Kelley strongly denied Sullivan's complaint.
(3 of 3)
One measure of Mohr's influence is the impressive attendance at the all-night poker parties that he gives at the Blue Ridge Club in the Shenandoah Valley near Harper's Ferry, W. Va. In the course of a separate civil suit unrelated to the probe of the Oswald note, Mohr last summer was forced to divulge a list of 39 people who attended some of the games last Nov. 29-30, April 4-5 and June 13-14. The roster included eleven former FBI officials and at least a dozen present officials, including Adams, Callahan, Dunphy and Jenkins.
Another guest was Joseph Tait, owner of a Washington firm, U.S. Recording Co., which quietly supplies wiretapping and bugging devices to the FBI and the CIA. In addition, Mohr's list contained the names of several past and present CIA employees, including James Angleton, the agency's former counter-intelligence chief, who retired under pressure last year because of charges that he directed some of the CIA's illegal domestic spying. The poker games were an important status symbol within the bureau. Said one FBI agent: "It means that the clique has accepted you."
No Records. In addition to the Oswald note, there are more ominous suspicions about links between him and the FBI that are being explored by a Senate subcommittee headed by Pennsylvania Republican Richard Schweiker and Colorado Democrat Gary Hart. Schweiker even suspects that Oswald might have had a formal connection with the bureau. The Senator's suspicions rest in part on the linguistic ruse Hoover used when asked by the Warren Commission about the bureau's links to Oswald. The director declared that "no FBI records could be found" of any connection; the careful wording has persuaded Schweiker that Hoover was hiding something. Further, the Senator believes Hoover may have been lying when he told the commission that the FBI had rejected Oswald's offer to work as an informer in 1962 and 1963. Asks Schweiker: "Why would the FBI reject a man who had lived in Russia and had connections with pro-Castro Cubans?"
Schweiker and Hart are considering holding public hearings on the FBI and Oswald. For the time being, the Senators intend to conduct their probe privately. But in the unlikely event that the subcommittee turns up solid evidence that discredits the Warren Commission's conclusion that Oswald acted alone, the two Senators will propose that Congress reopen the entire investigation into the assassination of John Kennedy.



Read more: http://www.time.com/time/magazine/article/0,9171,913611-1,00.html#ixzz0ZyXO07J0
Contact Information tomnln@cox.net
Page Visited
Times
Contact Information tomnln@cox.net
Page Visited
Times