WHO KILLED RFK?

excerpts from the book
Who Killed Robert Kennedy?
by Philip Melanson
Odonian Press, 1993, paper

p4
Introduction
Robert F. Kennedy was shot down just after midnight on June 5, 1968, minutes after proclaiming victory in the California Democratic presidential primary. His assassination had an enormous effect on the course of American politics. The country lost a prominent critic of the Vietnam war and a committed champion of civil rights: the Democratic party lost its strongest presidential contender, enabling Republican candidate Richard Nixon to win the November election. More than four-fifths of all Americans are convinced that they haven't been told the truth about President John Kennedy's assassination. Far fewer are aware that the investigation into Robert Kennedy's death was just as flawed and corrupt.
p5
Murder in Los Angeles
Bobby Kennedy (as he was almost always called) hadn't planned to run for the democratic nomination in 1968. Many of his closest political advisors encouraged him to wait until 1972, when he had a better chance of winning. In 1968, Kennedy would be facing an incumbent president, Lyndon Johnson, who was still popular in the polls-despite growing protest against his escalation of the Vietnam War.
But then Eugene McCarthy, the other democratic presidential contender, captured 42% of the vote in the March 12 New Hampshire primary. That meant Johnson was vulnerable-and that Kennedy had a chance to win.
Kennedy's entry into the race on March 16 angered Johnson and McCarthy supporters alike. But Kennedy was convinced that if Johnson won, there'd be "more war, more troops [and] more killing"-and less money for the domestic programs he'd so vigorously supported as Senator. McCarthy opposed the war, but Kennedy wasn't convinced he could win the presidency, even if he captured the nomination.
By the June 4 California primary, Johnson had dropped out of the race and Hubert Humphrey, his vice-president, had announced his own candidacy. Kennedy had won important victories in the Indiana, District of Columbia and Nebraska primaries, but the nomination was still far from secure. California would be a key test-whoever captured that state's 174 convention delegates would have the best chance of becoming the party's presidential candidate.
Early California returns showed McCarthy ahead. But then Kennedy pulled into the lead, and by late evening it was clear he'd taken the state. To celebrate the victory and to hear Kennedy speak, a beyond-capacity crowd of over 1800 supporters began to gather at the Ambassador Hotel in Los Angeles.
The assassination
Tired but jubilant, Robert Kennedy stepped to the podium in the hotel ballroom and stood looking out over the sea of straw hats, balloons and smiling faces. He addressed the crowd with the same message of hope that had characterized his campaign. Lamenting the "division, the violence [and] the disenchantment" within America, he expressed confidence that "we can start to work together. We are a great country, an unselfish country and a compassionate country. I intend to make that my basis for running."
When the applause died down, Kennedy stepped off the podium and started to move toward the crowd. But someone in his party steered him in the opposite direction, toward the backstage exit. Earlier that day, hotel personnel (at the request of Kennedy's aides) had decided to take the Senator on a back route through the hotel's pantry area, to keep him away from the frenzied crowd.
Hotel maitre d' Karl Uecker led Kennedy and more than a dozen members of his entourage into a cramped corridor. Even there the crowd couldn't be completely avoided; dozens of busboys, waiters and campaign workers waited, hoping to get a close-up view. Kennedy smiled, nodded and stopped for an occasional handshake as he moved down the corridor and into the pantry.
It was about 12:15 am. Uecker was still slightly ahead of the Senator and to his right. Uniformed security guard Thane Cesar walked slightly behind, also on Kennedy's right. (In 1968, presidential candidates weren't given secret service protection, so the hotel had hired eight private security guards. Kennedy had requested that the guards keep their distance, so he wouldn't be surrounded by uniformed personnel.)
A young, dark-haired man began to approach Kennedy from the front. He was smiling, and bystanders thought he wanted to shake the Senator's hand. But the smile was betrayed by his words:
"Kennedy, you son of a bitch!"
High school student Lisa Urso saw the young man raise the gun and begin to shoot. "I saw the flash [from the gun] and then I saw the Senator .... He went forward, then moved backward...
p10
Someone called an ambulance and the Senator was taken to Good Samaritan Hospital. There a team of six surgeons labored to remove the bullet lodged in his brain. But his injuries were too severe. At 1:44 pm the next day, Robert F. Kennedy was pronounced dead.
p11
An open-and-shut case
In 1968 it wasn't yet a federal crime to shoot a presidential candidate, so the Los Angeles Police Department (LAPD) took charge of the investigation into Kennedy's murder. With the FBI's assistance, they spent the next fourteen months investigating the murder.
From the beginning, the LAPD claimed the assassination was an open-and-shut case. Numerous witnesses had seen Sirhan Sirhan, the 24-year-old Palestinian immigrant who'd been apprehended at the crime scene, fire at Kennedy. Sirhan himself admitted he must have shot the Senator (since so many witnesses had seen him), even though he couldn't remember anything about the evening from the time he'd had a cup of coffee with an attractive young woman until after he'd emptied his gun and lay pinned to the pantry steam table.
Sirhan also seemed to have a clear motive. When he was taken into custody, the police found in his pocket a newspaper clipping criticizing RFK for opposing the Vietnam War while favoring military aid to Israel. A background check revealed that as a young child in Palestine, Sirhan had seen the bloodied bodies of Arabs bombed by the Israelis, and his own brother was killed by an enemy truck as it veered to avoid sniper fire. Authorities reasoned that those early experiences had left Sirhan embittered against American politicians, like RFK, who supported Israel.
Even more incriminating was a notebook found in Sirhan's bedroom at his mother's house, in the Los Angeles suburb of Pasadena. It contained anti-American, procommunist sentiments, and two pages of scrawled, repetitive references to killing RFK. The most damning of these read, "May 18 9:45 AM-68 My determination to eliminate RFK is becoming more the more [sic] of an unshakable obsession ... RFK must die."
p16
The cover-up
From the beginning, a handful of journalists and citizens remained skeptical about the LAPD's conclusions. But when these critics tried to substantiate their suspicions with data from police files, they met massive resistance. The LAPD replied that the files were under lock-and-key, accessible only to those law-enforcement officials with a "need to know." The Los Angeles authorities even initiated legal proceedings against some critics who questioned the official findings.
p16
... the LAPD continued to resist for three more years-until letter campaigns and media coverage made it politically inexpedient to keep the information secret any longer. On April 19, 1988, the files were sent to the California State Archives in Sacramento, where researchers could evaluate the evidence for themselves.
The files made it clear that the LAPD had engaged in a massive cover-up, both during the original investigation and in the intervening twenty years. They'd not only attempted to misconstrue or overlook data that didn't support their lone-assassin view, but they'd actively destroyed evidence that might suggest a conspiracy... Now it learned that:
* The results of the 1968 test firing of Sirhan's gun were missing.
* The test gun used for ballistics comparison and identification was destroyed.
* Over 90% of the audiotaped witness testimony was lost or destroyed. Of the 3470 interviews the LAPD conducted, only 301 were preserved. Key testimony-like 29 witness accounts that suggested conspiracy-was missing, while less important interviews-like that of Sirhan's Bible teacher-remained.
* On August 21, 1968, less than two months after the assassination, 2400 photographs from the original investigation were burned, in the medical-waste incinerator at LA County General Hospital. The LAPD claimed that the photos were duplicates, but there weren't any known logs or inventories of photos that could verify that.
Moreover, Scott Enyart, an amateur photographer who'd been taking pictures the night of the assassination and whose film had been confiscated by police, has never been given back all his photos. His pictures, the only ones that might have captured the actual shooting, weren't in the files.
But even with the limited data that remained, there was still ample evidence to substantiate what critics had been saying all along-that there was a conspiracy to kill RFK.
The evidence for such a conspiracy falls into three key areas. First, it now appears clear that it was impossible for Sirhan to have fired the bullets that killed Kennedy - which means there must have been a second gunman. Second, an abundance of testimony by eye-witnesses suggests that Sirhan had at least two accomplices. Third, Sirhan's political motive-his hatred of RFK for supporting Israel-seems to be either a fabrication of the LAPD or a motive planted by conspirators to divert suspicion 1 from a more sinister plot.
p20
Evidence for a second gunman
... The autopsy revealed three gunshot wounds in Robert Kennedy's body-one behind the right ear, a second near the right armpit and a third 11/2 inches below the armpit wound. A fourth bullet missed his body but pierced the right rear shoulder of his suit coat. All bullets entered from the right rear, at fairly steep upward angles and in a slightly right-to-left direction.
p22
... although witnesses disagree on whether Sirhan shot at RFK while the Senator was turned to his left shaking hands with busboy Juan Romero or whether the handshake had finished and Kennedy was walking forward, all agree that Sirhan approached Kennedy from the front and that the Senator never turned his back to Sirhan.
This is totally inconsistent with the autopsy evidence that the shots came from the rear.
p25
... it's never been shown that it was possible for Sirhan to have fired the fatal shots at RFK. And if he didn't, there must have been a second gunman.
p34
The LAPD's response to the question of extra bullets was to conduct a systematic
cover-up... they destroyed the ceiling tiles and doorframe wood in 1969, as well as records of tests done on the door frames or ceiling tiles. Then, when photos of this crucial area were released, they were identified only by number but lacked captions or labeling. Since there's no corresponding log to indicate what the numbers refer to, they aren't of much use as evidence.
When the destruction of the evidence was revealed in 1975, the LAPD claimed that they'd destroyed the tiles and frame wood because they were "too large to fit into a card file" (needless to say, so is a lot of evidence). Daryl Gates, who at that point was assistant chief of police, claimed that the destruction didn't matter because the tiles and frame wood contained no bullets and therefore weren't evidence.
The DA's office attempted to dispel mounting public suspicion by conducting what critics would dub "the great pantry raid." Investigators descended upon the crime scene to conduct a meticulous search for bullets and bullet holes. Ignoring the fact that the most relevant holes (in the door jamb and ceiling tiles) had been removed and destroyed seven years earlier, they concluded that the one supposedly surviving hole (which in 1968 had allegedly been labeled as a bullet hole) was in fact a nail hole. The day after the raid, an official spokesman dramatically announced that "no other bullets were found last night."
p38
Don Schulman, a runner for KNXT-TV in Los Angeles, also reported seeing a gun other than Sirhan's. He'd been standing behind Kennedy as he walked through the pantry and had seen a security guard fire three times. Immediately after the shooting, Schulman reported his story on the radio and insisted that Kennedy was shot three times. Even though the early media reports and crime--scene witnesses generally asserted that the Senator was hit only twice, Schulman stuck to his story. The autopsy proved him right.
(In later law-enforcement interviews, when Schulman was under pressure to be "absolutely positive" about what he saw, Schulman stated that he didn't see the guard shoot Kennedy, as his first statement seemed to imply. He did assert that he saw the guard fire three times and Kennedy hit three times, but admitted he couldn't necessarily connect the two events.)
p60
When the FBI followed up on Khaiber Khan's story (he was the Kennedy volunteer who'd seen a blond woman at the Wilshire Boulevard headquarters three times prior to the assassination), they found an interesting discrepancy.
Two other workers at the headquarters, Ellenor Severson and Larry Strick, had seen Sirhan there (without a blond companion) at about 2:00 pin on June 2; they also asserted that Khan was present at that time. Strick claimed he'd asked Sirhan if he needed help, and Sirhan had replied, "I'm with him," pointing to Khan. Severson corroborated Strick's story. But Khan claimed that he wasn't at headquarters at that time, that he couldn't remember any such incident and that he'd never seen Sirhan before the assassination.
When the FBI and the LAPD began to pursue this angle of the case, they found that Khan had an interesting history. According to their files, he'd once been influential in the Iranian government and had later fled to the US to escape the Shah. Lately he'd been working at the local Kennedy headquarters, recruiting young volunteers for the campaign.
While this information on Khan's background was true, it was incomplete. In a 1965 article in The Nation, Fred J. Cook revealed important facets of Khan's life that never appeared in the official files. In 1944, at age 20, Khan joined British intelligence and ran an Iranian spy ring. After World War II, he served as a liaison between the occupying allied forces in Iran and several Iranian tribes, and was awarded an aristocratic title for his efforts.
Cook credited Khan with helping the CIA overthrow Iranian Premier Mohammed Mossadegh in 1953. The coup rid the US of the left-leaning premier who'd nationalized a British oil company and put a puppet ruler, Shah Reza Pahiavi, in power.
According to Cook, Khan achieved great power in Iran, until a falling out with the Shah sent him into exile in London. From there he lived an opulent lifestyle, directing his spies to gather damaging evidence about the Shah's finances. In 1963, he entered the US; shortly afterwards, he was able to document the Shah's theft of US foreign aid and bring this to the attention of Congress and the Johnson administration.
Although his public discrediting of the Shah infuriated certain elements of the US State Department (which believed the Shah was an essential pillar of US interests in the Persian Gull), it undoubtedly also had the blessing, if not the backing, of some elements within government and intelligence circles.
There's certainly evidence that Khan was doing something that the British and US governments perceived as worthwhile. In London, two Scotland Yard detectives provided security for him, and he drove a Rolls Royce with Washington DC plates. Once in the US, the House of Representatives filed a bill to grant him political and economic relief from the oppression of the Iranian government.
Given Khan's background, political connections and wealth, it's highly unusual that he would choose to serve the Kennedy campaign as a local volunteer. The timing of his volunteer work is also strange. Although he claimed to have "personally spent considerable time" at Kennedy headquarters, in reality he'd only worked there four days (June 1-4).
Of course, none of these oddities render Khan guilty of anything. But the question remains why the investigating agencies simply ignored Khan's background as a master of espionage... was it because Khan might alert the LAPD to conspiratorial leads that they were determined not to pursue?
p82
Who had a motive?
Who hated Bobby Kennedy enough to have him murdered? RFK began to accrue enemies during his brother's presidency (when he served as attorney general). Both Kennedys angered some of the most powerful individuals or groups in America, including:
* the Mafia, who'd been the victim of the administration's unprecedented crackdown on organized crime (RFK had actually deported New Orleans Mafia boss Carlos Marcello)
* FBI director J. Edgar Hoover, who'd been forced by the attorney general to go after the Mafia (Hoover had denied for years that organized crime existed and preferred to concentrate on eliminating "communists")
* elements of the CIA, who'd participated in the 1961 attempt to overthrow Fidel Castro at the Bay of Pigs (the Kennedy brothers who felt they'd been misled by the CIA about the strength of Castro's forces refused to send air support when the invaders met powerful resistance; afterwards, JFK fired CIA director Allen Dulles, and Bobby Kennedy took on a role in CIA policy that was anathema to some of the most swashbuckling CIA veterans)
The old animosities only increased when RFK announced his candidacy for the Democratic nomination. Both his old enemies and several new ones had a lot to lose from an RFK presidency. That list included:
* ex-Teamsters boss Jimmy Hoffa, whom RFK, as attorney general, had sent to prison for jury tampering (if RFK became president, Hoffa would have had to serve his entire thirteen year sentence, but President Nixon pardoned him)
* right-wing and racist groups, like the Ku Klux Klan, who feared RFK's strong commitment to civil rights
* Southern California ranchers who feared Kennedy's support of César Chavez and the United Farm Workers Union-and who, according to an FBI report, had once put out a $500,000 contract on RFK's life (if the union leaders succeeded in organizing thousands of farm workers, the ranchers' profits and power would plummet)
* hard-line cold warriors in the military and intelligence community-even the defense industry-who saw that an RFK presidency would create a complete reversal of US policy in Vietnam
With enemies like these, the pat explanation that Sirhan Sirhan assassinated RFK for his support of Israel seems far less persuasive-especially since RFK's Middle East stance differed very little from the other candidates'. The individuals or groups mentioned above had much more powerful reasons to keep RFK from becoming president in 1968.
p84
Re-opening the case
The question is often asked: why bother to re-investigate this case? It's been so long, why stir up painful memories?
There are at least three arguments for reinvestigation. First, and most obviously, if Sirhan didn't kill RFK, his murderers should be brought to justice.
Second, we need to understand the root causes of the violence that threatens our democratic system. It's important to know whether Robert Kennedy was killed because of a muddled young Palestinian with a political grudge, or because powerful interests in America didn't want him to be president. If the latter's the case, those powerful interests can strike again, whenever they feel threatened.
Third, the LAPD's handling of the case must be reviewed, because law enforcement agencies and officials must be accountable to the public. The JFK and MLK assassinations have both been reviewed by organizations beyond the local jurisdiction, but the RFK assassination case has never been.
p85
Even if it's too late to bring RFK's murderers to justice, it will strengthen American democracy to know the truth about. his murder. That truth can help check the powerful interests who manipulate the American political process to their own ends.
---
NINA RHODES HUGHES
RFK assassination witness tells CNN: There was a second shooter
By Michael Martinez and Brad Johnson, CNN
updated 9:40 AM EDT, Mon April 30, 2012
STORY HIGHLIGHTS
Witness says Sirhan Sirhan was not the only shooter in the pantry

Sirhan was the only person charged and convicted in RFK assassination

Witness says FBI altered her account of RFK shooting

Sirhan is serving a life sentence in the 1968 assassination
Los Angeles (CNN) -- As a federal court prepares to rule on a challenge to Sirhan Sirhan's conviction in the Robert F. Kennedy assassination, a long overlooked witness to the murder is telling her story: She heard two guns firing during the 1968 shooting and authorities altered her account of the crime.
Nina Rhodes-Hughes wants the world to know that, despite what history says, Sirhan was not the only gunman firing shots when Kennedy was murdered a few feet away from her at a Los Angeles hotel.
"What has to come out is that there was another shooter to my right," Rhodes-Hughes said in an exclusive interview with CNN. "The truth has got to be told. No more cover-ups."
Her voice at times becoming emotional, Rhodes-Hughes described for CNN various details of the assassination, her long frustration with the official reporting of her account and her reasons for speaking out: "I think to assist me in healing -- although you're never 100% healed from that. But more important to bring justice."
<![if !vml]>

<![endif]>
<![if !vml]>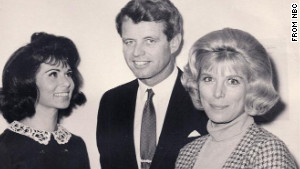 <![endif]>
<![if !vml]>
<![endif]>Witness: FBI report on RFK 'devastating'
<![if !vml]>

<![endif]>
<![if !vml]>
<![endif]>
<![if !vml]>
<![endif]>Was there a second RFK shooter?
<![if !vml]>

<![endif]>
<![if !vml]>
<![endif]>
<![if !vml]>
<![endif]>Sirhan wants release or retrial
<![if !vml]>

<![endif]>
<![if !vml]>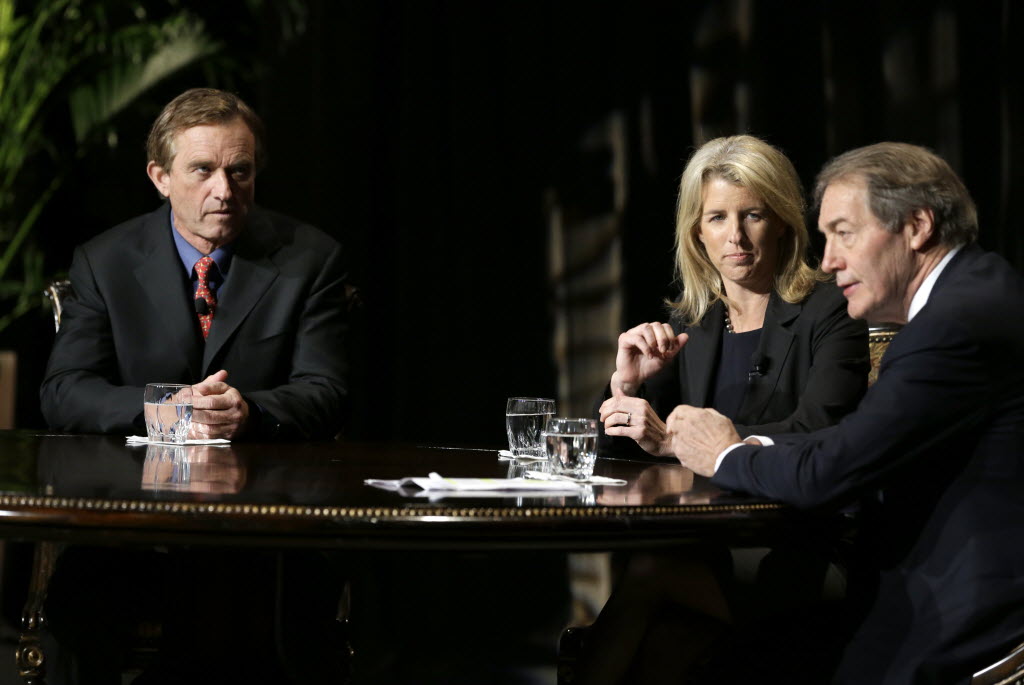 <![endif]>
<![if !vml]>

<![endif]>2009: New evidence: Pruszynski recording
"For me it's hopeful and sad that it's only coming out now instead of before -- but at least now instead of never," Rhodes-Hughes told CNN by phone from her home near Vancouver, British Columbia.
Sirhan, the only person arrested, tried and convicted in the shooting of Kennedy and five other people, is serving a life sentence at Pleasant Valley State Prison in Coalinga, California.
The U.S. District Court in Los Angeles is set to rule on a request by the 68-year-old Sirhan that he be released, retried or granted a hearing on new evidence, including Rhodes-Hughes' firsthand account.
At his 1969 trial, Sirhan's original defense team never contested the prosecution's case that Sirhan was the one and only shooter in Kennedy's assassination. Sirhan testified at his trial that he had killed Kennedy "with 20 years of malice aforethought," and he was convicted and sentenced to death, which was reduced to life in prison in 1972.
After the trial, Sirhan recanted his courtroom confession.
In the recent federal court filings, state prosecutors led by California Attorney General Kamala Harris argue that even if there were a second gunman involved in the Kennedy shooting, Sirhan hasn't proven his innocence and he's still guilty of murder under California's vicarious liability law.
Previously reported
Attorneys for RFK convicted killer Sirhan push 'second gunman' argument

Prosecutors, attorneys argue: Was there a second gunman in RFK assassination?

Prosecutors rebut convicted RFK assassin's claims in freedom quest

Convicted RFK assassin Sirhan Sirhan seeks prison releas

Convicted RFK assassin denied parole

Sirhan Sirhan, convicted RFK assassin, to face parole board
Sirhan's new legal team disputes Harris' assertion about that state statute.
Their current battle has prosecutors and Sirhan's new lawyers engaging directly the merits of new evidence -- as well as witness recollections such as Rhodes-Hughes' account -- never argued before a judge.
Prosecutors under the attorney general are contending that Rhodes-Hughes heard no more than eight gunshots during the assassination. In court papers filed in February, Harris and prosecutors argue that Rhodes-Hughes was among several witnesses reporting "that only eight shots were fired and that all these shots came from the same direction."
Sirhan's lawyers are challenging those assertions.
In a response also filed in federal court in Los Angeles, the defense team led by New York attorney William Pepper contends that the FBI misrepresented Rhodes-Hughes' eyewitness account and that she actually had heard a total of 12 to 14 shots fired.
"She identified fifteen errors including the FBI alteration which quoted her as hearing only eight shots, which she explicitly denied was what she had told them," Sirhan's lawyers argued in February, citing a previously published statement from Rhodes-Hughes.
<![if !vml]>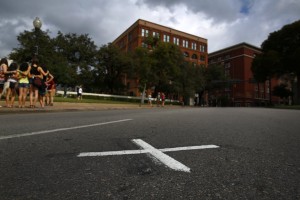 <![endif]>
In this NBC photo taken in 1965, TV actress Nina Roman, today known as Nina Rhodes-Hughes, left, and her "Morning Star" co-star Elizabeth Perry, right, meet Robert F. Kennedy at NBC's Burbank studios. Two and a half years later, Rhodes-Hughes witnessed Kennedy's assassination.
The FBI and the California attorney general's office both declined to comment to CNN on the controversy over Rhodes-Hughes' witness account since the matter is now being reviewed by a federal judge.
Rhodes-Hughes was a television actress in 1968 who worked as a volunteer fundraiser for Kennedy's presidential campaign.
The FBI report indicates that Rhodes-Hughes was indeed inside the kitchen service pantry of the Ambassador Hotel during the crucial moments of the Kennedy shooting, but she contends the bureau got details of her story wrong, including her assertions about the number of shots fired and where the shots were fired from.
Rhodes-Hughes, now 78, tells CNN she informed authorities in 1968 that the number of gunshots she counted in the kitchen pantry exceeded eight -- which would have been more than the maximum Sirhan could have fired -- and that some of the shots came from a location in the pantry other than Sirhan's position.
Robert Kennedy was the most seriously wounded of the six people shot inside the hotel pantry on June 5, 1968, only moments after the New York senator had claimed victory in California's Democratic primary election. The presidential candidate died the next day; the other victims survived.
The Los Angeles County coroner determined that three bullets struck Kennedy's body and a fourth passed harmlessly through his clothing. Police and prosecutors declared the four bullets were among eight fired by Sirhan acting alone.
Rhodes-Hughes tells CNN the FBI's eight-shot claim is "completely false." She says the bureau "twisted" things she told two FBI agents when they interviewed her as an assassination witness in 1968, and she says Harris and her prosecutors are simply "parroting" the bureau's report.
"I never said eight shots. I never, never said it," Rhodes-Hughes told CNN. "But if the attorney general is saying it then she's going according to what the FBI chose to put into their report."
"There were more than eight shots," Rhodes-Hughes said by phone. She says that during the FBI interview in her Los Angeles home, one month after the assassination, she told the agents that she'd heard 12 to 14 shots. "There were at least 12, maybe 14. And I know there were because I heard the rhythm in my head," Rhodes-Hughes said. She says she believes senior FBI officials altered statements she made to the agents to "conform with what they wanted the public to believe, period."
"When they say only eight shots, the anger within me is so great that I practically -- I get very emotional because it is so untrue. It is so untrue," she said.
Contacted by CNN for comment, Sirhan lead attorney William Pepper called the alleged FBI alteration of Rhodes-Hughes' story "deplorable" and "criminal" and said it "mirrors the experience of other witnesses."
Other witnesses also mentioned more than eight shots
Law enforcement investigators have always maintained that only eight shots were fired in the RFK assassination, all of them by Sirhan. His small-caliber handgun could hold no more than eight bullets.
But released witness interview summaries show at least four other people told authorities in 1968 that they heard what could have been more than eight shots. The following four witness accounts appear not in FBI reports but in Los Angeles Police Department summaries:
-- Jesse Unruh, who was speaker of the California Assembly at the time, told police that he was within 20 to 30 feet behind Kennedy when suddenly he heard a "crackle" of what he initially thought were exploding firecrackers. "I don't really quite remember how many reports there were," Unruh told the LAPD. "It sounded to me like somewhere between 5 and 10."
-- Frank Mankiewicz, who had been Kennedy's campaign press secretary, told police that he was trying to catch up to the senator when he suddenly heard sounds that also seemed to him to be "a popping of firecrackers." When an LAPD detective asked Mankiewicz how many of the sounds he'd heard, he answered: "It seemed to me I heard a lot. If indeed it had turned out to have been firecrackers, I probably would have said 10. But I'm sure it was less than that."
-- Estelyn Duffy LaHive, who had been a Kennedy supporter, told police that she was standing just outside the kitchen pantry's west entrance when the shooting erupted. "I thought I heard at least about 10 shots," she told the LAPD.
-- Booker Griffin, another Kennedy supporter, told police that he had just entered the pantry through its east entrance and suddenly heard "two quick" shots followed by a slight pause and then what "sounded like it could have been 10 or 12" additional shots.
An analysis of a recently uncovered tape recording of the shooting detected at least 13 shot sounds erupting over a period of less than six seconds. The audiotape was recorded at the Ambassador Hotel by free-lance newspaper reporter Stanislaw Pruszynski and is the only known soundtrack of the assassination.
Audio expert Philip Van Praag told CNN that his analysis establishes the Pruszynski recording as authentic and the 13 sounds electronically detected on the recording as gunshots.
"The gunshots are established by virtue of my computer analysis of waveform patterns, which clearly distinguishes gunshots from other phenomena," he said in an e-mail. "This would include phenomena that to human hearing are often perceived as exploding firecrackers, popping camera flashbulbs or bursting balloons."
Van Praag's Pruszynski recording findings are now a major point of controversy among new evidence being argued between the two sides in the Sirhan federal court case. Harris contends that his findings amount to an "interpretation or opinion" that is not universally accepted by acoustic experts.
CNN initially reported on Van Praag's audio analysis in 2008 and then with additional details in a BackStory segment in 2009.
Shots fired from two different locations
California prosecutors have argued that witnesses heard shots coming from only one location, but Rhodes-Hughes tells CNN that while the first two or three shots she heard came from Sirhan's position several feet in front of her, she also heard gunshots "to my right where Robert Kennedy was."
According to the autopsy report, the coroner concluded that the senator's body and clothing were struck from behind, at right rear, by four bullets fired at upward angles and at point-blank range. Yet witnesses said Sirhan fired somewhat downward, almost horizontally, from several feet in front of Kennedy, and witnesses did not report the senator's back as ever being exposed to Sirhan or his gun.
In his analysis of the Pruszynski sound recording, Philip Van Praag found that five of the gunshots captured in the tape were fired opposite the direction of Sirhan's eight shots. Van Praag also concluded that those five shots -- the third, fifth, eighth, 10th and 12th gunshots within a 13-shot sequence -- displayed an acoustical "frequency anomaly" indicating that the alleged second gun's make and model were different from Sirhan's weapon.
A chance meeting with Robert Kennedy
The path that eventually led Nina Rhodes-Hughes to the Ambassador Hotel kitchen pantry began 2½ years earlier during a chance meeting with Robert Kennedy at NBC-TV studios in Burbank, California. She was being made up for her co-starring role in the daytime drama "Morning Star" when Kennedy suddenly entered the makeup room. The actress was starstruck. "I saw Robert Kennedy and everything else disappeared from view," she said. "There was an aura about him that was very captivating. He kind of pulled you in. His eyes were very deep set and they were very blue. And when you looked at him, you got very drawn in to him."
As Rhodes-Hughes remembers it, the senator had arrived to pre-record an interview on "Meet the Press" and the two discussed political issues while awaiting their separate TV appearances. "Here I am, just an actress in a soap opera, and he took the time to have an in-depth conversation with me," said Rhodes-Hughes, who was then known professionally by her screen name Nina Roman.
As impressed as Rhodes-Hughes was with Robert Kennedy, she says the senator indicated that he himself was impressed with her ability to quickly memorize many pages of TV script. She says he confided to her that he had no such talent himself but that his older brother, the assassinated President John F. Kennedy, had possessed similar skills.
"Our conversation basically was the clincher for me," Rhodes-Hughes told CNN. "I said to him, 'You know, I have followed your career in politics and I really believe in you and I love all the things that you did -- and are trying to do, and propose to do -- and so if ever you declare yourself a candidate for the presidency, I will work for you, heart and soul.' And he smiled and said, 'Well, I don't know if that's going to happen.' And he was very humble and very sweet."
Rhodes-Hughes says that later, in the spring of 1968, shortly after Kennedy announced his candidacy for the presidency, she helped form a campaign support group in Los Angeles called "Young Professionals for Kennedy" and assisted in raising funds for the California phase of the senator's White House bid.
Weeks later, as he claimed victory in the California primary, addressing hundreds of supporters in the Ambassador Hotel's Embassy Room shortly after midnight on June 5, Kennedy paid tribute to the many volunteers, like Rhodes-Hughes, who had assisted his campaign. Referring to his own role during his brother's successful run for the presidency in 1960, Kennedy told them, "I was a campaign manager eight years ago. I know what a difference that kind of an effort and that kind of a commitment makes."
Trying to keep Kennedy from heading to the pantry
For Rhodes-Hughes there was one more commitment to keep. She had promised Kennedy aide Pierre Salinger that following the candidate's victory speech she would try to meet the senator as he exited the ballroom and usher him to a backstage area where Salinger had been keeping abreast of the California primary returns. She says although she and another campaign volunteer made sure to carefully position themselves to greet the candidate, the opportunity never came. According to Rhodes-Hughes, shortly after Kennedy completed his remarks in the Embassy Room, he was whisked away by others down a corridor and toward the kitchen pantry while she scurried to catch up.
"No, no, that's the wrong way!" Rhodes-Hughes tells CNN she shouted to the senator and his escorts as she chased after them in an unsuccessful effort to turn them around. "It's this way! Come back! You're going the wrong way!"
Kennedy and Sirhan almost face-to-face
Rhodes-Hughes says that after she entered the kitchen pantry's west entrance, she could see Kennedy in left profile, "greeting" well-wishers a few feet ahead of her. She says a moment later she was looking at the back of the senator's head, as he continued onward, when suddenly the first two or three shots were fired.
"I saw his left profile. And then, very, very quickly, he was through greeting, and he turned and went into the original direction that he was being ushered to," Rhodes-Hughes told CNN. "At that point, I saw the back of his head and part of his shoulders and back."
"My eyes were totally on him, and all of a sudden I started hearing popping sounds, which I thought at first were flashbulbs from a camera," she said. It was Rhodes-Hughes' account of Kennedy's movements in the pantry that Sirhan's lawyer Pepper focused on in particular when CNN asked him to comment on Rhodes-Hughes' account of the shooting.
"This observation is vital," said Pepper. "Her clear recollection of being some short distance behind the Senator and seeing his left profile and then seeing him quickly turning so that the back of his head was in her sight at the time the shooting began -- this reveals that the Senator was almost directly facing Sirhan just before he took three shots, from behind, in his back, and behind his right ear at powder burn range, making it impossible for Sirhan to have been Robert Kennedy's shooter," the defense attorney said in an e-mail to CNN. "It clearly evidences the existence of a second gunman who fired from below and upward at the Senator."
Rhodes-Hughes says that while she was behind Senator Kennedy, looking at the back of his head and hearing the first two or three gunshots, Kennedy did not appear to be struck by bullets at that point.
Still believing the first shots were merely flashbulbs, she says she then took her eyes off the senator, while turning leftward, and caught her first glimpse of Sirhan standing in front of Kennedy and to the candidate's left.
She told CNN that the 5-foot-5-inch tall Sirhan was propped up on a steam table, several feet ahead of her and slightly to her own left. Rhodes-Hughes says part of her view of Sirhan was obstructed and she could not see the gun in his hand but she says that, as soon as she caught sight of Sirhan, she then heard more shots coming from somewhere past her right side and near Kennedy. She told CNN that at that point she was hearing "much more rapid fire" than she initially had heard.
In his recent analysis of the Pruszynski recording, Philip Van Praag found that some of the tape's 13 captured shot sounds were fired too rapidly, at intervals too close together, for all of the gunshots in the pantry to have come from Sirhan's Iver Johnson revolver alone.
Sirhan's lawyers report in their federal court papers that gunshot echoes have been ruled out as the cause of the Pruszynski recording's "double shots." Ricochets also are ruled out according to Pasadena, California, forensic audio engineers who verified Van Praag's Pruszynski findings for the 2007 Investigation Discovery Channel television documentary "Conspiracy Test: The RFK Assassination."
'They've killed him! They've killed him!'
Rhodes-Hughes told CNN she heard gunshots coming from some place not far from her right side even while Sirhan was being subdued several feet in front of her. "During all of that time, there are shots coming to my right," she said. "People are falling around me. I see a man sliding down a wall. Then I see Senator Kennedy lying on the floor on his back, bleeding. And I remember screaming, 'Oh no! Oh, my God, no!' And the next thing I know, I'm ducking but also in complete shock as to what's going on.
"And then I passed out," she said.
Rhodes-Hughes says that, moments later, while she was regaining consciousness from having fainted to the floor, she noticed that her dress was wet and that she was missing a belt and one of her shoes. It was clear to her that she had been trampled, but she was unhurt.
She then looked across the room and saw Kennedy once again, lying on the floor and bleeding, this time with his wife Ethel kneeling and trying to comfort him. Rhodes-Hughes says the sight horrified her, sending her screaming out of the pantry and back through the corridor, where she was attended to by her then-husband, the late television producer Michael Rhodes.
"I'm running out of the pantry and I'm yelling, 'They've killed him! They've killed him! Oh, my God, he's dead! They've killed him!'" Rhodes-Hughes told CNN. "Now, the reason I said, 'they' is because I knew there was more than one shooter involved."
Little more than 25 hours later, Kennedy was pronounced dead at Good Samaritan Hospital in Los Angeles.
Rhodes-Hughes describes the events of early June 1968 as "the most iconoclastic experience" of her life.
"Although it was 44 years ago, I will swear that this is exactly what happened. I remember it like it was almost yesterday, because you don't forget something like that when it totally changes your life forever," she said. "It took a great toll on me. For a while, even the backfiring of a car would send me into tears."
Never called to testify
Despite the fact her FBI interview summary indicates Nina Rhodes-Hughes was inside the kitchen pantry during the assassination, she was never called to testify at Sirhan's 1969 trial or at any subsequent inquiry over the years. Rhodes-Hughes says she made a point of telling two FBI agents in 1968 that she would be willing to make herself available to appear as a witness anywhere at anytime and to testify "that there were more shots."
"They never wrote that down," she says of the FBI agents who conducted the interview in her Los Angeles home. She also says that when the pair of agents departed following their visit, they forgot to take along their attaché case and, minutes later, had to return to her residence and retrieve it.
Rhodes-Hughes says that, in the months following the June 5, 1968 assassination, she and some others who had been at the Ambassador Hotel refused news media interviews so as to avoid interfering with preparations for Sirhan's trial. It wasn't until the 1990s that Rhodes-Hughes was asked whether she would ever be willing to testify under oath -- an invitation coming not from a prosecutor or law enforcement official but from author Philip H. Melanson, a chancellor professor of policy studies at the University of Massachusetts Dartmouth.
At Melanson's request, Rhodes-Hughes reviewed her 1968 FBI interview summary for the first time and found it contained more than a dozen inaccuracies. She provided Melanson with a statement, but the professor died some years later and Rhodes-Hughes once again missed her opportunity to testify. Before his death, Melanson published Rhodes-Hughes' statement in "Shadow Play," a book he co-authored with William Klaber in 1997 and one of several Melanson wrote on the Robert Kennedy assassination.
Rhodes-Hughes recounted the Kennedy shooting and her initial contact with Melanson in a 1992 interview on "Contact," a local TV program carried at the time in Vancouver by Rogers Cable.
Defense attorney William Pepper calls Rhodes-Hughes' recollections "significant verification" of new assassination evidence that the Sirhan legal team is currently presenting. "It provides further verification of a dozen or more gunshots and mirrors the experience of other witnesses which confirms the existence of the cover-up efforts," he told CNN.
"Along with all of the other evidence we have provided, one wonders why it has taken so long for this innocent man to be set free, a new trial to be ordered or, at least, a full investigatory hearing to be scheduled," Pepper said. "Nothing less than the credibility and integrity of the American criminal justice system is at stake in this case."
Sirhan Sirhan's current legal team is doing something his original lawyers never did. They are asserting that Sirhan did not shoot Kennedy.
Sirhan's original defenders had decided at the outset that Sirhan was the lone shooter. Because Sirhan's initial lawyers presented a diminished capacity case in 1969, they never pursued available defenses. Evidentiary conflicts, and issues such as a possible second gun, simply were not addressed at Sirhan's 1969 trial. Most of the original prosecution's evidence was stipulated by the original defense team, which agreed that Sirhan had killed the presidential candidate.
Nina Rhodes-Hughes opposes freedom for Sirhan Sirhan, whom she regards as one of two gunmen firing shots inside the Ambassador Hotel kitchen pantry. "To me, he was absolutely there," she said. "I don't feel he should be exonerated."
Rhodes-Hughes insists the full truth of Robert Kennedy's murder has been suppressed for decades, and says she hopes that it will now finally come out and that the alleged second shooter will be identified and brought to justice.
"There definitely was another shooter," said Rhodes-Hughes. "The constant cover-ups, the constant lies -- this has got to stop."
---
FINALLY; FROM A F KENNEDY FAMILY MEMBER
RFK Jr. BELIEVES IN CONSPIRACY
What to make of RFK Jr's conspiracy view of the JFK assassination
<![if !vml]>
<![endif]><![if !vml]>
<![endif]>344 <![if !vml]>
<![endif]>65
<![if !vml]>
<![endif]>comments (17)
<![if !vml]>
<![endif]>
By Rodger Jones/Editorial Writer
rmjones@dallasnews.com
2:17 pm on January 12, 2013 | Permalink
<![if !vml]>
<![endif]>Robert F. Kennedy Jr. told the crowd at the Winspear Opera House last night that he was letting us in on something new — "nobody's told this story before" — about his father and the JFK assassination.
Just what was new was hard to figure. Kennedy told so many stories that melted together, about his father, his uncle, his family, his upbringing. You had the feeling that moderator Charlie Rose was itching to gently touch that Dallas touchstone of Nov. 22, 1963, and he finally got there nearly halfway into the 95-minute interview with Kennedy and his sister Rory.
Bottom line, Kennedy said, his father thought the Warren Report was a "shoddy piece of craftsmanship" (a line that got immediate applause by the opera house crowd) and he himself doesn't buy the lone gunman theory.
(Updated) RFK Jr.s assassination narrative began with an anecdote about his dad seeing New Orleans DA Jim Garrison's photo on a newsstand and asking an aide if there was anything to Garrison's theories about the CIA, Cuba and Mafia in his brother's killing.
RFK Jr. said his dad was told that Garrison was on to something, but "the specifics of Garrison's investigation went on the wrong track, but he thought there was a link …"
Kennedy said his dad put investigators on it. When they examined Jack Ruby and Lee Harvey Oswald's phone records, and they saw what was essentially "an inventory of the Mafia leaders that they had been investigating for the past two years" at the Justice Department.
KENNEDY: I think my father was fairly convinced at the end of that that there had been involvement by somebody …
ROSE: Organized crime, Cubans …
KENNEDY: Or rogue CIA …
This was a strange way to tell the story. Garrison began his investigation into the JFK killing in 1966, so that's presumably when his picture would have been on the newsstand, as per RFK Jr's yarn. Yet other accounts — specifically David Talbot's in Brothers/The Hidden History of the Kennedy Years — had RFK starting his investigation even before Ruby killed Oswald.
Here's an excerpt of a Talbot interview for the Mary Ferrell Foundation JFK website:
He immediately connects the plot to the secret war on Castro. He then tells family this a couple days later at the White House. He starts using surrogates like Walter Sheridan, a former FBI agent, to begin hotly pursuing every lead that he can. When Jack Ruby shoots Oswald down on camera on national television, he immediately has Sheridan looking into Ruby's mafia connections, and within 24 hours of the shooting, Sheridan's reporting back to him that he found evidence that Ruby has been paid off in Chicago by associates of teamster leader Jimmy Hoffa, who is, of course, Bobby's great nemesis.
So, already they're seeing this as a CIA-Mafia operation. I believe that they're seeing it as an operation that was masterminded within the government, but some of the sleazier aspects were carried out by the mafia.
Was RFK Jr just oversimplifying things for the Dallas crowd and compressing the timeline? Don't know, but it seems like his father's suspicions have been well plumbed.
<![if !vml]>
<![endif]>Kennedy said the media basically accepted the Warren Report, because they were ready to move on. And even the Church Commission's review of CIA and mob ties in the 1970s, and its criticism of the Warren report, didn't re-ignite wide interest.
In recent years, as documents have been declassified, new information dribbling out has "fortified" doubts about the Warren report. But, Kennedy said, it has come out only incrementally and hasn't focused public attention. Speaking of assassination researchers who have delved more deeply into new information, Kennedy said, "The knee-jerk reaction by the news media has been to marginalize or dismiss those people."
Then came a 2008 book by pacifist and Catholic theologian James Douglass, JFK and the Unspeakable.
"What Douglass has done is distill all that stuff, put it in a very well-documented book, and come to his own conclusions," Kennedy said. "I don't know if it's right or not, but a lot of the evidence, at this point, anyway, is very convincing, there was not a lone gunman."
Rose steered away from the subject after about only six minutes, pushing for stories about the Kennedy clan's legendary competitiveness and other rollicking Kennedy stuff. Darn.
Rory didn't address the assassination at all. There was no discussion of why JFK's niece and nephew decided to come to Dallas — which we, after all, think is a big deal — and what, if anything, that stirred in them.
So there you have it, perhaps the senior voice of the eldest generation of Kennedy offspring with a mild endorsement of one particular take on the JFK assassination.
And I'm left wondering what the "never been told before" information was. Or was that just a casual and innocent hype of the yarn he was launching into?
So what about Unspeakable and its author Douglass, a former University of Hawaii religion professor and anti-nuclear activist? The book makes the case, as others have done, that Kennedy was trying to extricate the U.S. from Vietnam and other military engagements and paid for it with his life.
For one, Douglass has the Oliver Stone seal of approval. Said Stone for the Huffington Post:
In his beautifully written and exhaustively researched treatment, Douglass lays out the "motive" for Kennedy's assassination. Simply, he traces a process of steady conversion by Kennedy from his origins as a traditional Cold Warrior to his determination to pull the world back from the edge of destruction.
For the National Catholic Reporter, reviewer Tom Roberts said:
Should the book receive wider attention, its delineation of the conspiracy against Kennedy rather than his conversion to peacemaking will be the most controversial aspect since it concludes with a minute examination of old and new evidence that Kennedy was done in by his own security apparatus. That's a jarring thought, but Mr. Douglass is not the first to claim that something is amiss between the government''s official version of events as contained in the Warren Commission Report and that of a host of witnesses who paint a picture of Lee Harvey Oswald being manipulated as the perfect suspect.
The way Mr. Douglass' "how" [sic] stacks up with other theories that point toward the Mafia, the Russians, the Cubans or a combination of any or all of those is unclear.
What is clear is that Mr. Douglass seems to have responsibly and painstakingly plumbed the evidence of the Kennedy assassination from a new angle and raised disturbing yet essential questions.
<![if !vml]>
<![endif]>But the book got a rugged review from Marquette University professor John McAdams, who maintains a Kennedy assassination website. (The McAdams site is among the "best sites" links on the well-regarded JFKFACTS. It's billed there as the "best anti-conspiracy Website. … You may disagree with his conclusions but, if so, these are the arguments you have to refute.")
McAdams' review of Douglass' book Unspeakable was titled "Unspeakably Awful." Excerpt:
What makes Douglass's volume unique is that his argument is dressed up in verbiage unfamiliar to JFK assassination buffs. Most authors of books on the assassination attempt to cloak their political views, and pretend to arrive at the truth about the assassination after a supposedly objective analysis of the facts. Douglass wears his politics on his sleeve. … Self-styled activists like Douglass have a long history of being opposed to the use of military power by the United States, although they don't seem to mind as much when military power is used by America's adversaries. …
Douglass's key villain—the "Unspeakable" of his title—turns out to be the same kind of opaque nemesis that Stone is fond of conjuring up. The best identification Douglass can offer is "shadowy intelligence agencies using intermediaries and scapegoats under the cover of 'plausible deniability,'" and even more vaguely, "an evil whose depth and deceit seemed to go beyond the capacity of words to describe."[2]
How convenient: a culprit who is indescribable. In essence, though, Douglass's evil-doer is indistinguishable from that bogeyman of vulgar, atheistic, and leftist radicals from the '60s: the "military-industrial complex," except that he adds to the stew the Central Intelligence Agency.
I was surprised that so many people in the Winspear audience were that attuned to conspiracy stuff, breaking into applause, when possible, at slams against the Warren report. I don't think it was most of the crowd, but there was an alert contingent that was quick on the draw.
It was a largely Boomer crowd, those of us who are ever-eager to recite "where we were" that noon hour in 1963. I had figured the audience as essentially there to feed a hunger for Kennedy lore and other reminiscences, not so much for dark theories. Wrong again.
There was also eager clapping for liberal anti-corporate lines, like one slam against the Koch brothers pouring millions into political campaigns (as if Hollywood money doesn't infuse the system) and for power coopting the political process (something Joseph P. Kennedy Sr. had a knack for).
Charlie Rose tried to get bi-partisan at one point, inviting Kennedy to remark on how Uncle Teddy reached across the aisle to work with President George W. Bush. You have to figure Kennedy knows this is Bush's hometown, but he didn't take the bait. He launched into stories on Uncle Teddy all right, but there was nary a Bush 43 among them.
Overall, regardless of your politics, it was a stimulating program. For a few minutes there, I thought I was back in Camelot. Good on the AT&T Performing Arts Center for pulling it off.
<![if !vml]>
<![endif]><![if !vml]>
<![endif]>344 <![if !vml]>
<![endif]>65
<![if !vml]>
<![endif]>
More From Dallasnews.com
· News JFK 50 Snapshot: JFK's Lone Star popularity rose as LBJ's waned during week of Jan. 13-19, 1963
· News Tell us: Share your remembrances of the JFK assassination
· Sports Cheryl Hall: Jimmy Johnson wanted to win with Cowboys, so he fired his wife
· News Former TCU football star facing 20 years in prison for swindling investors out of $15.8 million
· News - Premium Kennedys make rare visit to Dallas, say RFK questioned 'lone gunman' theory in JFK assassination
From the web
· MyDailyMoment 5 Worst Mistakes Women Make in Bed
· Zimbio Miley Cyrus' Revealing Jean Shorts Cause Twitter To Explode (Pictures)
· Everyday Family 10-Year-Old Girl Goes Missing After Flying Alone on United Airlines
· CafeMom Taylor Swift's Wardrobe Malfunction Almost Exposed Her Golden Globes
· itsybitsysteps 9-year-old Girl Gives Birth to a Baby Boy
Dallasnews.com is now using Facebook Comments. To post a comment, log into Facebook and then add your comment below. Comments are subject to Facebook's Privacy Policy and Terms of Service on data use. If you don't want your comment to appear on Facebook, uncheck the 'Post to Facebook' box. To find out more, read the FAQ.
This entry was posted in Rodger Jones and tagged jfk assassination by Rodger Jones/Editorial Writer. Bookmark the permalink.
Post navigation
---
SIRHAN SIRHAN
Crime & Courts
Convicted RFK assassin says girl manipulated him
Published April 28, 2011
| Associated Press
LOS ANGELES – Convicted assassin Sirhan Sirhan was manipulated by a seductive girl in a mind control plot to shoot Sen. Robert F. Kennedy, and his bullets did not kill the presidential candidate, lawyers for Sirhan said in new legal papers.
The documents filed this week in federal court and obtained by The Associated Press detail extensive interviews with Sirhan during the past three years, some done while he was under hypnosis.
The papers point to a mysterious girl in a polka-dot dress as the controller who led Sirhan to fire a gun in the pantry of the Ambassador Hotel. But the documents suggest a second person shot and killed Kennedy while using Sirhan as a diversion.
For the first time, Sirhan said under hypnosis that on a cue from the girl he went into "range mode" believing he was at a firing range and seeing circles with targets in front of his eyes.
"I thought that I was at the range more than I was actually shooting at any person, let alone Bobby Kennedy," Sirhan was quoted as saying during interviews with Daniel Brown, a Harvard University professor and expert in trauma memory and hypnosis. He interviewed Sirhan for 60 hours with and without hypnosis, according to the legal brief.
Sandi Gibbons, a spokeswoman for the Los Angeles County district attorney, said prosecutors were unaware of the legal filing and could not comment.
The story of the girl has been a lingering theme in accounts of the events just after midnight on June 5, 1968, when Kennedy was gunned down in the hotel pantry after claiming victory in the California Democratic presidential primary.
Witnesses talked of seeing such a female running from the hotel shouting, "We shot Kennedy." But she was never identified, and amid the chaos of the scene, descriptions were conflicting.
Through the years, Sirhan has claimed no memory of shooting Kennedy and said in the recent interviews that his presence at the hotel was an accident, not a planned destination.
Under hypnosis, he remembered meeting the girl that night and becoming smitten with her. He said she led him to the pantry.
"I am trying to figure out how to hit on her.... That's all that I can think about," he says in one interview cited in the documents. "I was fascinated with her looks .... She never said much. It was very erotic. I was consumed by her. She was a seductress with an unspoken unavailability."
Brown was hired by Sirhan's lawyer William F. Pepper.
Pepper's associate, attorney Laurie Dusek, attended the interviews. and Brown said in the documents they both took verbatim notes because prison officials would not let them tape record nearly all the sessions.
Sirhan maintained in the hypnotic interviews that the mystery girl touched him or "pinched" him on the shoulder just before he fired then spun him around to see people coming through the pantry door.
"Then I was on the target range ... a flashback to the shooting range ... I didn't know that I had a gun," Sirhan said.
Under what Brown called the condition of hypnotic free recall, he said Sirhan remembered seeing the flash of a second gun at the time of the assassination. Without hypnosis, he said, Sirhan could not remember that shot.
Pepper, a New York lawyer with an international practice, previously tried to prove that James Earl Ray was not the assassin of Martin Luther King Jr.
The lawyer said he is convinced that Sirhan was a victim of a mind control project such as those used by the CIA in the 1960s. He is seeking an evidentiary hearing to exonerate Sirhan in Kennedy's killing.
Dusek said in an interview that Sirhan was hypnotized for perhaps 30 percent of the interviews, most of which had to be done through a glass partition with Brown talking to him on a phone.
Only when Sirhan was moved from the state prison at Corcoran to his current location at Pleasant Valley State Prison in Coalinga were they allowed face-to-face visits, she said, and a few of those were recorded.
Other portions of the motion allege suppression of ballistics evidence and the autopsy report, and claim ineffective assistance of counsel. It contends previous lawyers for Sirhan accepted from the start that he was the lone shooter, settled on a defense of diminished capacity and did not seek other avenues of defense.
During the trial, Sirhan tried to confess to killing Kennedy "with 20 years of malice aforethought," but the judge rejected the blurted statement.
A large portion of the new documents seek to prove the bullets that hit Kennedy came from a different direction than the spot where Sirhan was standing. The papers do not name any other possible shooter.
Sirhan was denied parole in March by a panel that said he had not shown sufficient remorse for the killing.